Zusammenfassung
Die prämature Ovarialinsuffizienz (POI) ist durch eine Amenorrhö vor dem 40. Lebensjahr und einen hypergonadotropen Hypogonadismus gekennzeichnet. Die Prävalenz für Frauen mit 40 Jahren liegt bei 1%. Die Ovardysgenesie, welche durch einen kompletten Follikelverlust vor der Geburt charakterisiert ist, kann als die schwerste Manifestation einer POI angesehen werden. Die POI tritt in der Mehrzahl isoliert auf, kann aber auch Teil einer syndromalen Erkrankung sein. Neben exogenen Faktoren kommen auch genetische Faktoren wie Chromosomenaberrationen, monogenetische Defekte und eine polygen-multifaktorielle Genese in Frage. Inzwischen sind mehr als 30 Gene bekannt, deren Mutationen zur POI führen. Dennoch ist in der Mehrzahl der Fälle die Ätiologie der POI weiterhin unbekannt.
Abstract
Premature ovarian insufficiency (POI) is characterized by the onset of amenorrhea before 40 years of age combined with hypergonadotropic hypogonadism. The prevalence in women aged 40 is 1%. Ovarian dysgenesis is characterized by full depletion of follicles at birth and can be seen as the most severe manifestation of POI. In most cases POI occurs as an isolated condition but can also be part of a syndrome. Besides non-genetic factors POI can also be caused by chromosome aberrations, monogenetic defects and polygenic multifactorial inheritance. Although more than 30 genes associated with POI are known in the majority of cases the etiology of POI remains unknown.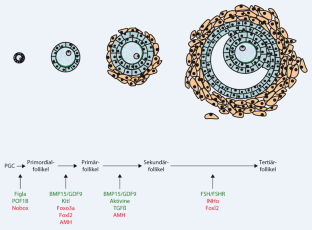 Literatur
1.

Achermann JC, Ito M, Ito M et al (1999) A mutation in the gene encoding steroidogenic factor-1 causes XY sex reversal and adrenal failure in humans. Nat Genet 22:125–126

2.

Aittomäki K, Lucena JL, Pakarinen P et al (1995) Mutation in the follicle-stimulating hormone receptor gene causes hereditary hypergonadotropic ovarian failure. Cell 82:959–968

3.

Biason-Lauber A, Schoenle EJ (2000) Apparently normal ovarian differentiation in a prepubertal girl with transcriptionally inactive steroidogenic factor 1 (NR5A1/SF-1) and adrenocortical insufficiency. Am J Hum Genet 67:1563–1568

4.

Chand AL, Harrison CA, Shelling AN (2010) Inhibin and premature ovarian failure. Hum Reprod Update 16:39–50

5.

Correa RV, Domenice S, Bingham NC et al (2004) A microdeletion in the ligand binding domain of human steroidogenic factor 1 causes XY sex reversal without adrenal insufficiency. J Clin Endocrinol Metab 89:1767–1772

6.

Coulam CB, Adamson SC, Annegers JF (1986) Incidence of premature ovarian failure. Obstet Gynecol 67:604–606

7.

Di Pasquale E, Beck-Peccoz P, Persani L (2004) Hypergonadotropic ovarian failure associated with an inherited mutation of human bone morphogenetic protein-15 (BMP15) gene. Am J Hum Genet 75:106–111

8.

Dixit H, Rao LK, Padmalatha V et al (2005) Mutational screening of the coding region of growth differentiation factor 9 gene in Indian women with premature ovarian failure. Menopause 12:749–754

9.

Dixit H, Rao LK, Padmalatha VV et al (2006). Missense mutations in the BMP15 gene are associated with ovarian failure. Hum Genet 119:408–415

10.

Elvin JA, Yan C, Matzuk MM (2000) Growth differentiation factor-9 stimulates progesterone synthesis in granulosa cells via prostaglandin E2/EP2 receptor pathway. Proc Natl Acad Sci USA 97:10288–10293

11.

Gersak K, Harris SE, Smale WJ, Shelling AN (2004) A novel 30 bp deletion in the FOXL2 gene in a phenotypically normal woman with primary amenorrhea: Case report. Hum Reprod 19:2767–2770

12.

Goswami R, Goswami D, Kabra M et al (2003) Prevalence of the triple X syndrome in phenotypically normal women with premature ovarian failure and its association with autoimmune thyroid disorders. Fertil Steril 80:1052–1054

13.

Goswami D, Conway GS (2005) Premature ovarian failure. Hum Reprod 11: 391–410

14.

Hanrahan J, Gregan SM, Mulsant P et al (2004) Mutations in the genes for oocyte-derived growth factors GDF9 and BMP15 are associated with both increased ovulation rate and sterility in Cambridge and Belclare sheep (Ovis aries). Biol Reprod 70:900–909

15.

Harris SE, Chand AL, Winship IM Gersak K et al (2002) Identification of novel mutations in FOXL2 associated with premature ovarian failure. Mol Hum Reprod 8:729–733

16.

Lacombe A, Lee H, Zahed L et al (2006) Disruption of POF1B binding to nonmuscle actin filaments is associated with premature ovarian failure. Am J Hum Genet 79:113–119

17.

Laissue P, Christin-Maitre S, Touraine P et al (2006) Mutations and variants in GDF9 and BMP15 in patients with premature ovarian failure. Eur J Endocrinol 154:739–744

18.

Lakhal B, Braham R, Berguigua R et al (2010) Cytogenetic analyses of premature ovarian failure using karyotyping and interphase fluorescence in situ hybridization (FISH) in a group of 1000 patients. Clin Genet 78:181–185

19.

Ledig S, Röpke A, Haeusler G et al (2008) BMP15 mutations in XX gonadal dysgenesis and premature ovarian failure. Am J Obstet Gynecol 198:84e1–84e5

20.

Ledig S, Röpke A, Wieacker P (2010) Copy number variants in premature ovarian failure and ovarian dysgenesis. Sex Dev 4:225–232

21.

Liang L, Soyal SM, Dean J (1997) FIGalpha, a germ cell specific transcription factor involved in the coordinate expression of the zona pellucida genes. Development 124:4939–4947

22.

Lourenço D, Brauner R, Lin L et al (2009) Mutations in NR5A1 associated with ovarian insufficiency. N Engl J Med 360:1200–1210

23.

Meduri G, Touraine P, Beau I et al (2003) Delayed puberty and primary amenorrhea associated with a novel mutation of the follicle-stimulating hormone receptor: clinical, histological, and molecular studies. J Clin Endocrinol 88:3491–3498

24.

Nelson LM (2009) Clinical practice. Primary ovarian insufficiency. N Engl J Med 360:606–614

25.

Oldenburger RA, Dooren MF van, deGraaf B et al (2008) A genome-wide linkage scan in a Dutch family identifies a premature ovarian failure suspectibility locus. Hum Reprod 23:2835–2841

26.

Persani L, Rossetti R, Cacciatore C (2010) Genes involved in human premature ovarian failure. J Mol Endocrinol 28: epub ahead of print

27.

Philibert P, Biason-Lauber A, Rouzier R et al (2008) Identification and functional analysis of a new WNT4 gene mutation among 28 adolescent girls with primary amenorrhea and müllerian duct abnormalities. J Clin Endocrinol Metab 93:895–900

28.

Qin Y, Choi Y, Zhao H et al (2007) NOBOX homeobox mutation causes premature ovarian failure. Am J Hum Genet 81:576–581

29.

Rajkovic A, Pangas SA, Ballow D et al (2004) NOBOX deficiency disrupts early folliculogenesis and oocyte-specific gene expression. Science 305:1157–1159

30.

Riva P, Magnani I, Fuhrmann Conti AM et al (1996) FISH characterization of the Xq21 breakpoint in a translocation carrier with premature ovarian failure. Clin Genet 50:267–269

31.

Rizzolio F, Bione S, Sala C et al (2006) Chromosomal rearrangements in Xq and premature ovarian failure: mapping of 25 new cases and review of the literature. Hum Reprod 21:1477–1483

32.

Sullivan AK, Marcus M, Epstein MP et al (2005) Association of FMR1 repeat size with ovarian dysfunction. Hum Reprod 20:402–412

33.

Therman E, Laxova R, Susman B (1990) The critical region on the human Xq. Hum Genet 85:455–461

34.

Uda M, Ottolenghi C, Crisponi L et al (2004). Foxl2 disruption causes mouse ovarian failure by pervasive blockage of follicle development. Hum Mol Genet 13:1171–1181

35.

Van Asselt KM, Kok HS, Putter H et al (2004) Linkage analysis of extremely discordant and concordant sibling pairs identifieds quantitative trait loci influencing variation in human menopausal age. Am J Genet 74:444–453

36.

Yan C, Wang P, DeMayo FJ et al (2001) Synergistic roles of bone morphogenetic protein 15 and growth differentiation factor 9 in ovarian function. Mol Endocrinol 15:854–866

37.

Zhao XX, Suzumori N, Yamaguchi M, Suzumori K (2005) Mutational analysis of the homeobox region of the human NOBOX gene in Japanese women who exhibit premature ovarian failure. Fertil Steril 83:1843–1844

38.

Zhao H, Chen ZJ, Qin Y et al (2008) Transcription factor FIGLA is mutated in patients with premature ovarian failure. Am J Hum Genet 82:1342–1348
Danksagung
Diese Arbeit wurde durch die Deutsche Forschungsgemeinschaft (DFG) "Germ Cell Potential" gefördert.
Interessenkonflikt
Der korrespondierende Autor gibt an, dass kein Interessenkonflikt besteht.
About this article
Cite this article
Ledig, S., Wieacker, P. Genetische Ursachen der prämaturen Ovarialinsuffizienz und Ovardysgenesie. medgen 23, 237–243 (2011). https://doi.org/10.1007/s11825-011-0270-3
Schlüsselwörter
Prämature Ovarialinsuffizienz

XX-Gonadendysgenesie

Amenorrhö

Hypergonadotroper Hypogonadismus

Autoimmune Polyendokrinopathien
Keywords
Premature ovarian insufficiency

Gonadal dysgenesis, XX type

Amenorrhea

Hypergonadotropic hypogonadism

Autoimmune polyendocrinopathies