Zusammenfassung
Anomalien der Genitalwege können zu Sterilität und Infertilität führen. In dieser Übersicht werden Störungen der Müller- und Wolff-Strukturen, die für die Entwicklung der weiblichen und männlichen Genitalwege verantwortlich sind, diskutiert.
Abstract
Anomalies of the female and male genital tracts can be the cause of sterility and infertility. In this review disorders of the Mullerian and Wolffian structures which are responsible for the development of male and female genital tracts will be discussed.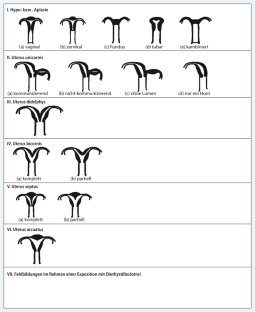 Literatur
1.

Kobayashi A, Behringer RR (2003) Developmental genetics of the female reproductive tract in mammals. Nat Rev Genet 4:969–978

2.

Byrne J, Nussbaum-Blask A, Taylor WS et al (2000) Prevalence of Müllerian duct anomalies detected at ultrasound. Am J Med Genet 94:9–12

3.

Rozewicki S, Bielewicz W, Iwanicki M, Puchalski A (1992) Developmental anomalies of the uterus in a population of 3000 women with various causes of infertility. Ginekol Pol 63:515–517

4.

Simpson JL (1999) Genetics of the female reproductive ducts. Am J Med Genet 89:224–239

5.

American Fertility Society (1988) The American Fertility Society classifications of adnexal adhesions, distal tubal occlusion secondary due to tubal ligation, tubal pregnancies, müllerian anomalies and intrauterine adhesions. Fertil Steril 49:944–955

6.

Raga F, Bauset C, Remohi J et al (1997) Reproductive impact of congenital Müllerian anomalies. Hum Reprod 12:2277–2281

7.

Acien P (1993) Reproductive performance of women with uterine malformations. Hum Reprod 8:122–126

8.

Folch M, Pigem I, Konje JC (2000) Mullerian agenesis: etiology, diagnosis, and management. Obstet Gynecol Surv 55:644–649

9.

Ledig S, Schippert C, Strick R et al (2010) Array-CGH analysis in MRKH patients. Fertil Steril, im Druck

10.

Biason-Lauber A, Konrad D, Navratil F, Schoenle EJ (2004) A WNT4 mutation associated with Mullerian-duct regression and virilization in a 46,XX woman. New Engl J Med 351:792–798

11.

Vainio et al (1999) 1999 Vainio S, Heikkliä M, Kispert A, Chin N, and McMahon AP Female development in mammals is regulated by Wnt-4 signalling. Nature 397:405–409

12.

Klopocki Klopocki E, Schulze H, Strauss G et al (2007) Complex inheritance pattern resembling autosomal recessive inheritance involving a microdeletion in thrombocytopenia-absent radius syndrome. Am J Hum Genet 80:232–240

13.

Bogdanova Bogdanova N, Siebers U, Kelsch R et al (2010) Blood chimerism in a girl with Down syndrome and possible freemartin effect leading to aplasia of the Müllerian derivatives. Hum Reprod 25:1339–1343, Epub 2010

14.

Dörk T, Dworniczak B, Aulela-Scholz C et al (1997) Distinct spectrum of CFTR gene mutations in congenital absence of vas deferens. Hum Genet 100:365–377

15.

Claustres M, Guittard C, Bozon D et al (2000) Spectrum of CFTR mutations in cystic fibrosis and in congenital absence of the vas deferens in France. Hum Mutat 16:143–156

16.

Dequecker E, Stuhrmann M, Morris MA et al (2008). Best practice guidelines for molecular genetic diagnosis of cystic fibrosis and CFTR-related disorders – updated European recommendations. Eur J Hum Genet 1–15

17.

Wilton LJ, Teichtahl H, Temple-Smith PD et al (1991) Young's syndrome (obstructive azoospermia and chronic sinobronchial infection): a quantitative study of axonemal ultrastructure and function. Fertil Steril 55:144–151
Interessenkonflikt
Der korrespondierende Autor gibt an, dass kein Interessenkonflikt besteht.
About this article
Cite this article
Wieacker, P., Ledig, S. & Bogdanova, N. Genetisch bedingte Entwicklungsstörungen der Genitalwege. medgen 23, 267–270 (2011). https://doi.org/10.1007/s11825-011-0269-9
Schlüsselwörter
Uterusanomalien

Mayer-Rokitansky-Küster-Hauser-Syndrom

Persistenz von Müller-Strukturen

Kongenitale bilaterale Aplasie des Vas deferens (CBAVD)

Wolff-Gang
Keywords
Uterine anomalies

Mayer-Rokitansky-Kuster-Hauser syndrome

Persistence of Mullerian structures

Congenital bilateral aplasia of vas deferens (CBAVD)

Wolffian duct