Zusammenfassung
Das Prader-Willi-Syndrom (PWS) und das Angelman-Syndrom (AS) sind distinkte neurogenetische Erkrankungen, die durch den Funktionsverlust geprägter Gene in der Region 15q11q13 hervorgerufen werden. Ein etwa 2 Mb großer Bereich in 15q11q13 unterliegt einer elternspezifischen Prägung ("genomic imprinting"). Infolge der Prägung unterscheiden sich die väterliche und mütterliche Kopie dieses Bereichs in der DNA-Methylierung und der Genexpression. Die häufigsten Ursachen für PWS und AS sind eine 5–7 Mb große interstitielle Deletion in der chromosomalen Region 15q11q13, eine uniparentale Disomie 15, ein Imprintingdefekt oder im Fall von AS eine Mutation im UBE3A-Gen. Mikrodeletionen bei einer kleinen Anzahl von Patienten mit einem Imprintingdefekt haben zur Identifizierung eines Imprinting-Centers (IC) "upstream" vom SNURF-SNRPN-Gen geführt, das die Imprintumschaltung in cis reguliert. Das IC hat eine zweiteilige Struktur: Einen zentromerischen Teil, der bei Patienten mit AS deletiert ist und für die mütterliche Prägung notwendig ist, und einen telomerischen Teil, der bei Patienten mit PWS deletiert ist und der für die Aufrechterhaltung der väterlichen Prägung notwendig ist.
Abstract
Prader-Willi syndrome (PWS) and Angelman syndrome (AS) are two distinct neurogenetic disorders caused by the loss of function of imprinted genes in the chromosomal region 15q11q13. An approximately 2 Mb region inside 15q11q13 is subject to genomic imprinting. As a consequence the maternal and paternal copies in this region are different in DNA methylation and gene expression. The most frequent genetic lesions in both disorders are an interstitial de novo deletion of the chromosomal region 15q11q13, uniparental disomy 15, an imprinting defect or, in the case of AS, a mutation of the UBE3A gene. Microdeletions in a small number of patients with PWS and AS with an imprinting defect have led to the identification of the chromosome 15 imprinting centre (IC) upstream of the SNURF-SNRPN gene, which acts in cis to regulate imprinting in the whole 15q imprinted domain. The IC consists of two critical elements: one in the more centromeric part which is deleted in patients with AS and which is thought to be responsible for the establishment of imprinting in the female germ line, and one in the more telomeric part which is deleted in patients with PWS and which is required to maintain the paternal imprint.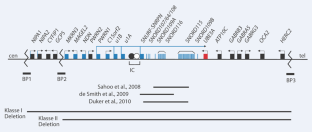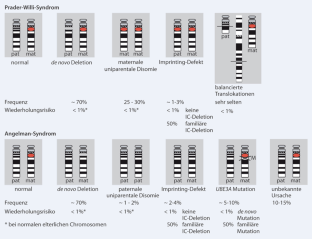 Literatur
1.

Ledbetter DH, Riccardi VM, Airhart SD et al (1981) Deletions of chromosome 15 as a cause of the Prader-Willi syndrome. N Engl J Med 304:325–329

2.

Magenis RE, Brown MG, Lacy DA et al (1987) Is Angelman syndrome an alternate result of del(15)(q11q13)? Am J Med Genet A 28:829–838

3.

Nicholls RD, Knoll JH, Butler MG et al (1989) Genetic imprinting suggested by maternal heterodisomy in nondeletion Prader-Willi syndrome. Nature 342:281–285

4.

Malcolm S, Clayton-Smith J, Nichols M et al (1991) Uniparental paternal disomy in Angelman's syndrome. Lancet 337:694–697

5.

Buiting K (2010) Prader-Willi syndrome and Angelman syndrome. Am J Med Genet C Semin Med Genet 154C:365–376

6.

Kanber D, Giltay J, Wieczorek D et al (2009) A paternal deletion of MKRN3, MAGEL2 and NDN does not result in Prader-Willi syndrome. Eur J Hum Genet 17:582–590

7.

Sahoo T, Gaudio D del, German JR et al (2008) Prader-Willi phenotype caused by paternal deficiency for the HBI-85 C/D box small nucleolar RNA cluster. Nat Genet 40:719–721

8.

Smith AJ de, Purmann C, Walters RG et al (2009) A deletion of the HBII-85 class of small nucleolar RNAs (snoRNAs) is associated with hyperphagia, obesity and hypogonadism. Hum Mol Genet 18:3257–3265

9.

Duker AL, Ballif BC, Bawle EV et al (2010) Paternally inherited microdeletion at 15q11.2 confirms a significant role for the SNORD116 C/D box snoRNA cluster in Prader-Willi syndrome. Eur J Hum Genet

10.

Matsuura T, Sutcliffe JS, Fang P et al (1997) De novo truncating mutations in E6-AP ubiquitin-protein ligase gene (UBE3A) in Angelman syndrome. Nat Genet 15:74–77

11.

Kishino T, Lalande M, Wagstaff J (1997) UBE3A/E6-AP mutations cause Angelman syndrome. Nat Genet 15:70–73

12.

Amos-Landgraf JM, Ji Y, Gottlieb W et al (1999) Chromosome breakage in the Prader-Willi and Angelman syndromes involves recombination between large, transcribed repeats at proximal and distal breakpoints. Am J Hum Genet 65:370–386

13.

Christian SL, Fantes JA, Mewborn SK et al (1999) Large genomic duplicons map to sites of instability in the Prader-Willi/Angelman syndrome chromosome region (15q11–q13). Hum Mol Genet 8:1025–1037

14.

Robinson WP, Kuchinka BD, Bernasconi F et al (1998) Maternal meiosis I non-disjunction of chromosome 15: dependence of the maternal age effect on level of recombination. Hum Mol Genet 7:1011–1019

15.

Horsthemke B, Buiting K (2006) Imprinting defects on human chromosome 15. Cytogenet Genome Res 113:292–299

16.

Buiting K, Saitoh S, Gross S et al (1995) Inherited microdeletions in the Angelman and Prader-Willi syndromes define an imprinting centre on human chromosome 15. Nat Genet 9:395–400

17.

Ohta T, Gray TA, Rogan PK et al (1999) Imprinting-mutation mechanisms in Prader-Willi syndrome. Am J Hum Genet 64:397–413

18.

Buiting K, Gross S, Lich C et al (2003) Epimutations in Prader-Willi and Angelman syndromes: a molecular study of 136 patients with an imprinting defect. Am J Hum Genet 72:571–577

19.

Nazlican H, Zeschnigk M, Claussen U et al (2004) Somatic mosaicism in patients with Angelman syndrome and an imprinting defect. Hum Mol Genet 13:2547–2555

20.

Ramsden SC, Clayton-Smith J, Birch R, Buiting K (2010) Practice guidelines for the molecular analysis of Prader-Willi and Angelman syndromes. BMC Med Genet 11:70

21.

Buiting K, Gläser D, Horsthemke B (2010) Leitlinien für die molekulare und zytogenetische Diagnostik bei Prader-Willi-Syndrom und Angelman-Syndrom. Med Genet 22:282–285
Danksagung
Die Autoren danken dem BMBF für die Unterstützung ihrer Forschungsarbeiten im Rahmen des Imprinting-Netzwerks (01GM0882).
Interessenkonflikt
Der korrespondierende Autor gibt an, dass kein Interessenkonflikt besteht.
About this article
Cite this article
Albrecht, B., Buiting, K. Prader-Willi-Syndrom und Angelman-Syndrom. medgen 22, 392–398 (2010). https://doi.org/10.1007/s11825-010-0250-z
Schlüsselwörter
Genomisches Imprinting

Imprintingdefekte

Prader-Willi-Syndrom

Angelman-Syndrom

DNA-Methylierung
Keywords
Genomic imprinting

Imprinting defects

Prader-Willi syndrome

Angelman syndrome

DNA methylation