Zusammenfassung
Die Bezeichnung Pseudohypoparathyreoidismus (PHP) beschreibt eine heterogene Gruppe von Erkrankungen, die durch eine Endorganresistenz gegenüber Parathormon (PTH) gekennzeichnet sind. Sie werden durch eine Defizienz der α-Untereinheit stimulierender G-Proteine (Gsα) verursacht. Gsα ist essenziell für die Signalvermittlung durch extrazelluläre Liganden über mehr als 1000 verschiedene G-Protein-gekoppelte Rezeptoren in das Zellinnere. Durch eine gewebespezifische Prägung verursachen maternale, autosomal-dominant vererbte Mutationen in dem für Gsα kodierenden GNAS-Genlocus PTH-Resistenz und klinische Zeichen der hereditären Albright-Osteodystrophie (AHO), einschließlich Brachymetakarpie, Kleinwuchs, subkutaner Ossifikationen und mentaler Retardierung (PHP-Typ Ia). Paternal vererbte GNAS-Mutationen führen zu selektiven AHO-Zeichen ohne Parathormonresistenz (Pseudo-PHP). Der PHP-Typ Ib, bei dem eine isolierte PTH-Resistenz vorliegt, wird durch heterozygote, maternal vererbte Deletionen stromaufwärts vom oder innerhalb des GNAS-Locus hervorgerufen, die durch eine Störung des Imprintingmusters eine gewebespezifische Stilllegung der Gsα-Expression hervorrufen. Diese Patienten zeigen in der Regel keine Zeichen der AHO. In der vorliegenden Arbeit wird ein Überblick über die Rolle epigenetischer Faktoren bei der Ätiopathogenese verschiedener PHP-Formen gegeben.
Abstract
The term pseudohypoparathyroidism (PHP) describes a heterogeneous group of related disorders characterized by end-organ resistance to parathyroid hormone (PTH). PHP is caused by deficiency of the α-subunit of stimulatory G proteins (Gsα), which is crucial for signal transduction of more than 1000 G protein-coupled receptors into the cell. PHP type Ia is caused by heterozygous, maternally inherited inactivating mutations involving those exons of the GNAS locus that encode Gsα. In addition, PHP Ia and Ic patients present with features of Albright hereditary osteodystrophy (AHO), which includes round face, short stature, brachymetacarpia, ectopic ossification, and mental retardation. Paternally inherited GNAS mutations lead to pseudo-PHP and are characterized by only some features of AHO in the absence of hormone resistance. PHP type Ib is caused by heterozygous, maternally inherited deletions up-stream of or within the GNAS locus that are associated with the loss of methylation at one or more maternally methylated regions within GNAS . Typically, these patients lack AHO features. This article provides an overview of the role of epigenetic factors for different PHP subtypes.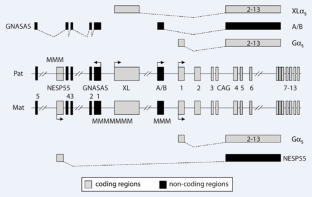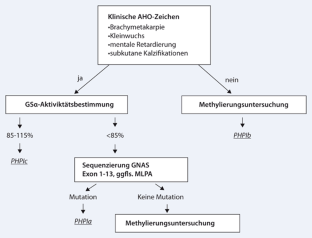 Literatur
1.

Adegbite NS, Xu M, Kaplan FS et al (2008) Diagnostic and mutational spectrum of progressive osseous heteroplasia (POH) and other forms of GNAS-based heterotopic ossification. Am J Med Genet 146A(14):1788–1796

2.

Ahrens W, Hiort O (2006) Determination of Gs alpha protein activity in Albright's hereditary osteodystrophy. J Pediatr Endocrinol Metab 2:647–651

3.

Albright F, Burnett CH, Smith PH, Parson W (1942) Pseudo-hypoparathyroidism: an example of 'Seabright-Bantam syndrome': report of three cases. Endocrinology 30:922–932

4.

Bastepe M, Lane AH, Juppner H (2001) Parental uniparental isodisomy of chromosome 20q and the resulting changes in GNAS1 methylation as a plausible cause of pseudohypoparathyroidism. Am J Hum Genet 68:1283–1289

5.

Bastepe M, Frohlich LF, Hendy GN et al (2003) Autosomal dominant pseudohypoparathyroidism type Ib is associated with a heterozygous microdeletion that likely disrupts a putative imprinting control element of GNAS. J Clin Invest 112:1255–1263

6.

Bastepe M, Frohlich LF, Linglart A et al (2005) Deletion of the NESP55 differentially methylated region causes loss of maternal GNAS imprints and pseudohypoparathyroidism type Ib. Nat Genet 37:25–27

7.

Bastepe M (2008) The GNAS locus and pseudohypoparathyroidism. Adv Exp Med Biol 626:27–40

8.

Cabrera-Vera TM, Vanhauwe J, Thomas TO et al (2003) Insights into G protein structure, function, and regulation. Endocr Rev 24(6):765–781

9.

Chillambhi S, Turan S, Hwang DY et al (2010) Deletion of the Noncoding GNAS Antisense Transcript causes Pseudohypoparathyroidism Type Ib and biparental defects of GNAS methylation in cis. J Clin Endocrinol Metab [Epub ahead of print]

10.

Nanclares GP de, Fernandez-Rebollo E, Santin I et al (2007) Epigenetic defects of GNAS in patients with pseudohypoparathyroidism and mild features of Albright's hereditary osteodystrophy. J Clin Endocrinol Metab 92:2370–2373

11.

Juppner H, Schipani E, Bastepe M et al (1998) The gene responsible for pseudohypoparathyroidism type Ib is paternally imprinted and maps in four unrelated kindreds to chromosome 20q13.3. Proc Natl Acad Sci 95:11798–11803

12.

Levine MA, Downs RW, Singer M et al (1980) Deficient activity of guanine nucleotide regulatory protein in erythrocytes from patients with pseudohypoparathyroidism. Biochem Biophys Res Commun 94:1319–1324

13.

Linglart A, Gensure RC, Olney RC et al (2005) A novel STX16 deletion in autosomal dominant pseudohypoparathyroidism type Ib redefines the boundaries of a cis-acting imprinting control element of GNAS. Am J Hum Genet 76:804–814

14.

Liu J, Litman D, Rosenberg MJ et al (2000) A GNAS1 imprinting defect in pseudohypoparathyroidism type Ib. J Clin Invest 106:1167–1174

15.

Mantovani G, Sanctis L de, Barbieri AM et al (2010) Pseudohypoparathyroidism and GNAS epigenetic defects: clinical evaluation of Albright hereditary Osteodystrophy and molecular analysis in 40 patients. J Clin Endocrinol Metab 95(2):651–658

16.

Thiele S, Ahrens W, Werner R et al (2007) A disruptive mutation in exon 3 of the GNAS gene with Albright hereditary osteodystrophy, normocalcemic pseudohypoparathyroidism, and selective long transcript variant Gsα-L deficiency. J Clin Endocrinol Metab 92(5):1764–1768

17.

Thiele S, Werner R, Ahrens W et al (2010) Selective deficiency of Gsalpha and the possible role of alternative gene products of GNAS in Albright hereditary osteodystrophy and pseudohypoparathyroidism type Ia. Exp Clin Endocrinol Diabetes 18(2):127–132

18.

Williamson CM, Ball ST, Nottingham WT et al (2004) A cis-acting control region is required exclusively for the tissue specific imprinting of Gnas. Nat Genet 36(8):894–899
Interessenkonflikt
Der korrespondierende Autor weist auf folgende Beziehung(en) hin: Die Autoren haben finanzielle Unterstützung vom BMBF unter dem Kennzeichen GMG 01GM0315 sowie von der Fa. Novo Nordisk erhalten.
About this article
Cite this article
Thiele, S., Hiort, O. Pseudohypoparathyreoidismus und epigenetische Veränderungen des GNAS-Genlocus. medgen 22, 419–423 (2010). https://doi.org/10.1007/s11825-010-0249-5
Schlüsselwörter
Pseudohypoparathyreoidismus

Hereditäre Albright-Osteodystrophie

Humanes Protein des komplexen GNAS-Genlocus

Genetisches Imprinting

DNA-Methylierung
Keywords
Pseudohypoparathyroidism

Albright hereditary osteodystrophy

GNAS complex locus protein, human

Genomic imprinting

DNA methylation