Zusammenfassung
Mutationen beider Allele des Retinoblastomgens (RB1) sind Voraussetzung für die Entstehung des Retinoblastoms. Dieser Augentumor kann auf der Grundlage einer autosomal-dominanten Disposition entstehen, die durch Keimbahnmutationen im RB1-Gen verursacht wird. Die Entstehung eines Tumorherds wird durch eine somatische Mutation des anderen RB1-Allels ausgelöst. Bei Patienten mit der nichterblichen Form sind beide RB1-Mutationen somatisch. Beim erblichen und beim nichterblichen Retinoblastom können Elterneffekte beobachtet werden. Diesen ist gemeinsam, dass die onkogene Wirkung der ersten Mutation höher ist, wenn sie das RB1-Allel paternaler Herkunft betrifft. Das RB1-Gen des Menschen unterliegt dem Imprinting: Als indirekte Folge differenzieller Methylierung einer CpG-Insel im Intron 2 überwiegt die Expression der mit Exon 1 beginnenden Transkripte vom maternalen, methylierten Allel. Ob und wie das Imprinting dieser CpG-Insel zu den beobachteten Elterneffekten führt, ist noch ungeklärt.
Abstract
Mutations in both alleles of the retinoblastoma gene (RB1) are required for the development of retinoblastoma, a childhood tumor of the eye. Hereditary predisposition to this tumor is caused by heterozygous RB1 gene mutations. A tumor focus is initiated by a second somatic mutation that inactivates the remaining RB1 allele. In non-hereditary retinoblastoma both the first and second mutation occur in somatic cells. The human RB1 gene is imprinted. It contains a CpG island in intron 2 that is methylated on the paternal allele only and, mediated by promoting expression of an alternative transcript, reduces expression of the regular paternal relative to the maternal RB1 transcript. Parent-of-origin effects have been identified in hereditary and in non-hereditary retinoblastoma. These effects have in common that the oncogenic effect of the first mutation is higher if a paternal allele is hit. It is plausible that some mechanisms link differential methylation of the CpG island and the observed parent-of-origin effects.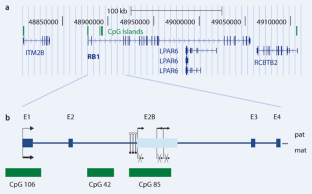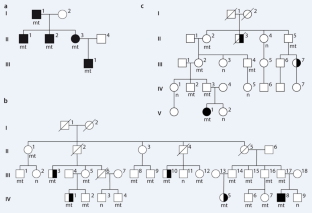 Literatur
1.

Genuardi M, Klutz M, Devriendt K et al (2001) Multiple lipomas linked to an RB1 gene mutation in a large pedigree with low penetrance retinoblastoma. Eur J Hum Genet 9:690–694

2.

Kanber D, Berulava T, Ammerpohl O et al (2009) The human retinoblastoma gene is imprinted. PLoS Genet 5:e1000790

3.

Kianianmomeni A, Nematollahi G, Hallmann A (2008) A gender-specific retinoblastoma-related protein in Volvox carteri implies a role for the retinoblastoma protein family in sexual development. Plant Cell 20:2399–2419

4.

Klutz M, Brockmann D, Lohmann DR (2002) A parent-of-origin effect in two families with retinoblastoma is associated with a distinct splice mutation in the RB1 gene. Am J Hum Genet 71:174–179

5.

Lohmann DR, Brandt B, Höpping W et al (1996) The spectrum of RB1 germ-line mutations in hereditary retinoblastoma. Am J Hum Genet 58:940–949

6.

Lohmann DR, Gallie BL (2004) Retinoblastoma: revisiting the model prototype of inherited cancer. Am J Med Genet C Semin Med Genet 129C:23–28

7.

Macklin MT (1960) A study of retinoblastoma in Ohio. Am J Hum Genet 12:1–43

8.

Zacksenhaus E, Jiang Z, Chung D et al (1996) pRb controls proliferation, differentiation, and death of skeletal muscle cells and other lineages during embryogenesis. Genes Dev 10:3051–3064

9.

Schüler A, Weber S, Neuhäuser M et al (2005) Age at diagnosis of isolated unilateral retinoblastoma does not distinguish patients with and without a constitutional RB1 gene mutation but is influenced by a parent-of-origin effect. Eur J Cancer 41:735–740

10.

Shearwin KE, Callen BP, Egan JB (2005) Transcriptional interference – a crash course. Trends Genet 21:339–345

11.

Toguchida J, Ishizaki K, Sasaki MS et al (1989) Preferential mutation of paternally derived RB gene as the initial event in sporadic osteosarcoma. Nature 338:156–158
Interessenkonflikt
Der korrespondierende Autor gibt an, dass kein Interessenkonflikt besteht.
About this article
Cite this article
Lohmann, D. Imprinting des RB1-Gens und "Parent-of-Origin-Effekte" beim Retinoblastom. medgen 22, 429–433 (2010). https://doi.org/10.1007/s11825-010-0243-y
Schlüsselwörter
Retinoblastomgene

Allele

"Loss of heterozygosity"

Genetisches Imprinting

Genetische Prädisposition
Keywords
Retinoblastoma genes

Alleles

Loss of heterozygosity

Genetic imprinting

Genetic predisposition