Zusammenfassung
Der Begriff uniparentale Disomie (UPD) beschreibt eine Chromosomenaberration, bei der beide Homologen/beide Kopien eines Chromosomenabschnitts (Heterodisomie) bzw. 2 Kopien eines Homologen/eines Chromosomenabschnitts (Isodisomie) von nur einem Elternteil herrühren. Man kann UPDs ganzer Chromosomen von segmentalen und von komplexen UPDs unterscheiden. Mögliche mit einer UPD assoziierte Probleme sind Trisomiemosaike, Homozygotie autosomal-rezessiv vererbter Mutationen, Vater-Kind- und Mutter-Tochter-Übertragung X-chromosomal vererbter Mutationen und mit einem Genomic Imprinting assoziierte Erkrankungen. Letzteres beschreibt die von der elterlichen Herkunft abhängige monoallelische Expression bestimmter Gene. Bislang bekannte Imprintingerkrankungen sind ein transienter neonataler Diabetes mellitus, das Silver-Russell-Syndrom, das Beckwith-Wiedemann-Syndrom, die upd(14)mat (Temple-Syndrom), die upd(14)pat, das Prader-Willi-Syndrom und das Angelman-Syndrom. Als Entstehungsmechanismen kommen ein Trisomic oder Monosomic Rescue, eine Gametenkomplementation oder ein Postfertilisierungsfehler in Frage. Gesamtinzidenz und -prävalenz sind nicht bekannt, für einzelne mit einer Imprintingerkrankung assoziierte UPDs werden Häufigkeiten bis 1:3400 unter Geburten angegeben. Als Nachweismethoden kommen in der Routinediagnostik vor allem die Mikrosatellitenmarkeranalyse, methylierungsspezifische Polymerasekettenreaktion (PCR) und methylierungsspezifische MLPA ("multiplex ligation-dependent probe amplification") zum Einsatz.
Abstract
Uniparental disomy (UPD) describes a chromosome aberration with the inheritance of both homologues/both copies of a chromosomal segment (heterodisomy) or two copies of one homologue/one chromosomal segment originating from one parent only. Whole chromosome UPDs can be distinguished from segmental and complex UPDs. UPD-associated problems include trisomy mosaicism, homozygosity of autosomal recessively inherited mutations, father-child and mother-daughter transmission of X-chromosomally inherited mutations and genomic imprinting disorders. Genomic imprinting describes the parent of origin-dependent monoallelic expression of some genes. Well-known imprinting disorders include transient neonatal diabetes mellitus, Silver-Russell syndrome, Beckwith-Wiedemann syndrome, upd(14)mat (Temple syndrome), upd(14)pat, Prader-Willi syndrome, and Angelman syndrome. Mechanisms of UPD formation include trisomic and monosomic rescue, gamete complementation, and postfertilization error. Incidence and prevalence for any UPD are not known, but for some imprinting disorder-associated syndromes frequencies up to 1: 3400 have been calculated. The most frequently applied techniques in routine diagnosis are microsatellite marker analysis, methylation-sensitive polymerase chain reaction (PCR), and methylation-specific multiplex ligation-dependent probe amplification (MLPA).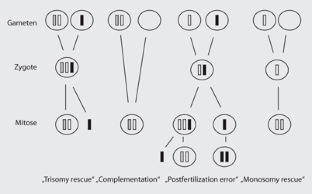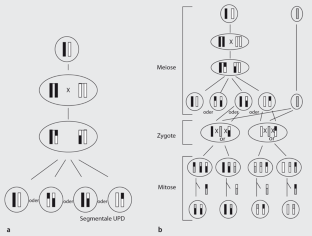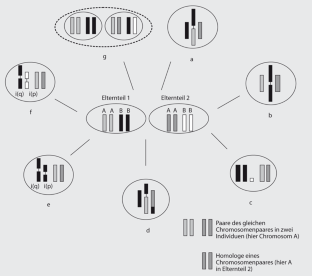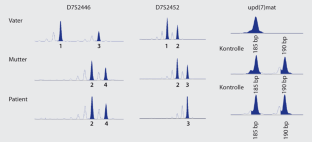 Literatur
1.

Ammerpohl O, Martín-Subero JI, Richter J et al (2009) Hunting for the 5th base: Techniques for analyzing DNA methylation. Biochim Biophys Acta 1790:847–862

2.

Conlin LK, Thiel BD, Bonnemann CG et al (2010) Mechanism of mosaicism, chimerism and uniparental disomy identified by single nucleotide polymorphism analysis. Hum Mol Genet 19:1263–1275

3.

Engel E (1980) A new genetic concept: uniparental disomy and its potential effect, isodisomy. Am J Med Genet 6:137–143

4.

Engel E (1999) Invited Editorial: Uniparental disomies in unselected populations. Am J Hum Genet 63:962–966

5.

Kotzot D, Utermann G (2005) Uniparental disomy (UPD) other than 15: phenotypes and bibliography updated. Am J Med Genet 136:287–305

6.

Kotzot D (2008) Complex and segmental uniparental disomy updated. J Med Genet 45:545–556

7.

Lalande M (1997) Parental imprinting and human disease. Ann Rev Genet 30:173–195

8.

Liehr T (2010) Cytogenetic contribution to uniparental disomy (UPD). Mol Cytogenet 29:3–8

9.

Robinson WP, Langlois S, Schuffenhauer S et al (1996) Cytogenetic and age dependent risk factors associated with uniparental disomy 15. Prenat Diagn 1:837–844

10.

Robinson WP (2000) Mechanisms leading to uniparental disomy and their clinical consequences. Bioessays 22:452–459

11.

Shaffer LG, Agan N, Goldberg JD et al (2001) American College of Medical Genetics statement on diagnostic testing for uniparental disomy. Genet Med 3:206–211

12.

Spence JE, Perciaccante RG, Greig GM et al (1988) Uniparental disomy as a mechanism for human genetic disease. Am J Hum Genet 42:217–226

13.

Tuna M, Knuutila S, Mills GB (2009) Uniparental disomy in cancer. Trends Mol Med 15:120–128

14.

Weinstein LS, Chen M, Xie T, Liu J (2006) Genetic diseases associated with heterotrimeric G proteins. Trends Pharmacol Sci 27:260–266
Danksagung
Die Autoren werden vom BMBF (Network "Imprinting diseases", 01GM0884) und der Else-Kröner-Fresenius-Stiftung (TE) sowie der Österreichischen Nationalbank (DK) gefördert.
Interessenkonflikt
Der korrespondierende Autor gibt an, dass kein Interessenkonflikt besteht.
About this article
Cite this article
Eggermann, T., Kotzot, D. Uniparentale Disomien. medgen 22, 439–451 (2010). https://doi.org/10.1007/s11825-010-0242-z
Schlüsselwörter
Uniparentale Disomie

Uniparentale Heterodisomie

Uniparentale Isodisomie

Genomic Imprinting

Mikrosatellitenmarker
Keywords
Uniparental disomy

Uniparental heterodisomy

Uniparental isodisomy

Genomic imprinting

Microsatellite markers