Zusammenfassung
Zystische Nierenerkrankungen umfassen eine klinisch und genetisch heterogene Krankheitsgruppe und stellen mit einer Prävalenz von 1:1000 eine der häufigsten erblichen Erkrankungen dar. Die wichtigsten Formen sind die autosomal-dominante polyzystische Nierenerkrankung (ADPKD), verursacht durch Mutationen im PKD1- und PKD2-Gen, sowie die autosomal-rezessive polyzystische Nierenerkrankung (ARPKD), bedingt durch Mutationen im PKHD1-Gen. Die Produkte der verantwortlichen Gene werden unter dem Begriff Zystoproteine zusammengefasst. Zystoproteine sind meist im Bereich der primären Zilien, aber auch ihrer assoziierten Strukturen wie Basalkörperchen und Zentrosomen lokalisiert. Die erblichen Zystennieren zählen zu der wachsenden Gruppe der Ziliopathien, die auch zahlreiche syndromale Krankheitsbilder einschließen (z. B. Bardet-Biedl-Syndrom, Meckel-Gruber-Syndrom oder Joubert-Syndrom) und deren Abgrenzung mitunter sehr schwierig ist. Hier kann die molekulargenetische Diagnostik wertvolle Beiträge zur klinischen und genetischen Einordnung liefern. Im Algorithmus der genetischen Abklärung sollten neben dem klinischen, ultrasonographischen und morphologischen Bild der Nierenerkrankung weitere Organfunktionsstörungen oder Fehlbildungen sowie die Familienanamnese besonders berücksichtigt werden.
Abstract
Cystic kidney diseases are a clinically and genetically heterogeneous group of disorders, representing one of the most frequent genetic conditions with a prevalence of about 1 in 1000. The most important forms include autosomal dominant polycystic kidney disease (ADPKD) caused by mutations in the PKD1 and PKD2 genes and the autosomal recessive polycystic kidney disease (ARPKD) caused by mutations in the PKHD1 gene. The proteins encoded by the involved genes are summarized as cystoproteins. On the cellular level, the majority of these cystoproteins co-localize in primary cilia, the basal body or the centrosome of renal epithelial cells. Inherited polycystic kidney diseases belong to the increasing number of reported ciliopathies which include many syndromic forms, e.g. Bardet-Biedl syndrome, Meckel syndrome and Joubert syndrome. Identifying the genetic defect can help establish the correct diagnosis, define the clinical prognosis and forms the basis for genetic counselling. In addition to establishing a clinical, ultrasonographic and morphological picture of the underlying kidney disease, the algorithm of genetic diagnosis should take the presence of further organ dysfunction or malformation as well as family history into consideration.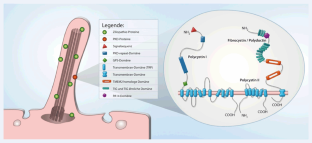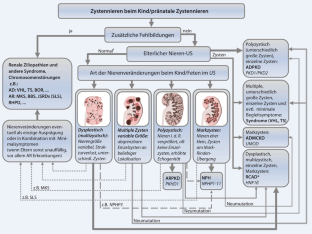 Literatur
1.

Bergmann C, Brüchle NO, Frank V et al (2008) Perinatal deaths in a family with autosomal dominant polycystic kidney disease and a PKD2 mutation. N Engl J Med 359(3):318–319

2.

Bergmann C, Küpper F, Dornia C et al (2005) Algorithm for efficient PKHD1 mutation screening in autosomal recessive polycystic kidney disease (ARPKD). Hum Mutat 25:225–231

3.

European Polycystic Kidney Disease Consortium (1994) The polycystic kidney disease 1 gene encodes a 14 kb transcript and lies within a duplicated region on chromosome 16. Cell 77:881–894

4.

Harris PC, Rossetti S (2010) Molecular diagnostics for autosomal dominant polycystic kidney disease. Nat Rev Nephrol 6(4):197–206

5.

Mochizuki T, Wu G, Hayashi T et al (1996) PKD2, a gene for polycystic kidney disease that encodes an integral membrane protein. Science 272:1339–1342

6.

Rossetti S, Kubly VJ, Consugar MB et al (2009) Incompletely penetrant PKD1 alleles suggest a role for gene dosage in cyst initiation in polycystic kidney disease. Kidney Int 75(8):848–855

7.

Torres VE, Harris PC (2009) Autosomal dominant polycystic kidney disease: the last 3 years. Kidney Int 76:149–168

8.

Ward CJ, Hogan MC, Rossetti S et al (2002) The gene mutated in autosomal recessive polycystic kidney disease encodes a large, receptor-like protein. Nat Genet 30:259–269

9.

Ward CJ, Yuan D, Masyuk TV et al (2003) Cellular and subcellular localization of the ARPKD protein; fibrocystin is expressed on primary cilia. Hum Mol Genet 12(20):2703–2710

10.

Zerres K, Senderek J, Rudnik-Schöneborn S et al (2004) New options for prenatal diagnosis in autosomal recessive polycystic kidney disease by mutation analysis of the PKHD1 gene. Clin Genet 66(1):53–57

11.

Zerres K, Völpel MC, Weiss H (1984) Cystic kidneys: genetics, pathologic anatomy, clinical picture, and prenatal diagnosis. Hum Genet 68:104–135
Interessenkonflikt
Der korrespondierende Autor gibt an, dass kein Interessenkonflikt besteht.
About this article
Cite this article
Ortiz Brüchle, N., Venghaus, A., von Bothmer, J. et al. Zystennieren – eine Übersicht. medgen 22, 322–331 (2010). https://doi.org/10.1007/s11825-010-0238-8
Schlüsselwörter
Zystennieren

Genetik

Diagnose

Differenzialdiagnose

Ziliopathien
Keywords
Kidney diseases, cystic

Genetics

Diagnosis

Differential diagnosis

Ciliopathies