Zusammenfassung
Die primäre ziliäre Dyskinesie ("primary ciliary dyskinesia", PCD) ist eine klinisch und genetisch heterogene Gruppe von Erkrankungen. Der Phänotyp der Erkrankung erklärt sich durch angeborene Defekte motiler respiratorischer Flimmerhärchen (Zilien), die zu einer verminderten mukoziliären Reinigung der Atemwege führt. Bei den meisten PCD-Varianten kommt es zu einer Randomisierung der Links-rechts-Körperasymmetrie, da nodale Zilien während der frühen embryonalen Entwicklung ebenfalls eine Dysmotilität aufweisen. Etwa die Hälfte der PCD-Patienten weisen daher einen Situs inversus (Kartagener-Syndrom) oder eine Heterotaxie auf. Mittlerweile konnten Mutationen in 9 Genen, die für axonemale Motorproteine oder zytoplasmatische Assemblierungsfaktoren kodieren, nachgewiesen werden. Für 2 X-chromosomale syndromale PCD-Varianten, die entweder mit Retinitis pigmentosa oder mentaler Retardierung einhergehen, wurden die Gendefekte aufgeklärt. Bei klinischem Verdacht sollte die Diagnose mittels Hochfrequenzvideomikroskopie (Zilienschlaganalyse) gesichert werden. Nicht alle PCD-Varianten weisen elektronenmikroskopische oder immunfluoreszenzmikroskopische Defekte auf. Die detaillierte Diagnostik erlaubt dann eine gezielte genetische Diagnostik.
Abstract
Primary ciliary dyskinesia (PCD) is a clinically and genetically heterogenous group of disorders, predominantly inherited as an autosomal recessive trait. The disease phenotype is characterised by defective mucociliary clearance of the airways caused by inborn defects of motile respiratory cilia. Randomization of left/right-body symmetry is found in most PCD variants and results from dysfunction of nodal cilia during early embryonic development. Thus ~50% of PCD patients exhibit situs inversus or heterotaxia. To date nine genes encoding either axonemal motor protein components or dynein assembly factors have been identified. In addition, two X-linked syndromic PCD variants associated either with retinitis pigmentosa or mental retardation have been reported. High-speed videomicroscopy (HVM) for ciliary beat evaluation is the most sensitive diagnostic test, since electron microscopy (EM) and immunofluorescence (IF) analyses are not able to detect all PCD variants. Genetic analyses should be targeted once the PCD variant has been characterized in detail by HVM and EM/IF.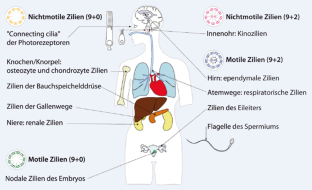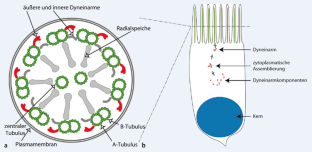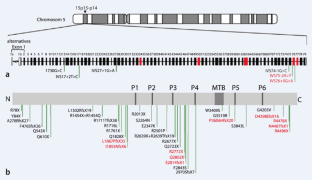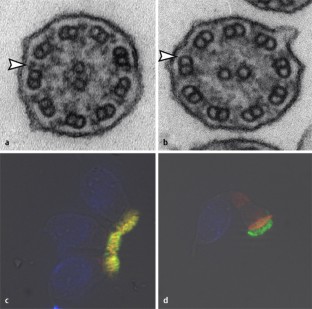 Literatur
1.

Barbato A, Frischer T, Kuehni CE et al (2009) Primary ciliary dyskinesia: a consensus statement on diagnostic and treatment approaches in children. Eur Respir J 34:1264–1276

2.

Fliegauf M, Benzing T, Omran H (2007) Cilia: Hair-like oganelles with many links to disease. Nat Cell Biol 8:880–893

3.

Fliegauf M, Olbrich H, Horvath J et al (2005) Mislocalization of DNAH5 and DNAH9 in respiratory cells from patients with primary ciliary dyskinesia. Am J Respir Crit Care Med 171:1343–1349

4.

Hornef N, Olbrich H, Horvath J et al (2006) DNAH5 mutations are a common cause of primary ciliary dyskinesia with outer dynein arm defects. Am J Respir Crit Care Med 174:120–126

5.

Ibañez-Tallon I, Heintz N, Omran H (2003) To beat or not to beat, roles of cilia in development and disease. Hum Mol Genet 12:R27–R35

6.

Loges NT, Olbrich H, Becker-Heck A et al (2009) Deletions and point mutations of LRRC50 cause primary ciliary dyskinesia due to dynein arm defects. Am J Hum Genet 85:883–889

7.

Loges NT, Olbrich H, Fenske L et al (2008) DNAI2 mutations cause primary ciliary dyskinesia with defects in the outer dynein arm. Am J Hum Genet 83:547–558

8.

Olbrich H, Häffner K, Kispert A et al (2002) Mutations in DNAH5 cause primary ciliary dyskinesia and randomization of left-right asymmetry. Nat Genet 30:143–144

9.

Omran H, Kobayashi D, Olbrich H et al (2008) Ktu/PF13 is required for cytoplasmic pre-assembly of axonemal dyneins. Nature 456:611–616

10.

Zariwala MA, Knowles MR, Omran H (2006) Genetic defects in ciliary structure and function. Annu Rev Physiol 69:423–450
Danksagung
Für die langjährige Unterstützung des Forschungsprojektes gilt den Betroffenen und der Selbsthilfegruppe für "Primäre Ciliäre Dyskinesie und Kartagener Syndrom e.V.", wie auch allen zusendenden Pädiatern, Pneumologen und Humangenetikern ein herzlicher Dank. Der Deutschen Forschungsgemeinschaft und der Stiftung "Kindness for Kids" sind wir ebenfalls zu besonderem Dank verpflichtet.
Interessenkonflikt
Keine Angaben.
About this article
Cite this article
Omran, H., Olbrich, H. Zilienkrankheiten unter besonderer Berücksichtigung der primären ziliären Dyskinesie. medgen 22, 315–321 (2010). https://doi.org/10.1007/s11825-010-0235-y
Schlüsselwörter
Primäre ziliäre Dyskinesie

Immotile Zilien

Dynein

Radialspeiche

Bronchiektase
Keywords
Ciliary dyskinesia, primary

Immotile cilia

Dynein

Radial spoke

Bronchiectasis