Zusammenfassung
Die Suszeptibilität komplex-genetischer Erkrankungen wird durch eine unbekannte Anzahl genetischer Faktoren bestimmt. In den letzten Jahrzehnten sind Hunderte von Suszeptibilitätsloci für die Alzheimer-Krankheit (AD), das idiopathische Parkinson-Syndrom (PD), Schizophrenie (SZ) und multiple Sklerose (MS) beschrieben worden. Diese schwierig zu überschauende Datenlage für jede dieser Erkrankungen wird kompliziert durch die ansteigende Zahl genomweiter Assoziationsstudien. Um die Evaluation und Interpretation der Ergebnisse zu erleichtern, haben wir Internet-Datenbanken für genetische Assoziationsstudien in AD, PD, SZ und MS generiert. Neben einer detailierten Synopse aller verfügbaren Studien bieten die Datenbanken allel-basierte Metaanalysen der Polymorphismen, zu denen ausreichende Daten vorliegen. In diesem Review stellen wir anhand der Datenbanken für AD (AlzGene) und PD (PDGene) den Hintergrund und die Implikationen dieses Ansatzes vor.
Abstract
Susceptibility to genetically complex disorders is determined by an unknown number of genetic determinants, and decades of intensive research have yielded hundreds of such potential susceptibility loci for Alzheimer's disease (AD), Parkinson's disease (PD), schizophrenia (SZ), and multiple sclerosis (MS). The results of genome-wide association studies are now adding to an already vast and complicated body of data. To facilitate the evaluation and interpretation of these findings, we have recently created online databases for genetic association studies in AD, PD, SZ, and MS. In addition to providing detailed summaries for each eligible study, the databases present the results of allele-based meta-analyses for all polymorphisms with sufficient genotype data. In this review, we discuss the background and implications of the database approach developed by our group, using current findings from the AD (AlzGene) and PD (PDGene) databases as examples.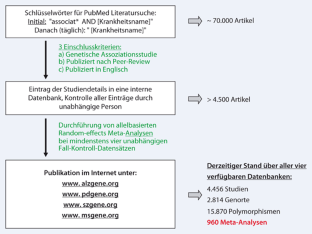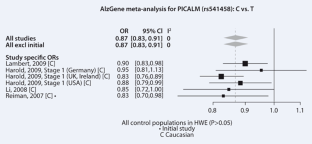 Abbreviations
AD:

Alzheimer-Krankheit

APOE:

"apolipoprotein E" (Gen-Name)

BDNF:

"brain-derived neurotrophic factor" (Gen-Name)

CLU:

"clusterin" (Gen-Name)

CR1:

"complement component (3b/4b) receptor 1" (Gen-Name)

GBA:

"glucosidase, beta, acid" (Gen-Name)

GWAS:

Genomweite Assoziationsstudie

LRRK2:

"leucine-rich repeat kinase 2" (Gen-Name)

MAPT:

"microtubule-associated protein tau" (Gen-Name)

MS:

Multiple Sklerose

OR:

Odds Ratio (Effektstärke)

PD:

Idiopathisches Parkinson-Syndrom

PICALM:

"phosphatidylinositol binding clathrin assembly protein" (Gen-Name)

SNCA:

"alpha-synuclein" (Gen-Name)

SZ:

Schizophrenie

TPRG1:

"tumor protein p63 regulated 1" (Gen-Name)

ε4Allel:

Epsilon-4-Allel
Literatur
1.

Bertram L, McQueen MB, Mullin K et al (2007) Systematic meta-analyses of Alzheimer disease genetic association studies: the AlzGene database. Nat Genet 39:17–23

2.

Allen NC, Bagade S, McQueen MB et al (2008) Systematic meta-analyses and field synopsis of genetic association studies in schizophrenia: the SzGene database. Nat Genet 40:827–834

3.

Bertram L, Tanzi RE (2009) Genome-wide association studies in Alzheimer's disease. Hum Mol Genet 18:R137–R145

4.

Lambert JC, Heath S, Even G et al (2009) Genome-wide association study identifies variants at CLU and CR1 associated with Alzheimer's disease. Nat Genet 41:1094–1099

5.

Harold D, Abraham R, Hollingworth P et al (2009) Genome-wide association study identifies variants at CLU and PICALM associated with Alzheimer's disease. Nat Genet 41:1088–1093

6.

Ioannidis JP, Boffetta P, Little J et al (2008) Assessment of cumulative evidence on genetic associations: interim guidelines. Int J Epidemiol 37:120–132

7.

Reiman EM, Webster JA, Myers AJ et al (2007) GAB2 alleles modify Alzheimer's risk in APOE epsilon4 carriers. Neuron 54:713–720

8.

Li H, Wetten S, Li L et al (2008) Candidate single-nucleotide polymorphisms from a genomewide association study of Alzheimer disease. Arch Neurol 65:45–53

9.

Lohmueller KE, Pearce CL, Pike M et al (2003) Meta-analysis of genetic association studies supports a contribution of common variants to susceptibility to common disease. Nat Genet 33:177–182

10.

Bertram L, Tanzi RE (2008) Thirty years of Alzheimer's disease genetics: the implications of systematic meta-analyses. Nat Rev Neurosci 9:768–778

11.

De Jager PL, Chibnik LB, Cui J et al (2009) Integration of genetic risk factors into a clinical algorithm for multiple sclerosis susceptibility: a weighted genetic risk score. Lancet Neurol 8:1111–1119

12.

Ioannidis JP (2009) Prediction of cardiovascular disease outcomes and established cardiovascular risk factors by genome-wide association markers. Circ Cardiovasc Genet 2:7–15
Danksagung
Unser Dank gilt allen Mitarbeitern und Kollaborateuren, die zur Erstellung und Aktualisierung der besprochenen Datenbanken beigetragen haben (s. hierzu die "Credits-Sektionen" auf den Internetseiten der jeweiligen Datenbanken), insbesondere den Mitarbeitern der Alzheimer- und Schizophrenia-Research-Foren, die die Datenbanken im Internet darstellen.
Interessenkonflikt
Der korrespondierende Autor weist auf folgende Beziehung(en) hin: AlzGene wird gefördert durch den Cure Alzheimer Fund (Waltham, USA), PDGene durch die Michael J. Fox Foundation for Research in Parkinson's disease (New York, USA), und SZGene durch die National Alliance on Research in Schizophrenia and Depression (NARSAD; New York, USA), alle Förderungen jeweils an L.B. als Principal Investigator.
About this article
Cite this article
Lill, C., Bertram, L. Online-Datenbanken und systematische Metaanalysen komplex-genetischer Erkrankungen. medgen 22, 235–241 (2010). https://doi.org/10.1007/s11825-010-0225-0
Schlüsselwörter
Neuropsychiatrische Erkrankungen

Alzheimer-Krankheit

Idiopathisches Parkinson-Syndrom

Genetische Assoziation

Metaanalyse
Keywords
Neuropsychiatric traits

Alzheimer's disease

Idiopathic Parkinson's disease

Genetic association

Meta-analysis