Zusammenfassung
Vor Kurzem hat die Sequenzierung individueller menschlicher Genome mittels neuartiger Technologien ein neues Kapitel in der Humangenetik eingeläutet. So hat das 1000-Genom-Projekt (1000GP) die Genomanalyse in 2500 Individuen zur Aufgabe und wird unser Wissen über genetische Variationen durch die Erstellung einer hochauflösenden Karte im Menschen maßgeblich erweitern. So sollen im 1000GP sowohl Einzelnukleotidpolymorphismen als auch strukturelle Variationen mittels Sequenzierung in mehreren ethnischen Gruppen identifiziert werden. Außerdem werden die verwendeten Technologien auf ihre Eignung für Projekte dieses Maßstabs getestet. Letztlich sollen auch neue bioinformatische Lösungen erarbeitet werden, um die 1000GP-Daten effizient für die Forschung aufarbeiten zu können. Dieser neue Katalog an häufigen und seltenen genetischen Varianten wird in naher Zukunft die Entwicklung verbesserter Methoden zur Phänotypassoziation und zur Ermittlung der molekularen Ursache verschiedener Krankheiten ermöglichen.
Abstract
The ability to sequence entire individual human genomes has heralded a new era in human genetics. Such advances in sequencing technologies make it possible to address new questions such as the generation of a comprehensive map of common and rare genetic variants in humans. The 1000 Genome Project will analyze 2500 genomes and is expected to greatly expand our knowledge about genomic variation, both on single nucleotide polymorphisms and genomic structural variants in a number of human ethnic populations. Furthermore, the possibility to use these new sequencing technologies for such large scale projects will be evaluated. Finally, new bioinformatics solutions will be developed to efficiently store and process such large volumes of data for the scientific community. This catalogue of common and rare variations will facilitate the development of better methods for phenotype-genotype associations and help uncover the molecular bases for a variety of diseases in the near future.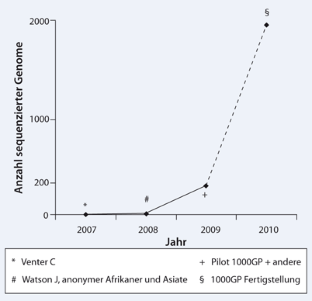 Abbreviations
1000 GP:

1000-Genom-Projekt

SNPs:

Einzelnukleotidpolymorphismen

GWAS:

Genomweite Assoziationsstudien

SV:

Strukturelle Variation

HDS:

Hochdurchsatz-Sequenziertechnologien

CNV:

Kopienzahlvariation

bp:

Basenpaar

Gb:

Gigabasen

ICGC:

International Cancer Genome Consortium
Literatur
1.

Campbell PJ, Stephens PJ, Pleasance ED et al (2008) Identification of somatically acquired rearrangements in cancer using genome-wide massively parallel paired-end sequencing. Nat Genet 40:722–729

2.

Christley S, Lu Y, Li C, Xie X (2009) Human genomes as email attachments. Bioinformatics 25:274–275

3.

Frazer KA, Murray SS, Schork NJ, Topol EJ (2009) Human genetic variation and its contribution to complex traits. Nat Rev Genet 10:241–251

4.

Korbel JO, Urban AE, Affourtit JP et al (2007) Paired-end mapping reveals extensive structural variation in the human genome. Science 318:420–426

5.

Lupski JR, Reid JG, Gonzaga-Jauregui C et al (2010) Whole-genome sequencing in a patient with Charcot-Marie-Tooth neuropathy. N Engl J Med 362:1181–1191

6.

Metzker ML (2010) Sequencing technologies – the next generation. Nat Rev Genet 11:31–46

7.

Ng SB, Turner EH, Robertson PD et al (2009) Targeted capture and massively parallel sequencing of 12 human exomes. Nature 461:272–276

8.

Roach JC, Glusman G, Smit AF et al (2010) Analysis of genetic inheritance in a family quartet by whole-genome sequencing. Science Mar 10. [Epub ahead of print]

9.

The International Cancer Genome Consortium (2010) International network of cancer genome projects. Nature 464:993–998

10.

Via M, Gignoux C, Burchard EG (2010) The 1000 Genomes Project: new opportunities for research and social challenges. Genome Med 2:3

11.

Zhang F, Gu W, Hurles ME, Lupski JR (2009) Copy number variation in human health, disease, and evolution. Annu Rev Genomics Hum Genet 10:451–481
Danksagung
Wir danken den Mitgliedern des 1000-Genom-Projekts und des ICGC PedBrain Tumor Konsortiums für ausführliche Diskussionen. Des Weiteren möchten wir uns bei allen Kollegen entschuldigen, auf deren Originalarbeiten wir aufgrund der Limitierung der Literaturzitate nicht verweisen konnten.
Interessenkonflikt
Der korrespondierende Autor gibt an, dass kein Interessenkonflikt besteht.
About this article
Cite this article
Stütz, A., Korbel, J. Potenzial und Herausforderungen der personalisierten Genomik und des 1000-Genom-Projekts. medgen 22, 242–247 (2010). https://doi.org/10.1007/s11825-010-0220-5
Schlüsselwörter
1000-Genom-Projekt

Genomanalyse

Genetische Variationen

Einzelnukleotidpolymorphismen

Strukturelle Variationen
Keywords
1000 Genome Project

Genome analysis

Genetic variations

Single nucleotide polymorphisms

Structural variations