Zusammenfassung
Orphanet ist eine relationale Datenbank über seltene Krankheiten und Arzneimittel für seltene Krankheiten (Orphan Drugs). Die internetbasierte Informationsplattform wurde im Jahr 1997 durch das französische Gesundheitsministerium und INSERM (Institut National de la Santé et de la Recherche Médicale) ins Leben gerufen. Seit dem Jahr 2000 wird Orphanet als europäisches Projekt fortgeführt. Das Konzept der Datenbank basiert auf der Idee, allen beteiligten Interessengruppen Informationen über seltene Krankheiten in Form eines Katalogs von Fachdienstleistungen bereitzustellen. Dieses Angebotsverzeichnis umfasst Informationen über Spezialsprechstunden und Kliniken, Diagnostikangebote, Forschungsprojekte, klinische Studien, Netzwerke, Register und Selbsthilfegruppen aus derzeit 38 Ländern. Die erfassten Leistungen sind unmittelbar mit dem Verzeichnis der seltenen Krankheiten assoziiert, darüber hinaus ist eine umfangreiche Enzyklopädie verfügbar. Alle Informationen sind kostenfrei und in 5 Sprachen über die Website http://www.orpha.net abrufbar.
Abstract
Orphanet is a relational database of rare diseases and orphan drugs. This internet-based information platform was established jointly by the French Ministry of Health and the French National Institute of Health and Medical Research (INSERM) in 1997. Since 2000 Orphanet progressed as a European project. The concept was to provide all stakeholders with compiled information on rare diseases through a directory of expert services. This directory of services provides information on specialised outpatient clinics, clinical laboratories, research projects, registries, clinical trials and patient organisations from currently 38 countries. The Services are directly associated with the inventory of rare diseases; furthermore, a comprehensive encyclopaedia is available. All information is freely accessible in five languages at the website http://www.orpha.net.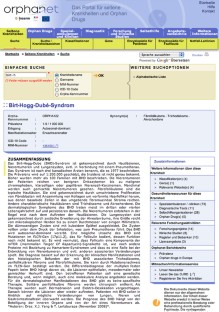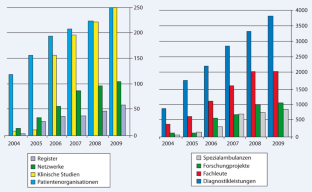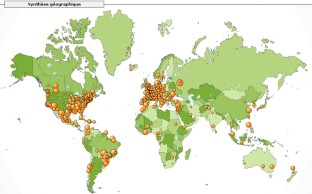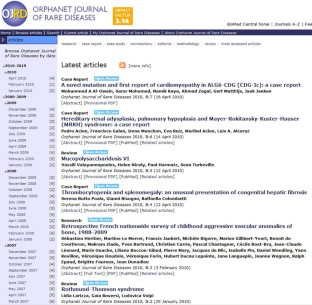 Literatur
1.

Aymé S, Kole A, Groft S (2008) Empowerment of patients: lessons from the rare diseases community. Lancet 371(9629):2048–2051

2.

Aymé S, Schmidtke J (2007) Networking for rare diseases: a necessity for Europe. Bundesgesundheitsblatt Gesundheitsforschung Gesundheitsschutz 50(12):1477–1483

3.

Europäisches Parlament und Rat (2000) Verordnung (EG) Nr. 141/2000 des Europäischen Parlaments und des Rates vom 16. Dezember 1999 über Arzneimittel für seltene Leiden. Amtsblatt der Europäischen Gemeinschaften L18/1. http://eur-lex.europa.eu/LexUriServ/LexUriServ.do?uri=OJ:L:2000:018:0001:0005:DE:PDF

4.

Europäische Kommission, Generaldirektion Gesundheit und Verbraucher (2008) Empfehlung des Rates für eine europäische Maßnahme im Bereich seltener Krankheiten. http://ec.europa.eu/health/ph_threats/non_com/docs/rare_rec_de.pdf

5.

Rixen S (2008) Seltene Erkrankungen als Problem des Gesundheitssozialrechts. Z Evid Fortbild Qual Gesundheitswes (ZEFQ) 102:31–36

6.

Schmidtke J, Langenbeck U, Nyoungui E, Rommel K (2007) Orphanet Handbuch Seltene Krankheiten 2007. Vertrieb: info@mmi.de, Hannover
Interessenkonflikt
Die korrespondierende Autorin gibt an, dass kein Interessenkonflikt besteht.
About this article
Cite this article
Rommel, K., Nyoungui, E., Dierking, A. et al. Orphanet – das europäische Portal für seltene Krankheiten. medgen 22, 213–220 (2010). https://doi.org/10.1007/s11825-010-0219-y
Schlüsselwörter
Seltene Krankheiten

Orphan Drugs

Internetdatenbank

Informationsplattform
Keywords
Rare diseases

Orphan drugs

Internet database

Information platform