Zusammenfassung
Neuro-kardio-fazio-kutane ("neuro-cardio-facio-cutaneous": NCFC) Syndrome wurden in den letzten Jahren als eine Gruppe von angeborenen Erkrankungen definiert, deren phänotypische Überschneidungen eine gemeinsame pathogenetische Grundlage haben. Erkrankungen aus diesem phänotypischen Spektrum gehen mit einer Überfunktion des RAS-MAPK-Signalwegs (RAS: "rat sarcoma", MAPK mitogenaktivierte Proteinkinase) einher. Zu den neuro-kardio-fazio-kutanen Erkrankungen gehören das Noonan-, das LEOPARD-, das kardio-fazio-kutane ("cardio-facio-cutaneous": CFC) und das Costello-Syndrom, die Neurofibromatose Typ 1 sowie das Legius-Syndrom. Für eine sachgerechte medizinische Diagnostik und Behandlung sowie die notwendige psychosoziale Betreuung von Betroffenen und deren Familien ist das Zusammenwirken verschiedener Fachdisziplinen notwendig.
Abstract
Recently, neuro-cardio-facio-cutaneous (NCFC) syndromes were defined as a group of hereditary diseases with phenotypical overlap based on a similar pathogenetic mechanism. These syndromes are associated with increased signal transduction down the RAS-MAPK (RAS: rat sarcoma, MAPK: mitogen-activated protein kinase) pathway. Noonan, LEOPARD, cardio-facio-cutaneous, and Costello syndrome as well as neurofibromatosis type 1 and Legius syndrome belong to the NCFC diseases. Interdisciplinary health management is essential to determine and establish adequate medical diagnostics and treatment and to provide psychosocial support for affected patients and their families.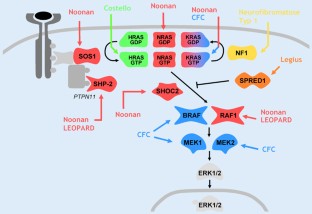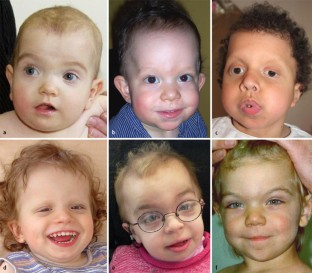 Literatur
1.

Allanson JE (2007) Noonan syndrome. Am J Med Genet C Semin Med Genet 145C:274–279

2.

Aoki Y, Niihori T, Kawame H et al (2005) Germline mutations in HRAS proto-oncogene cause Costello syndrome. Nat Genet 37:1038–1040

3.

Binder G, Neuer K, Ranke MB et al (2005) PTPN11 mutations are associated with mild growth hormone resistance in individuals with Noonan syndrome. J Clin Endocrinol Metab 90:5377–5381

4.

Bos JL (1989) Ras oncogenes in human cancer: a review. Cancer Res 49:4682–4689

5.

Brems H, Chmara M, Sahbatou M et al (2007) Germline loss-of-function mutations in SPRED1 cause a neurofibromatosis 1-like phenotype. Nat Genet 39:1120–1126

6.

Carta C, Pantaleoni F, Bocchinfuso G et al (2006) Germline missense mutations affecting KRAS isoform B are associated with a severe Noonan syndrome phenotype. Am J Hum Genet 79:129–135

7.

Cirstea IC, Kutsche K, Dvorsky R et al (2010) A restricted spectrum of NRAS mutations causes Noonan syndrome. Nat Genet 42:27–29

8.

Cordeddu V, Di Schiavi E, Pennacchio LA et al (2009) Mutation of SHOC2 promotes aberrant protein N-myristoylation and causes Noonan-like syndrome with loose anagen hair. Nat Genet 41:1022–1026

9.

Digilio MC, Conti E, Sarkozy A et al (2002) Grouping of multiple-lentigines/LEOPARD and Noonan syndromes on the PTPN11 gene. Am J Hum Genet 71:389–394

10.

Dorschner MO, Sybert VP, Weaver M et al (2000) NF1 microdeletion breakpoints are clustered at flanking repetitive sequences. Hum Mol Genet 9:35–46

11.

Feldman T, Leon MB (2007) Prospects for percutaneous valve therapies. Circulation 116:2866–2877

12.

Gripp KW (2005) Tumor predisposition in Costello syndrome. Am J Med Genet 137C:72–77

13.

Hennekam RC (2003) Costello syndrome: an overview. Am J Med Genet 117C:42–48

14.

Hüffmeier U, Zenker M, Hoyer J et al (2006) A variable combination of features of Noonan syndrome and neurofibromatosis type I are caused by mutations in the NF1 gene. Am J Med Genet 140:2749–2756

15.

Kontaridis MI, Swanson KD, David FS et al (2006) PTPN11 (Shp2) mutations in LEOPARD syndrome have dominant negative, not activating, effects. J Biol Chem 281:6785–6792

16.

Koudova M, Seemanova E, Zenker M (2009) Novel BRAF mutation in a patient with LEOPARD syndrome and normal intelligence. Eur J Med Genet 52:337–340

17.

Krab LC, Goorden SM, Elgersma Y (2008) Oncogenes on my mind: ERK and MTOR signaling in cognitive diseases. Trends Genet 24:498–510

18.

Lammert M, Friedman JM, Kluwe L et al (2005) Prevalence of neurofibromatosis 1 in German children at elementary school enrollment. Arch Dermatol 141:78–79

19.

Lee DA, Portnoy S, Hill P et al (2005) Psychological profile of children with Noonan syndrome. Dev Med Child Neurol 47:35–38

20.

Lin AE, Grossfeld PD, Hamilton RM et al (2002) Further delineation of cardiac abnormalities in Costello syndrome. Am J Med Genet 111:115–129

21.

Marian AJ (2009) Contemporary treatment of hypertrophic cardiomyopathy. Tex Heart Inst J 36:194–204

22.

Mautner VF Asuagbor FA, Dombi E et al (2008) Assessment of benign tumor burden by whole-body MRI in patients with neurofibromatosis 1. Neuro Oncol 10:593–598

23.

Mensink KA, Ketterling RP, Flynn HC et al (2006) Connective tissue dysplasia in five new patients with NF1 microdeletions: further expansion of phenotype and review of the literature. J Med Genet 43:e8

24.

Neumann TE, Allanson J, Kavamura I et al (2009) Multiple giant cell lesions in patients with Noonan syndrome and cardio-facio-cutaneous syndrome. Eur J Hum Genet 17:420–425

25.

Niihori T, Aoki Y, Narumi Y et al (2006) Germline KRAS and BRAF mutations in cardio-facio-cutaneous syndrome. Nat Genet 38:294–296

26.

Noordam K (2007) Expanding the genetic spectrum of Noonan syndrome. Horm Res [Suppl 5] 68:24–27

27.

Osio D, Dahlgren J, Wikland KA et al (2005) Improved final height with long-term growth hormone treatment in Noonan syndrome. Acta Paediatr 94:1232–1237

28.

Ostman-Smith I, Wettrell G, Riesenfeld T (1999) A cohort study of childhood hypertrophic cardiomyopathy: improved survival following high-dose beta-adrenoceptor antagonist treatment. J Am Coll Cardiol 34:1813–1822

29.

Pandit B, Sarkozy A, Pennacchio LA et al (2007) Gain-of-function RAF1 mutations cause Noonan and LEOPARD syndromes with hypertrophic cardiomyopathy. Nat Genet 39:1007–1012

30.

Razzaque MA, Nishizawa T, Komoike Y et al (2007) Germline gain-of-function mutations in RAF1 cause Noonan syndrome. Nat Genet 39:1013–1017

31.

Roberts A, Allanson J, Jadico SK et al (2006) The cardiofaciocutaneous syndrome. J Med Genet 43:833–842

32.

Roberts AE, Araki T, Swanson KD et al (2007) Germline gain-of-function mutations in SOS1 cause Noonan syndrome. Nat Genet 39:70–74

33.

Rodriguez-Viciana P, Tetsu O, Tidyman WE et al (2006) Germline mutations in genes within the MAPK pathway cause cardio-facio-cutaneous syndrome. Science 311:1287–1290

34.

Sarkozy A, Digilio MC, Dallapiccola B (2008) LEOPARD syndrome. Orphanet J Rare Dis 3:13

35.

Schmaltz AA, Bauer U, Baumgartner H et al (2008) Medical guideline for the treatment of adults with congenital heart abnormalities of the German-Austrian-Swiss Cardiology Specialty Society. Clin Res Cardiol 97:194–214

36.

Schubbert S, Zenker M, Rowe SL et al (2006) Germline KRAS mutations cause Noonan syndrome. Nat Genet 38:331–336

37.

Tartaglia M, Mehler EL, Goldberg R et al (2001) Mutations in PTPN11, encoding the protein tyrosine phosphatase SHP-2, cause Noonan syndrome. Nat Genet 29:465–468

38.

Tartaglia M, Niemeyer CM, Fragale A et al (2003) Somatic mutations in PTPN11 in juvenile myelomonocytic leukemia, myelodysplastic syndromes and acute myeloid leukemia. Nat Genet 34:148–150

39.

Tartaglia M, Pennacchio LA, Zhao C et al (2007) Gain-of-function SOS1 mutations cause a distinctive form of Noonan syndrome. Nat Genet 39:75–79

40.

Tidyman WE, Rauen KA (2009) The RASopathies: developmental syndromes of Ras/MAPK pathway dysregulation. Curr Opin Genet Dev 19:230–236

41.

Tucker T, Schnabel C, Hartmann M et al (2008) Bone health and fracture rate in individuals with NF1. J Med Genet 46: 259–265

42.

Tucker T, Friedman JM, Friedrich RE et al (2009) Longitudinal study of neurofibromatosis 1 associated plexiform neurofibromas. J Med Genet 46:81–85

43.

Vetter IR, Wittinghofer A (2001) The guanine nucleotide-binding switch in three dimensions. Science 294:1299–1304

44.

Wallace MR, Marchuk DA, Andersen LB et al (1990) Type 1 neurofibromatosis gene: identification of a large transcript disrupted in three NF1 patients. Science 249:181–186

45.

Zenker M, Lehmann K, Schulz AL et al (2007) Expansion of the genotypic and phenotypic spectrum in patients with KRAS germline mutations. J Med Genet 44:131–135
Danksagung
Die Autoren bedanken sich sehr herzlich bei den Patienten und ihren Familien für die Teilnahme an unseren Forschungsarbeiten sowie die Bereitschaft zur Publikation der Fotos.
Interessenkonflikt
Der korrespondierende Autor gibt an, dass kein Interessenkonflikt besteht.
About this article
Cite this article
Mautner, VF., Nguyen, R., Bernhard, A. et al. Neuro-kardio-fazio-kutane Syndrome. medgen 22, 10–19 (2010). https://doi.org/10.1007/s11825-010-0208-1
Schlüsselwörter
Neuro-kardio-fazio-kutane Syndrome

Angeborene Erkrankung

RAS-MAPK-Signalweg

Multidisziplinäre Behandlung

Psychosoziale Betreuung
Keywords
Neuro-cardio-facio-cutaneous syndromes

Hereditary disease

RAS-MAPK pathway

Interdisciplinary health management

Psychosocial support