Zusammenfassung
Bei epidermaler Fragilität führen geringfügige Verletzungen zur Blasenbildung der Haut und der hautnahen Schleimhäute. Verantwortlich für die Fragilität sind Mutationen in Genen, die Proteine der epidermalen und dermo-epidermalen Adhäsion kodieren. Die meisten Erkrankungen werden in der Gruppe der Epidermolysis bullosa zusammengefasst und sind sowohl klinisch als auch genetisch heterogen. Bei Neugeborenen und Kleinkindern, aber auch bei vielen erwachsenen Patienten kann der Subtyp der Epidermolysis bullosa aufgrund des Phänotyps nicht diagnostiziert werden. Die genaue Diagnosestellung ist nur durch spezifische Laboruntersuchungen, wie das Immunfluoreszenzmapping, die Elektronenmikroskopie und die Mutationsanalyse möglich. Die Behandlung ist symptomatisch und basiert auf allgemeinem Wundmanagement, während bei den schweren Formen mit Multisystembeteiligung interdisziplinäre medizinische Betreuung notwendig ist. Die neuen Erkenntnisse über molekulare Grundlagen und Pathomechanismen der Epidermolysis bullosa ermöglichen die Entwicklung neuartiger molekularen Therapien.
Abstract
Genetic disorders with epidermal fragility are characterized by mechanically induced blistering of the skin and mucous membranes. The causative mechanisms are based on mutations in genes for structural proteins of the dermal-epidermal junction zone. Most of the diseases belong to the epidermolysis bullosa group and are both genetically and clinically heterogeneous. Based on the clinical phenotype alone, the diagnosis is difficult in newborns and toddlers, and sometimes in adults as well. A precise diagnosis is possible only with laboratory tests such as immunofluorescence mapping, electron microscopy, and mutation analysis. Specialized centers exist for molecular diagnostics. The treatment is symptomatic and based on the principles of good wound management and, for severe cases, multidisciplinary care. New data on the pathogenetic mechanisms of epidermolysis bullosa provide perspectives for the development of novel molecular therapies.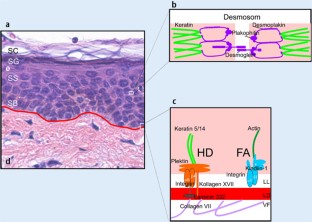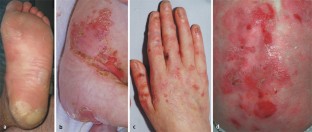 Literatur
1.

Cassidy AJ, Van Steensel M, Steijlen P et al (2005) A homozygous missense mutation in TGM5 abolishes epidermal transglutaminase 5 activity and causes acral peeling skin syndrome. Am J Hum Genet 77(6):909–917

2.

Fine JD, Hintner H (eds) (2009) Life with epidermolysis bullosa. Springer, Heidelberg

3.

Fine JD, Eady RAJ, Bauer EA et al (2008) The classification of inherited epidermolysis bullosa (EB): Report of the Third International Consensus Meeting on Diagnosis and Classification of EB. J Am Acad Dermatol 58(6):931–950

4.

Has C (2009) Kindler syndrome. A new bullous dermatosis. Hautarzt 60(8):622–626

5.

Has C, L Bruckner-Tuderman (2006) Molecular and diagnostic aspects of genetic skin fragility. J Dermatol Sci 44(3):129–144

6.

Jobard F, Bouadjar B, Caux F et al (2003) Identification of mutations in a new gene encoding a FERM family protein with a pleckstrin homology domain in Kindler syndrome. Hum Mol Genet 12(8):925–935

7.

Jonkman MF, Pasmooij AM, Pasmans SG et al (2005) Loss of desmoplakin tail causes lethal acantholytic epidermolysis bullosa. Am J Hum Genet 77(4):653–660

8.

Kern JS, Has C (2008) Update on diagnosis and therapy of inherited epidermolysis bullosa. Exp Rev Dermatol 3(6):721–733

9.

McLean WH, Irvine AD, Hamill KJ et al (2003) An unusual N-terminal deletion of the laminin alpha3a isoform leads to the chronic granulation tissue disorder laryngo-onycho-cutaneous syndrome. Hum Mol Genet 12(18):2395–2409

10.

Pfendner E, Uitto J (2005) Plectin gene mutations can cause epidermolysis bullosa with pyloric atresia. J Invest Dermatol 124(1):111–115

11.

Volz A, Has C, Schumann H, Bruckner-Tuderman L (2007) Network epidermolysis bullosa: molecular pathomechanisms and novel therapeutic approaches. J Dtsch Dermatol Ges 5(4):274–279
Interessenkonflikt
Der korrespondierende Autor gibt an, dass kein Interessenkonflikt besteht.
About this article
Cite this article
Has, C., Bruckner-Tuderman, L. Genetische Ursachen für epidermale Fragilität. medgen 21, 471 (2009). https://doi.org/10.1007/s11825-009-0202-7
Schlüsselwörter
Epidermolysis bullosa

Blase

Mutation

Basalmembran

Epidermale Adhäsion
Keywords
Epidermolysis bullosa

Blister

Mutation

Basement membrane

Epidermal junction