Zusammenfassung
Die monogen vererbten isolierten Alopezien umfassen eine Gruppe klinisch und genetisch heterogener Formen von Haarlosigkeit/-verlust. Die klinische Unterteilung der isolierten Alopezien erfolgt nach Erkrankungsbeginn, betroffenen Regionen und Struktur des Haarschafts. Frauen und Männer sind gleichermaßen betroffen, die Vererbung ist autosomal-dominant oder autosomal-rezessiv. Seit der Identifizierung des Keratingens KRT86 als Ursache für die so genannte Monilethrix im Jahr 1997 konnten in der letzten Dekade Mutationen in 9 weiteren Genen für verschiedene Formen isolierter Alopezien identifiziert werden, darunter weitere Keratingene (KRT81 und KRT83) für die Monilethrix, das Hairless-Gen für die Atrichia congenita/papuläre Atrichie, das Corneodesmosingen für die autosomal-dominante Form der Hypotrichosis simplex sowie die Gene Desmoglein 4, Lipase H und der G-Protein gekoppelte Rezeptor P2RY5 (LPAR6) für autosomal-rezessive Formen der Hypotrichose. Molekulargenetische und pathophysiologische Untersuchungen dieser seltenen Haarentwicklungsstörungen trugen entscheidend dazu bei, grundlegende Mechanismen des Haarausfalls und somit auch physiologische Mechanismen des Haarwachstums besser zu verstehen.
Abstract
The monogenic inherited isolated alopecias comprise a group of clinically and genetically heterogeneous forms of hairlessness or hair loss. Clinical classification of the isolated alopecias is based on the onset of the disorder, the regions affected, and the structure of the hair shaft. Men and women are equally affected, and the mode of inheritance is autosomal dominant or autosomal recessive. Since the identification of the keratin gene KRT86 as a cause of the so-called monilethrix in 1997, mutations in nine other genes have been identified for various isolated alopecias. These include other keratin genes for monilethrix (KRT81 and KRT83), the hairless gene for atrichia congenita/papular atrichia, the corneodesmosin gene for the autosomal dominant form of hypotrichosis simplex, and the genes desmoglein 4, lipase H, and the G-protein-coupled receptor P2RY5 (LPAR6) for the autosomal recessive forms of hypotrichosis. Molecular genetic and pathophysiological studies of these rare disorders of hair development have contributed significantly to our understanding of the basic mechanisms of hair loss as well as the physiological mechanisms of hair growth.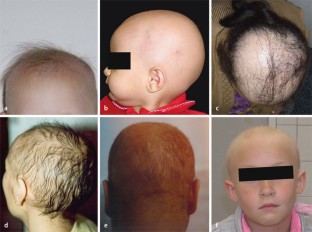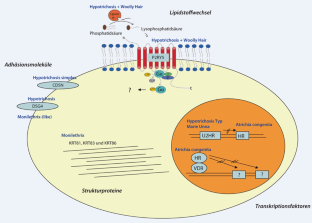 Literatur
1.

Ahmad W, Faiyaz ul Haque M, Brancolini V et al (1998) Alopecia universalis associated with a mutation in the human hairless gene. Science 279:720–724

2.

Al Aboud K, Al Hawsawi K, Al Aboud D, Al Githami A (2002) Hereditary hypotrichosis simplex: report of a family. Clin Exp Dermatol 27:654–656

3.

Baumer A, Belli S, Trueb RM, Schinzel A (2000) An autosomal dominant form of hereditary hypotrichosis simplex maps to 18p11.32–p11.23 in an Italian family. Eur J Hum Genet 8:443–448

4.

Bentley-Phillips B, Grace HJ (1979) Hereditary hypotrichosis. A previously undescribed syndrome. Br J Dermatol 101:331–339

5.

Betz RC, Lee YA, Bygum A et al (2000) A gene for hypotrichosis simplex of the scalp maps to chromosome 6p21.3. Am J Hum Genet 66:1979–1983

6.

Cichon S, Anker M, Vogt IR et al (1998) Cloning, genomic organization, alternative transcripts and mutational analysis of the gene responsible for autosomal recessive universal congenital alopecia. Hum Mol Genet 7:1671–1679

7.

Just M, Ribera M, Fuente MJ et al (1998) Hereditary hypotrichosis simplex. Dermatology 196:339–342

8.

Kazantseva A, Goltsov A, Zinchenko R et al (2006) Human hair growth deficiency is linked to a genetic defect in the phospholipase gene LIPH. Science 314:982–985

9.

Kohn G, Metzker A (1987) Hereditary hypotrichosis simplex of the scalp. Clin Genet 32:120–124

10.

Levy-Nissenbaum E, Betz RC, Frydman M et al (2003) Hypotrichosis simplex of the scalp is associated with nonsense mutations in CDSN encoding corneodesmosin. Nat Genet 34:151–153

11.

Pasternack SM, von Kügelgen I, Aboud KA et al (2008) G protein-coupled receptor P2Y5 and its ligand LPA are involved in maintenance of human hair growth. Nat Genet 40:329–334

12.

Shimomura Y, Wajid M, Ishii Y et al (2008) Disruption of P2RY5, an orphan G protein-coupled receptor, underlies autosomal recessive woolly hair. Nat Genet 40:335–339

13.

Sprecher E (2008) News and views. Nat Genet 40:265–266

14.

Toribio J, Quinones PA (1974) Hereditary hypotrichosis simplex of the scalp. Evidence for autosomal dominant inheritance. Br J Dermatol 91:687–696

15.

Van Steensel M, Smith FJ, Steijlen PM et al (1999) The gene for hypotrichosis of Marie Unna maps between D8S258 and D8S298: exclusion of the hr gene by cDNA and genomic sequencing. Am J Hum Genet 65:413–419

16.

Van Steensel MA, Steijlen PM, Bladergroen RS et al (2005) A missense mutation in the type II hair keratin hHb3 is associated with monilethrix. J Med Genet 42:e19

17.

Wang PG, Gao M, Cui Y et al (2007) A new clinical variant of hereditary localized alopecia: report of a Chinese family mapped to chromosome 2p25.1–2p23.2. J Invest Dermatol 127:1776–1779

18.

Wen Y, Liu Y, Xu Y et al (2009) Loss-of-function mutations of an inhibitory upstream ORF in the human hairless transcript cause Marie Unna hereditary hypotrichosis. Nat Genet 41:228–233

19.

Winter H, Labreze C, Chapalain V et al (1998) A variable monilethrix phenotype associated with a novel mutation, Glu402Lys, in the helix termination motif of the type II hair keratin hHb1. J Invest Dermatol 111:169–172

20.

Yang S, Gao M, Cui Y et al (2005) Identification of a novel locus for Marie Unna hereditary hypotrichosis to a 17.5 cM interval at 1p21.1–1q21.3. J Invest Dermatol 125:711–714

21.

Zlotogorski A, Marek D, Horev L et al (2006) An autosomal recessive form of monilethrix is caused by mutations in DSG4: clinical overlap with localized autosomal recessive hypotrichosis. J Invest Dermatol 126:1292–1296
Interessenkonflikt
Der korrespondierende Autor gibt an, dass kein Interessenkonflikt besteht.
Additional information
Das Projekt erhielt Fördermittel aus dem Emmy Noether-Programm der DFG und BONFOR (Forschungsförderung an der Universität Bonn).
About this article
Cite this article
Betz, R. Genetik der monogenen isolierten Alopezien. medgen 21, 505–510 (2009). https://doi.org/10.1007/s11825-009-0200-9
Schlüsselwörter
Alopezie

Hypotrichose

Atrichia congenita

Papuläre Atrichie

Monilethrix
Keywords
Alopecia

Hypotrichosis

Atrichia congenita

Papular atrichia

Monilethrix