Zusammenfassung
In den letzten Jahren wurden Hautmodelle besonders für die Behandlung von Verbrennungsopfern, aber auch zur molekularen und zellbiologischen Aufklärung von dermatologischen und immunologischen Erkrankungen und Untersuchung von Kosmetika und Pharmaka entwickelt. Kommerzielle Modelle, als alternative Methode für Tierversuche in der kosmetischen und chemischen Industrie entwickelt, sind vielfältig erhältlich und entsprechend den Richtlinien von OECD (Organisation for Economic Co-operation and Development) und ECVAM (European Centre for the Validation of Alternative Methods) validiert. Hautmodelle beinhalten 2 Kompartimente, ein Dermisäquivalent, welches meist aus Typ-I-Kollagen und darin enthaltenen Fibroblasten besteht, und ein voll differenzierbares Epidermisäquivalent. Bis heute existieren nur wenige Hautmodelle, die spezifische monogene Hautkrankheiten simulieren oder in der Haut sichtbare Krankheitszeichen einer systemischen Autoimmunerkrankung darstellen. Wir haben kürzlich ein solches Modell für kongenitale Ichthyosen entwickelt, das hinsichtlich seiner physikalischen, physiologischen und zellbiologischen Eigenschaften validiert wird und zur Erprobung neuer Therapien geeignet ist.
Abstract
A variety of skin equivalent systems have been developed recently mainly for burn therapy but also for studies of the cell and molecular biology of dermatologic and immunologic disorders and for cosmetic and pharmaceutical research. Since European regulation forbids the use of animals to prove product safety in cosmetic products, several commercially available three-dimensional skin models were developed by the cosmetic and chemical industry and validated according to OECD and ECVAM regulations. Three-dimensional skin models consist of two compartments: one serves as a dermal equivalent, usually consisting of fibroblasts in type I collagen, onto which a terminally differentiating epidermis is placed. Up-to-date models are missing that mimic monogenic skin disorders or signs of disease in the skin caused by a systemic autoimmune disorder. We recently developed a three-dimensional skin model for congenital ichthyosis as an example for a keratinization disorder. The system is being validated and will be fundamental for studies of disturbed epidermal differentiation and pharmaceutical intervention.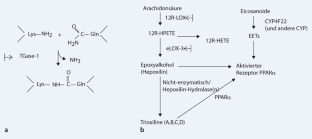 Literatur
1.

Barker CL, McHale MT, Gillies AK et al (2004) The development and characterization of an in vitro model of psoriasis. J Invest Dermatol 123:892–901

2.

Bernerd F, Asselineau D, Vioux C et al (2001) Clues to epidermal cancer proneness revealed by reconstruction of DNA repair-deficient xeroderma pigmentosum skin in vitro. Proc Natl Acad Sci USA 98:7817–7822

3.

De Juanes S, Epp N, Latzko S et al (2009) Development of an ichthyosiform phenotype in Alox12b-deficient mouse skin transplants. J Invest Dermatol 129:1429–1436

4.

Eckl KM, De Juanes S, Kurtenbach J et al (2009) Molecular analysis of 250 patients with autosomal recessive congenital ichthyosis: evidence for mutation hotspots in ALOXE3 and allelic heterogeneity in ALOX12B. J Invest Dermatol 129:1421–1428

5.

Eckl KM, Krieg P, Küster W et al (2005) Mutation spectrum and functional analysis of epidermis-type lipoxygenases in patients with autosomal recessive congenital ichthyosis. Hum Mutat 26:351–361

6.

Epp N, Fürstenberger G, Müller K et al (2007) 12R-lipoxygenase deficiency disrupts epidermal barrier function. J Cell Biol 177:173–182

7.

Harrison CA, Layton CM, Hau Z et al (2007) Transglutaminase inhibitors induce hyperproliferation and parakeratosis in tissue-engineered skin. Br J Dermatol 156:247–257

8.

Küchler S, Radowski MR, Blaschke T et al (2009) Nanoparticles for skin penetration enhancement – a comparison of a dendritic core-multishell nanotransporter and solid lipid nanoparticles. Eur J Pharm Biopharm 71:243–250

9.

Matsuki M, Yamashita F, Ishida-Yamamoto A et al (1998) Defective stratum corneum and early neonatal death in mice lacking the gene for transglutaminase 1 (keratinocyte transglutaminase). Proc Natl Acad Sci USA 95:1044–1049

10.

McGrath JA, Uitto J (2008) The filaggrin story: novel insights into skin-barrier function and disease. Trends Mol Med 14:20–27

11.

Mitra R, Nikoloff B (1994) Cultivation of human epidermal keratinocytes in serum-free growth medium. In: Leigh IM, Watt F (Hrsg) Keratinocyte methods. Cambridge University Press, Cambridge, S 17–20

12.

Ojeh NO, Frame JD, Navsaria HA (2001) In vitro characterization of an artificial dermal scaffold. Tissue Eng 7:457–472

13.

Oji V, Traupe H, Hennies HC (2009) Molekulare Charakterisierung der Ichthyosen. Med Genet

14.

Schäfer-Korting M, Bock U, Diembeck W et al (2008) The use of reconstructed human epidermis for skin absorption testing: results of the validation study. Altern Lab Anim 36:161–187

15.

Stark HJ, Baur M, Breitkreutz D et al (1999) Organotypic keratinocyte cocultures in defined medium with regular epidermal morphogenesis and differentiation. J Invest Dermatol 112:681–691

16.

Thomas AC, Tattersall D, Norgett EE et al (2009) Premature terminal differentiation and a reduction in specific proteases associated with loss of ABCA12 in Harlequin ichthyosis. Am J Pathol 174:970–978

17.

Tjabringa G, Bergers M, van Rens D et al (2008) Development and validation of human psoriatic skin equivalents. Am J Pathol 173:815–823

18.

Yanagi T, Akiyama M, Nishihara H et al (2008) Harlequin ichthyosis model mouse reveals alveolar collapse and severe fetal skin barrier defects. Hum Mol Genet 17:3075–3083
Interessenkonflikt
Der korrespondierende Autor gibt an, dass kein Interessenkonflikt besteht.
About this article
Cite this article
Eckl, KM., Hennies, H. Krankheitsspezifische Hautmodelle. medgen 21, 487 (2009). https://doi.org/10.1007/s11825-009-0195-2
Schlüsselwörter
Hautmodelle

Kongenitale Ichthyose

ECVAM

OECD

Nanopartikel
Keywords
Skin models

Congenital ichthyosis

ECVAM

OECD

Nanoparticles