Zusammenfassung
Ichthyosen umfassen eine ätiologisch heterogene Gruppe von genetisch bedingten Verhornungsstörungen, die die gesamte Haut betreffen und durch Hyperkeratose und/oder sichtbare Schuppung charakterisiert sind. Die Grundlagenforschung der vergangenen Jahre führte zur genetischen Aufklärung fast aller Ichthyoseformen und verbesserte die diagnostischen Möglichkeiten enorm. Hilfreiche Anlaufstellen für Ärzte und Patienten in Deutschland bieten das Netzwerk für Ichthyosen und verwandte Keratinisierungsstörungen (NIRK, www.netzwerk-ichthyose.de) und die Selbsthilfe Ichthyose e. V. (www.ichthyose.de) an. Im August 2009 wurde die weltweit erste Ichthyosekonsensusklassifikation verabschiedet. Deren Nosologie orientiert sich am klinischen Erscheinungsbild, berücksichtigt aber gleichzeitig die pathogenetischen Aspekte. Die grundlegende Einteilung basiert auf der Unterscheidung von syndromalen und nichtsyndromalen Formen. Bislang kontroverse Krankheitsnamen wurden neu definiert: Ichthyosen, die durch Keratinmutationen bedingt sind, werden unter dem neuen Überbegriff keratinopathische Ichthyose (KPI) geführt. Hierunter fallen die epidermolytische (Mutation in Keratin 1 oder 10) und die superfizielle epidermolytische Ichthyose (Keratin 2). Die Bezeichnung autosomal-rezessive kongenitale Ichthyose (ARCI) wird als ein Überbegriff für Harlekin-Ichthyose und für die Gruppe der lamellären Ichthyose und kongenitalen ichthyosiformen Erythrodermie verwendet. Die internationale Klassifikation soll als Referenz für zukünftige Untersuchungen der Erkrankungen dienen, z. B. bei Studien zur weiteren Genotyp-Phänotyp-Korrelation.
Abstract
Ichthyoses comprise an etiologically heterogeneous group of Mendelian disorders of cornification (MEDOC) that affect the entire integument and are characterized by hyperkeratosis and/or visible scaling. In recent years basic research has elucidated the genetic basis of almost all ichthyosis forms and enormously improved diagnostic facilities. The Network for Ichthyoses and Related Keratinization Disorders (NIRK; www.netzwerk-ichthyose.de) and the patient support organization Selbsthilfe Ichthyose e. V. (www.ichthyose.de) provide helpful contact points for physicians and patients in Germany. The first worldwide Ichthyosis Consensus Classification was approved in August 2009. Its nosology is based on clinical presentation but also reflects pathogenic aspects. The major criterion is the distinction between syndromic and non-syndromic forms. Controversial disease names have been re-defined: Ichthyoses due to keratin mutations are referred to under the new umbrella term keratinopathic ichthyosis (KPI), which comprises epidermolytic ichthyosis (mutation in keratin 1 or 10) and superficial epidermolytic ichthyosis (keratin 2). The term autosomal recessive congenital ichthyosis (ARCI) represents the umbrella for harlequin ichthyosis and for the group of lamellar ichthyosis and congenital ichthyosiform erythroderma. The international classification should serve as a reference for future research into these diseases, including further genotype-phenotype correlation studies.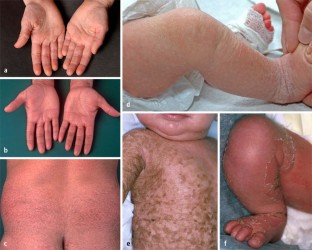 Notes
1.

Das pathogenetisch eng verwandte CHILD-Syndrom erfüllt streng genommen nicht das Kriterium der generalisierten Verhornungsstörung und wird als "ichthyosis related" klassifiziert.
Literatur
1.

Arin MJ (2009) The molecular basis of human keratin disorders. Hum Genet 125(4):355–373

2.

DiGiovanna JJ, Bale SJ (1994) Clinical heterogeneity in epidermolytic hyperkeratosis. Arch Dermatol 130(8):1026–1035

3.

Eckl KM, Juanes S de, Kurtenbach J et al (2009) Molecular analysis of 250 patients with autosomal recessive congenital ichthyosis: evidence for mutation hotspots in ALOXE3 and allelic heterogeneity in ALOX12B. J Invest Dermatol 129:1421–1428

4.

Elias PM, Williams ML, Holleran WM et al (2008) Thematic review series: skin Lipids. Pathogenesis of permeability barrier abnormalities in the ichthyoses: inherited disorders of lipid metabolism. J Lipid Res 49:697–714

5.

Farasat S, Wei MH, Herman M et al (2009) Novel transglutaminase-1 mutations and genotype-phenotype investigations of 104 patients with autosomal recessive congenital ichthyosis in the USA. J Med Genet 46:103–111

6.

Fischer J (2009) Autosomal recessive congenital ichthyosis. J Invest Dermatol 129:1319–1321

7.

Harting M, Brunetti-Pierri N, Chan CS et al (2008) Self-healing collodion membrane and mild nonbullous congenital ichthyosiform erythroderma due to 2 novel mutations in the ALOX12B gene. Arch Dermatol 144(3):351–356

8.

Ishida-Yamamoto A, McGrath JA, Judge MR et al (1992) Selective involvement of keratins K1 and K10 in the cytoskeletal abnormality of epidermolytic hyperkeratosis (bullous congenital ichthyosiform erythroderma). J Invest Dermatol 99(1):19–26

9.

Ishida-Yamamoto A, Richard G, Takahashi H, Iizuka H (2003) In vivo studies of mutant keratin 1 in ichthyosis hystrix Curth-Macklin. J Invest Dermatol 120(3):498–500

10.

Kelsell DP, Norgett EE, Unsworth H et al (2005) Mutations in ABCA12 underlie the severe congenital skin disease harlequin ichthyosis. Am J Hum Genet 76(5):794–803

11.

Klar J, Schweiger M, Zimmerman R et al (2009) Mutations in the fatty acid transport protein 4 gene cause the ichthyosis prematurity syndrome. Am J Hum Genet 85(2):248–253

12.

Morais P, Mota A, Baudrier T et al (2009) Epidermolytic hyperkeratosis with palmoplantar keratoderma in a patient with KRT10 mutation. Eur J Dermatol 19(4):333–336

13.

Muller FB, Huber M, Kinaciyan T et al (2006) A human keratin 10 knockout causes recessive epidermolytic hyperkeratosis. Hum Mol Genet 15(7):1133–1141

14.

NN (2009) Abstracts. Ichthyosis Consensus Conference, 23./24.01.2009, Sorèze, Frankreich, www.netzwerk-ichthyose.de/index.php?id=28

15.

Oeffner F, Fischer G, Happle R et al (2009) IFAP syndrome is caused by deficiency in MBTPS2, an intramembrane zinc metalloprotease essential for cholesterol homeostasis and ER stress response. Am J Hum Genet 84:459–467

16.

Oji V, Traupe H (2006) Ichthyoses: differential diagnosis and molecular genetics. Eur J Dermatol 16(4):349–359

17.

Oji V, Traupe H (2009) Ichthyosis: clinical manifestations and practical treatment options. Am J Clin Dermatol 10(6):1–14

18.

Oji V, Hautier JM, Ahvazi B et al (2006) Bathing suit ichthyosis is caused by transglutaminase-1 deficiency: evidence for a temperature-sensitive phenotype. Hum Mol Genet 15:3083–3097

19.

Oji V, Tadini G, Akiyama M et al (2009) Revised nomenclature and classification of inherited ichthyoses: Results of the First Ichthyosis Consensus Conference in Sorèze 2009.

20.

Preil ML, Arin M, Braun-Falco M et al (2008) AWMF-Leitlinien: Diagnostik und Therapie der Ichthyosen. AWMF, Düsseldorf, www.uni-duesseldorf.de/awmf/ll/013-043.htm

21.

Raghunath M, Hennies HC, Ahvazi B et al (2003) Self-healing collodion baby: a dynamic phenotype explained by a particular transglutaminase-1 mutation. J Invest Dermatol 120(2):224–228

22.

Smith FJ, Irvine AD, Terron-Kwiatkowski A et al (2006) Loss-of-function mutations in the gene encoding filaggrin cause ichthyosis vulgaris. Nat Genet 38:337–342

23.

Traupe H, Kolde G, Hamm H, Happle R (1986) Ichthyosis bullosa of Siemens: a unique type of epidermolytic hyperkeratosis. J Am Acad Dermatol 14(6):1000–1005

24.

Tsubota A, Akiyama M, Sakai K et al (2007) Keratin 1 gene mutation detected in epidermal nevus with epidermolytic hyperkeratosis. J Invest Dermatol 127:1371–1374

25.

Vahlquist A, Ganemo A, Pigg M et al (2003) The clinical spectrum of congenital ichthyosis in Sweden: a review of 127 cases. Acta Derm Venereol Suppl (Stockh) 213:34–47

26.

Vahlquist A, Ganemo A, Virtanen M (2008) Congenital ichthyosis: an overview of current and emerging therapies. Acta Derm Venereol 88(1):4–14
Danksagung
Wir möchten uns hiermit für die Unterstützung unserer Patienten und Familien sowie für die Förderung durch das Bundesministerium für Bildung und Forschung (BMBF) und die Selbsthilfe Ichthyose e. V. bedanken.
Interessenkonflikt
Der korrespondierende Autor gibt an, dass kein Interessenkonflikt besteht.
About this article
Cite this article
Oji, V., Traupe, H. & Hennies, H. Molekulare Charakterisierung der Ichthyosen. medgen 21, 479 (2009). https://doi.org/10.1007/s11825-009-0194-3
Schlüsselwörter
Keratinopathische Ichthyose

Autosomal-rezessive kongenitale Ichthyose

Epidermolytische Ichthyose

Superfizielle epidermolytische Ichthyose

Ichthyosekonsensusklassifikation
Keywords
Keratinopathic ichthyosis

Autosomal recessive congenital ichthyosis

Epidermolytic ichthyosis

Superficial epidermolytic ichthyosis

Ichthyosis consensus classification