Zusammenfassung
Die Duchenne-Muskeldystrophie (DMD) ist die häufigste Muskelerkrankung im Kindesalter. Es liegt ein X-chromosomal rezessiver Erbgang mit Mutationen im Dystrophingen (etwa 65% Deletionen, etwa 7% Duplikationen, etwa 26% Punktmutationen und etwa 2% unbekannte Mutationen) vor. Das genetische Modell ist komplex. Die Mutationsraten in beiden Geschlechtern sind ungleich. Punktmutationen und Duplikationen entstehen eher in der Spermatogenese, Deletionen eher in der Oogenese. Angenähert handelt es sich bezüglich aller Patienten bei etwa 33% um Neumutationen, von welchen der größere Teil als Keimzellmosaik vorliegt. Die Becker-Muskeldystrophie (BMD) ist mit der DMD allelisch.
Abstract
Duchenne muscular dystrophy (DMD) is the most frequent muscular disorder in infancy. The inheritance is X-linked recessive with mutations in the dystrophin gene (about 65% deletions, about 7% duplications, about 26% point mutations, and about 2% unknown mutations). The genetic model is complex. The sex ratio of the mutations is unequal. Point mutations and duplications arise in spermatogenesis, whereas deletions arise in oogenesis. About 33% of all patients are new mutations; however, most new mutations are germline mosaic. Becker muscular dystrophy is allelic to DMD.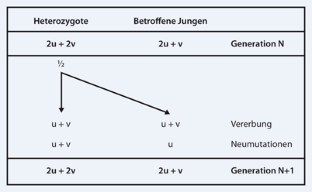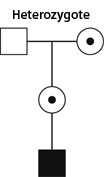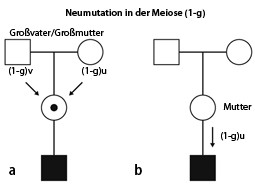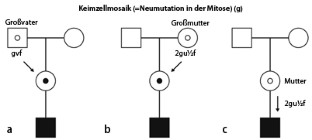 Literatur
1.

Bakker E, Veenema H, Den Dunnen JT et al (1989) Germinal mosaicism increases the recurrence risk for 'new' Duchenne muscular dystrophy mutations. J Med Genet 26:553–559

2.

Barbujani G, Russo A, Danieli GA et al (1990) Segregation analysis of 1885 DMD families: significant departure from the expected proportion of sporadic cases. Hum Genet 84:522–526

3.

Deburgrave N, Daoud F, Llense S et al (2007) Protein- and mRNA-based phenotype-genotype correlations in DMD/BMD with point mutations and molecular basis for BMD with nonsense and frameshift mutations in the DMD gene. Hum Mutat 28:183–195

4.

Den Dunnen JT, Grootscholten PM, Bakker E et al (1989) Topography of the Duchenne muscular dystrophy (DMD) gene: FIGE and cDNA analysis of 194 cases reveals 115 deletions and 13 duplications. Am J Hum Genet 45:835–847

5.

Emery AE (1991) Population frequencies of inherited neuromuscular diseases – a world survey. Neuromuscul Disord 1:19–29

6.

Fischer C, Gross W, Krüger J et al (2006) Modelling germline mosaicism and different new mutation rates simultaneously for appropriate risk calculations in families with Duchenne muscular dystrophy. Ann Hum Genet 70:237–248

7.

Fischer C, Krüger J, Gross W (2006) RISCALW: a Windows program for risk calculation in families with Duchenne muscular dystrophy. Ann Hum Genet 70:249–253

8.

Grimm T, Muller B, Muller CR, Janka M (1990) Theoretical considerations on germline mosaicism in Duchenne muscular dystrophy. J Med Genet 27:683–687

9.

Grimm T, Meng G, Liechti-Gallati S et al (1994) On the origin of deletions and point mutations in Duchenne muscular dystrophy: most deletions arise in oogenesis and most point mutations result from events in spermatogenesis. J Med Genet 31:183–186

10.

Haldane JSB (1935) The rate of spontaneous mutation of a human gene. J Genet 31:317–326

11.

Kawamura J, Kato S, Ishihara T et al (1997) Difference of new mutation rates in dystrophin gene between deletion and duplication mutation in Duchenne and Becker muscular dystrophy. Rinsho Shinkeigaku 37:212–217

12.

Koenig M, Beggs AH, Moyer M et al (1989) The molecular basis for Duchenne versus Becker muscular dystrophy: correlation of severity with type of deletion. Am J Hum Genet 45(4):498–506

13.

Lalic T, Vossen RH, Coffa J et al (2005) Deletion and duplication screening in the DMD gene using MLPA. Eur J Hum Genet 13:1231–1234

14.

Lathrop GM, Lalouel JM, Julier C, Ott J (1984) Strategies for multilocus linkage analysis in humans. Proc Natl Acad Sci USA 81:3443–3446

15.

Malhotra SB, Hart KA, Klamut HJ et al (1988) Frameshift deletions in patients with Duchenne and Becker muscular dystrophy. Science 242:755–759

16.

Monaco AP, Bertelson CJ, Liechti-Gallati S et al (1988) An explanation for the phenotypic differences between patients bearing partial deletions of the DMD locus. Genomics 2:90–95

17.

Müller B, Grimm T, Golla A (1995) Estimating the proportion of affected germ-cells in cases of germinal mosaicism in Duchenne muscular dystrophy (DMD). Med Genet 7:119

18.

Passos-Bueno MR, Rapaport D, Love D et al (1990) Screening of deletions in the dystrophin gene with the cDNA probes Cf23a, Cf56a, and Cf115. J Med Genet 27:145–150

19.

Van Essen AJ, Abbs S, Baiget M et al (1992) Parental origin and germline mosaicism of deletions and duplications of the dystroph in gene: a European study. Hum Genet 88:249–257

20.

White SJ, Aartsma-Rus A, Flanigan KM et al (2006) Duplications in the DMD gene. Hum Mutat 27:938–945
Interessenkonflikt
Der korrespondierende Autor gibt an, dass kein Interessenkonflikt besteht.
About this article
Cite this article
Grimm, T., Kress, W., Meng, G. et al. Muskeldystrophien Duchenne und Becker. medgen 21, 327–331 (2009). https://doi.org/10.1007/s11825-009-0186-3
Schlüsselwörter
Duchenne-Muskeldystrophie

Becker-Muskeldystrophie

Dystrophingen

Genetisches Modell

Keimzellmosaik
Keywords
Duchenne muscular dystrophy

Becker muscular dystrophy

Dystrophin gene

Genetic model

Germline mosaicism