Zusammenfassung
Die Muskeldystrophie Duchenne ist die häufigste neuromuskuläre Erkrankung im Kindesalter. Sie wird x-chromosomal vererbt und manifestiert sich klinisch durch eine im Kleinkindesalter beginnende progressive proximale Muskelschwäche, die zum Verlust der Gehfähigkeit im frühen Jugendalter führt. Die Creatinkinase im Serum ist deutlich erhöht, und die Bestätigung der Diagnose erfolgt durch eine genetische Analyse des Dystrophin-Gens oder eine Muskelbiopsie. Die v. a. symptomatische Therapie erfordert ein multidisziplinäres Behandlungsteam. Durch Medikation, Physiotherapie, orthopädische Betreuung und nichtinvasive Beatmung lassen sich die Lebenserwartung und -qualität der Patienten deutlich verbessern. Kausale Therapieansätze befinden sich in der klinischen Entwicklung, über eine Effektivität ist noch keine abschließende Aussage möglich. Die Becker-Muskeldystrophie ist eine viel seltenere allelische Variante mit partieller Dystrophin-Defizienz und milderem klinischem Verlauf.
Abstract
Duchenne muscular dystrophy (DMD) is the most common neuromuscular disorder during childhood. It shows x-linked inheritance and is clinically characterized by progressive muscle weakness starting during infancy and leading to loss of ambulation during early adolescence. Serum creatine kinase levels are markedly elevated and the diagnosis is confirmed through genetic testing of the dystrophin gene or a muscle biopsy. Therapy of DMD necessitates a multidisciplinary approach. Use of medications, physiotherapy, orthopaedic care and non-invasive ventilation can markedly improve life expectancy and quality of life. Causative treatment strategies are in clinical development, but it is too early for a conclusion about their effectiveness. Becker muscular dystrophy is a much rarer allelic disorder with partial dystrophin deficiency and a milder clinical phenotype.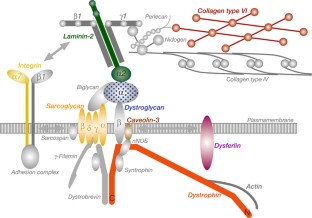 Literatur
1.

Bushby K, Muntoni F, Urtizberea A et al (2004) Report on the 124th ENMC International Workshop. Treatment of Duchenne muscular dystrophy; defining the gold standards of management in the use of corticosteroids. 2–4 April 2004, Naarden, The Netherlands. Neuromuscul Disord 14:526–534

2.

D'Angelo MG, Bresolin N (2006) Cognitive impairment in neuromuscular disorders. Muscle Nerve 34:16–33

3.

Dubowitz V, Sewry CA (2007) Muscle biopsy. A practical approach. Saunders Elsevier, London Philadelphia

4.

Emery AEH (1993) Duchenne muscular dystrophy. Oxford University Press, New York

5.

Grimm T, Kress W, Meng G, Müller-Reible CR (2009) Molekulargenetische Diagnostik und genetisches Modell der Muskeldystrophien Duchenne und Becker. MedGen 21

6.

Kirschner J, Bönnemann CC (2004) The congenital and limb-girdle muscular dystrophies. Sharpening the focus, blurring the boundaries. Arch Neurol 61:189–199

7.

Manzur AY, Kinali M, Muntoni F (2008) Update on the management of Duchenne muscular dystrophy. Arch Dis Child 93:986–990

8.

Manzur AY, Kuntzer T, Pike M, Swan A (2008) Glucocorticoid corticosteroids for Duchenne muscular dystrophy. Cochrane Database Syst Rev 23:CD003725

9.

Muntoni F, Wells D (2007) Genetic treatments in muscular dystrophies. Curr Opin Neurol 20:590–594

10.

Zierz S, Jerusalem F (2003) Muskelerkrankungen. Thieme, Stuttgart
Interessenkonflikt
Der korrespondierende Autor weist auf folgende Beziehungen hin: Der Autor ist Mitglied des Muskeldystrophie Netzwerks MD-NET (gefördert vom BMBF als Netzwerk für seltene Erkrankungen, 01GM0601; www.md-net.org) und des EU Exzellenznetzwerks TREAT-NMD (EC, 6th FP, 036825; www.treat-nmd.eu).
About this article
Cite this article
Kirschner, J. Diagnose und Therapie der Muskeldystrophie Duchenne und Becker. medgen 21, 322–326 (2009). https://doi.org/10.1007/s11825-009-0180-9
Schlüsselwörter
Muskeldystrophie Duchenne

Becker-Muskeldystrophie

Creatinkinase

Dystrophin

Therapie
Keywords
Duchenne muscular dystrophy

Becker muscular dystrophy

Creatine kinase

Dystrophin

Therapy