Zusammenfassung
1909 wurde die klassische myotone Dystrophie (DM1) von Steinert erstmals beschrieben, 1994 entdeckte Ricker eine 2. Form (DM2). Als genetische Ursache der DM1 wurde 1992 ein abnorm expandiertes CTG(Cytosin-Thymin-Guanin)-Triplett-Repeat im 3'-UTR des Dystrophia-myotonica-Proteinkinase-Gens (DMPK-Gen) auf Chromosom 19 entdeckt, während 2001 die DM2 auf ein abnorm expandiertes Tetranukleotid-CCTG-Repeat im Intron 1 des Zinkfinger-9-Gens (ZNF-9) auf Chromosom 3q zurückgeführt werden konnte. Multisystemische Symptome betreffen Skelettmuskulatur, Gehirn, Auge, Herz und Endokrinium. Der heterogenen Ätiologie mit 2 genetischen Loci liegt pathogenetisch eine RNA-Prozessierungsstörung mit Fehlregulation und alternativem Spleißen von organspezifisch exprimierter Genen zugrunde (so genanntes Konzept der Spleißopathie). Zusätzliche Störungen des RNA-Metabolismus sind inzwischen evident. Unsere Übersicht umfasst aktuelle Aspekte des Phänotyps, der Differenzialdiagnose, der molekularen Diagnostik, der RNA-Pathogenese sowie symptomatischer und molekularer Therapieoptionen.
Abstract
The classic myotonic dystrophy, Steinert's disease (DM1) was first described in 1909, and the second type, Ricker's disease (DM2), in 1994. In 1992 the disease-causing mutation in DM1 was identified as a CTG repeat in the DMPK gene on chromosome 19q, and in 2001 the DM2 mutation was identified as a CCTG repeat expansion in the ZNF9 gene on chromosome 3q. Multisystemic symptoms of the diseases affect skeletal muscle, brain, eye, heart, and the endocrine system. The pathogenesis of both forms seems to be based on a gain-of-function RNA mechanism and on alterations in RNA metabolism and spliceopathy. Our review focuses on clinical features, diagnostic techniques, and new aspects of molecular pathogenesis and therapy.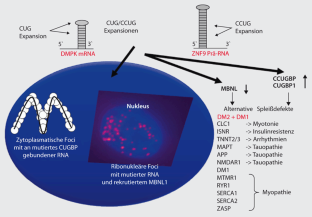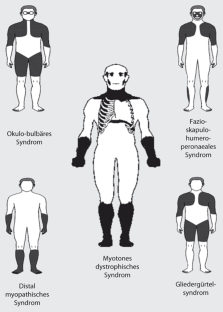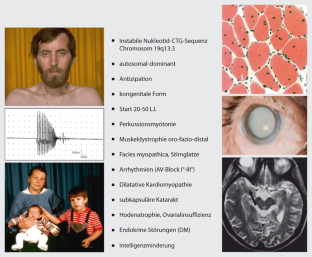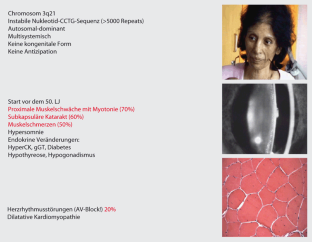 Literatur
1.

Brook JD, McCurrach ME, Harley HG et al (1992) Molecular basis of myotonic dystrophy: expansion of a trinucleotide (CTG) repeat at the 3' end of a transcript encoding a protein kinase family member. Cell 68:799–808

2.

Cho DH, Tapscott SJ (2006) Myotonic dystrophy: emerging mechanisms for DM1 and DM2. Biochim Biophys Acta 1772:195–204

3.

Groh WJ, Groh MR, Saha C et al (2008) Electrocardiographic abnormalities and sudden death in myotonic dystrophy type 1. N Engl J Med 358:2688–3269

4.

Harper PS (2001) Myotonic dystrophy, 3rd edn. Saunders, London

5.

Kanadia RN, Shin J, Yuan Y et al (2006) Reversal of RNA missplicing and myotonia after muscleblind overexpression in a mouse poly(CUG) model for myotonic dystrophy. Proc Natl Acad Sci USA 103:11748–11753

6.

Liquori CL, Ricker K, Moseley ML et al (2001) Myotonic dystrophy type 2 caused by a CCTG expansion in intron 1 of ZNF9. Science 293:864–867

7.

Osborne RJ, Thornton CA (2006) RNA-dominant diseases. Hum Mol Genet 15:162–169

8.

Ranum LP, Cooper TA (2006) RNA-mediated neuromuscular disorders. Annu Rev Neurosci 29:259–277

9.

Rudnik-Schoneborn S, Zerres K (2004) Outcome in pregnancies complicated by myotonic dystrophy: a study of 31 patients and review of the literature. Eur J Obstet Gynecol Reprod Biol 114:44–53

10.

Rudnik-Schoneborn S, Schneider-Gold C, Raabe U et al (2006) Outcome and effect of pregnancy in myotonic dystrophy type 2. Neurology 66:579–580

11.

Ricker K, Koch MC, Lehman-Horn F et al (1994) Proximal myotonic myopathy: a new dominant disorder with myotonia, muscle weakness and cataracts. Neurology 44:1448–1452

12.

Schara U, Schoser B (2006) Myotonic dystrophies type 1 and 2: a summary on current aspects. Semin Pediatr Neurol 13:71–79

13.

Schneider-Gold C (2008) Leitlinien DGN 2008. DGN, Dresden, www.dgn.org/images/stories/dgn/leitlinien/LL2008/ll08kap_068

14.

Schoser B (2005) Myotone Dystrophien – Aktueller Stand der molekularen Pathogenese. Aktuelle Neurol 32:324–330

15.

Schoser B (2007) Myotone Dystrophien – Phänotypen, Pathogenese, Diagnostik, und Therapie. Nervenheilkunde 26:74–78

16.

Schoser B, Ricker K, Schneider-Gold C et al (2004) Sudden cardiac death in myotonic dystrophy type 2. Neurology 63:2402–2404

17.

Timchenko NA, Cai ZJ, Welm AL et al (2001) RNA CUG repeats sequester CUGBP1 and alter protein levels and activity of CUGBP1. J Biol Chem 276:7820–7826

18.

Udd B, Meola G, Krahe R et al (2006) 140th ENMC International Workshop: Myotonic Dystrophy DM2/PROMM and other myotonic dystrophies with guidelines on management. Neuromuscul Disord 16:403–413

19.

Wheller TM (2008) Myotonic dystrophy: therapeutic strategies for the future. Neurother 5:592–600
Interessenkonflikt
Der korrespondierende Autor gibt an, dass kein Interessenkonflikt besteht.
About this article
Cite this article
Schoser, B., Grimm, T. Myotone Dystrophien – und ihre Differenzialdiagnosen. medgen 21, 381–392 (2009). https://doi.org/10.1007/s11825-009-0178-3
Schlüsselwörter
DM1

DM2

Myotone Dystrophie

Repeat-Erkrankung

RNA-Metabolismus-Störung
Keywords
DM1

DM2

Myotonic dystrophy

Repeat disorder

Alterations in RNA metabolism