Zusammenfassung
Mitochondriale Erkrankungen sind klinisch, biochemisch und genetisch heterogen, das klinische Spektrum reicht von schweren Erkrankungen des frühen Kindesalters bis zu milden monosymptomatischen spätadulten Verläufen. Ursache mitochondrialer Funktionsstörungen können Defekte in nukleären Genen oder Mutationen der mitochondrialen DNA (mtDNA) sein. In den letzten Jahren wurden große Fortschritte in der Entschlüsselung der genetischen Ursachen erzielt, welche auch die Diagnostik in vielen Fällen erleichterten. Andererseits zeigen sich eine z. T. noch weiter anwachsende klinische Komplexität und Variabilität, die pathogenetisch vielfach unverstanden bleibt.
Abstract
Mitochondrial disorders are clinically, biochemically, and genetically heterogeneous and surprisingly diverse. The clinical spectrum ranges from severe multisystem disorders of early infancy to monosymptomatic mild disorders in late adulthood. Causative for mitochondrial dysfunction are mutations in nuclear genes or/and the proper mitochondrial genome, the mitochondrial DNA. The last years have seen quite remarkable progress in identification of the molecular basis of mitochondrial diseases, which helps in the often difficult process of diagnosis. However, the clinical variability and complexity continue to increase and remain unexplained in many cases.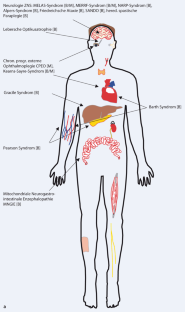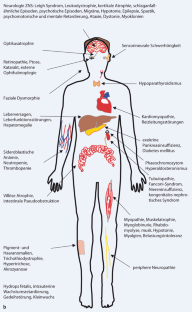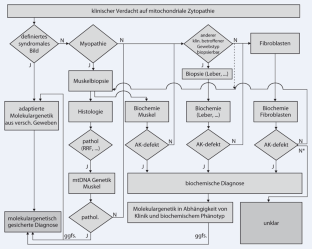 Abbreviations
COX:

Cytochrom-c-Oxidase

CPEO:

Chronisch-progressive externe Ophthalmoplegie

IOSCA:

Infantil beginnende spinozerebelläre Ataxie

LHON:

Lebersche hereditäre-Optikusneuropathie

MELAS:

Mitochondriale Enzephalomyopathie, Laktatazidose und schlaganfallähnliche Episoden

MERRF:

Myoklonusepilepsie mit "ragged red fibers"

MNGIE:

Mitochondriale neuro-gastrointestinale Enzephalomyopathie

mtDNA:

Mitochondriale DNA

NARP:

Neuropathie, Ataxie und Retinitis pigmentosa

OXPHOS:

Oxidative Phosphorylierung

RRF:

"ragged red fibers"

SANDO:

Sensorische ataktische Neuropathie, Dysarthrie, Ophthalmoparese

tRNA:

Transfer-RNA
Literatur
1.

Arbeitsgemeinschaft für pädiatrische Stoffwechselstörungen (APS) (2008) Leitlinie "Diagnostik und Therapieansätze bei Mitochondriopathien im Kindes- und Jugendalter". Arbeitsgemeinschaft für pädiatrische Stoffwechselstörungen (APS), www.aps-med.de/APS-P02.asp, www.awmf-leitlinien.de/

2.

Bernier FP, Boneh A, Dennett X et al (2002) Diagnostic criteria for respiratory chain disorders in adults and children. Neurology 59:1406–1411

3.

Kornblum C (2008) Mitochondriale Erkrankungen. In: Kommission Leitlinien der Deutschen Gesellschaft für Neurologie (Hrsg) Leitlinien für Diagnostik und Therapie in der Neurologie, 4., aktual. u. erw. Aufl. Thieme, Stuttgart, S 221–231, www.dgn.org/leitlinien.html

4.

Mitomap (2009) A human mitochondrial genome database. MITOMAP, www.mitomap.org

5.

Munnich A, Rustin P (2001) Clinical spectrum and diagnosis of mitochondrial disorders. Am J Med Genet 106:4–17

6.

Walker UA, Collins S, Byrne E (1996) Respiratory chain encephalomyopathies: a diagnostic classification. Eur Neurol 36:260–267

7.

Wolf NI, Smeitink JA (2002) Mitochondrial disorders: a proposal for consensus diagnostic criteria in infants and children. Neurology 59:1402–1405
Interessenkonflikt
Der korrespondierende Autor gibt an, dass kein Interessenkonflikt besteht.
About this article
Cite this article
von Kleist-Retzow, JC., Kornblum, C. Mitochondriale Erkrankungen. medgen 21, 358–366 (2009). https://doi.org/10.1007/s11825-009-0177-4
Schlüsselwörter
Mitochondrien

Atmungskette

Mitochondriale Erkrankungen

mtDNA

Diagnosealgorithmus
Keywords
Mitochondria

Respiratory chain

Mitochondrial disorders

mtDNA

Diagnostic algorithm