Zusammenfassung
Die Emery-Dreifuss-Muskeldystrophie (EDMD) ist eine seltene neuromuskuläre Erkrankung, die durch frühe Kontrakturen, eine langsam progrediente Muskelschwäche und lebensbedrohliche Herzrhythmusstörungen gekennzeichnet ist. Sowohl klinisch als auch genetisch findet man eine große intra- und interfamiliäre Variabilität. Genetisch lassen sich X-chromosomal rezessive (EMD1), autosomal-dominante (EMD2) und autosomal-rezessive (EMD3) Formen unterscheiden, die mit Mutationen in den Genen STA, LMNA, SYNE1, SYNE2 und FHL1 assoziiert sind. Nur bei etwa 46% nicht miteinander verwandter EDMD-Patienten findet man Mutationen in diesen Genen, sodass mit einer weiteren genetischen Heterogenität der EDMD zu rechnen ist.
Abstract
Emery-Dreifuss muscular dystrophy (EDMD) is a rare neuromuscular disorder characterized by early contractures, slowly progressive muscular weakness, and life-threatening heart conduction disturbances that can develop into a cardiomyopathy. There is wide intrafamilial and interfamilial clinical variability. Genetically, X-linked recessive (EMD1), autosomal dominant (EMD2), and autosomal recessive (EMD3) forms can be distinguished, which are associated with mutations in the STA, LMNA, SYNE1, SYNE2, and FHL1 genes. Only approximately 46% of unrelated EDMD patients have a mutation in the genes mentioned above, pointing to further genetic heterogeneity in EDMD.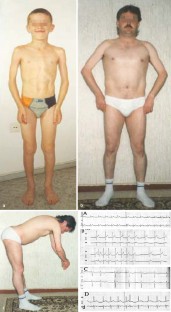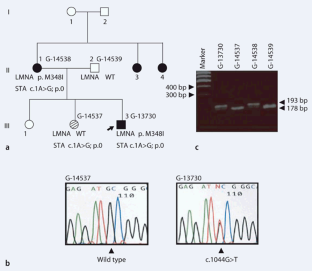 Literatur
1.

Ben Yaou R, Toutain A, Arimura T et al (2007) Multitissular involvement in a family with LMNA and EMD mutations: role of digenic mechanism? Neurology 68:1883–1894

2.

Bione S, Maestrini E, Rivella S et al (1994) Identification of a novel X-linked gene responsible for Emery-Dreifuss muscular dystrophy. Nat Genet 8:323–327

3.

Bonne G, Di Barletta MR, Varnous S et al (1999) Mutations in the gene encoding lamin A/C cause autosomal dominant Emery-Dreifuss muscular dystrophy. Nat Genet 21:285–288

4.

Bonne G, Mercuri E, Muchir A et al (2000) Clinical and molecular genetic spectrum of autosomal dominant Emery-Dreifuss muscular dystrophy due to mutations of the lamin A/C gene. Ann Neurol 2:170–180

5.

Boyle S, Gilchrist S, Bridger, JM et al (2001) The spatial organization of human chromosomes within the nuclei of normal and emerin-mutant cells. Hum Mol Genet 10:211–219

6.

Cestan R, Lejonne NI (1902) Une myopathie avec retractions familiales. Nouv Inconogr Salpetriere 15:38–52

7.

Di Barletta R, Ricci M, Galluzzi E et al (2000) Different mutations in the LMNA gene cause autosomal dominant and autosomal recessive Emery-Dreifuss muscular dystrophy. Am J Hum Genet 66:1407–1412

8.

Emery AEH (1989) Emery-Dreifuss syndrome. J Med Genet 26:637–641

9.

Gruenbaum Y, Wilson KL, Harel A et al (2000) Review: nuclear lamins – structural proteins with fundamental functions. J Struct Biol 129:313–323

10.

Gueneau L, Bertrand A, Jais JP et al (2008) A new X-linked form of Emery-Dreifuss muscular dystrophy is caused by FHL1 gene mutations that lead to abnormal muscle differentiation. 13th International WMS Congress, 29th September–2nd October, Newcastle, UK

11.

Hauptmann A, Tannhauser SJ (1941) Muscular shortening and dystrophy. Arch Neurol 46:654–666

12.

Wehnert M, Muntoni F (1999) 60th ENMC International workshop: Non-X-linked Emery-Dreifuss muscular dystrophy. Neuromuscul Disord 9:115–121

13.

Windpassinger C, Schoser B, Straub V et al (2007) A novel X-linked myopathy with postural muscle atrophy and generalized hypertrophy, termed XMPMA, is caused by mutations in FHL1. Am J Hum Genet 82:88–99

14.

Worman HJ, Bonne G (2007) Laminopathies: a wide spectrum of human disease. Exp Cell Res 313:2121–2133

15.

Zhang Q, Bethmann C, Worth NF et al (2007) Nesprin-1 and -2 are involved in the pathogenesis of Emery-Dreifuss muscular dystrophy and are critical for nuclear envelope integrity. Hum Mol Genet 16:2816–2833
Interessenkonflikt
Der korrespondierende Autor gibt an, dass kein Interessenkonflikt besteht.
About this article
Cite this article
Wehnert, M. Emery-Dreifuss-Muskeldystrophie. medgen 21, 343–348 (2009). https://doi.org/10.1007/s11825-009-0173-8
Schlüsselwörter
Emery-Dreifuss-Muskeldystrophie

Erbliche neuromuskuläre Erkrankungen

Klinische Variabilität

Genetische Variabilität

Genetische Heterogenität
Keywords
Emery-Dreifuss muscular dystrophy

Inherited neuromuscular disorders

Clinical variability

Genetic variability

Genetic heterogeneity