Zusammenfassung
Gliedergürtelmuskeldystrophien ("limb girdle muscle dystrophies", LGMD) sind eine klinisch sowie genetisch heterogene Gruppe von Muskelkrankheiten, von denen bis heute 7 dominante (LGMD1A–G) und 15 rezessive Formen (LGMD2A–O) beschrieben sind. Viele davon beginnen im Jugendlichenalter und führen in der Regel über die folgenden 2–4 Jahrzehnte zur Gehunfähigkeit. Die Symptomatik beginnt häufig im Beckengürtel, die Muskeln des Schultergürtels folgen in unterschiedlichem Abstand. Allele Formen der vorgestellten LGMD können auch einen distalen Prädilektionstyp aufweisen, wie die Miyoshi-Myopathie durch Mutationen im Dysferlingen. Die häufigsten Formen aus der Gruppe der rezessiven LGMD sind Calpainopathien (LGMD2A), Dystrophien durch Mutationen im FKRP-Gen (FKRP: "Fukutin-related protein", LGMD2I) sowie Dysferlinopathien (LGMD2B). Es folgen in der Häufigkeit die Sarkoglykanopathien, die oft bereits im Kindesalter beginnen. Bei vielen Formen führt der Gendefekt zur Störung eines sarkolemmalen Proteins. Wegen der großen Heterogenität folgt die molekulargenetische Analyse in der Regel der Muskelbiopsie mit immunhistologischer Aufarbeitung. Eine spezifische Therapie ist bislang nicht verfügbar. Die Behandlung von Kontrakturen und die Überwachung evtl. begleitender Kardiomyopathien stehen neben der humangenetischen Beratung im Vordergrund.
Abstract
Limb girdle muscular dystrophies (LGMDs) are a clinically and genetically heterogeneous group of muscle disorders. Seven dominant (LGMD1A through G) and 15 recessive forms (LGMD2A through O) have been described. They often start in adolescence, and most patients end up wheelchair-bound 2–4 decades later. The syndrome begins in the pelvic girdle. Muscles of the shoulder girdle follow after a variable time interval. Allelic variants may present with a distal predilection of muscles, such as Miyoshi myopathy, which is caused by mutations in the dysferlin gene. The most frequent types of LGMD are calpainopathies (LGMD1A), mutations in the FKRP gene (LGMD2i), and dysferlinopathies (LGMD2B). Sarcoglycanopathies, which often start in childhood, are the next most frequent forms. In many LGMDs, a sarcolemmal protein is affected. Because of the huge heterogeneity, molecular genetic analysis normally follows a muscle biopsy and includes an extensive immunohistochemical workup. A specific therapy for this group of diseases is not yet available. Human genetic counseling is of primary importance. Treatment of contractures as well as special care for a developing cardiomyopathy are helpful for the patient.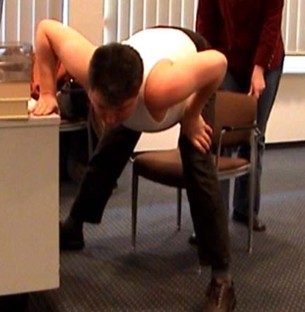 Literatur
1.

Argov Z, Sadeh M, Mazor K et al (2000) Muscular dystrophy due to dysferlin deficiency in Libyan Jews. Clinical and genetic features. Brain 123:1229–1237

2.

Bushby KM (1995) Diagnostic criteria for the limb-girdle muscular dystrophies: report of the ENMC Consortium on Limb-Girdle Dystrophies. Neuromuscul Disord 5:71–74

3.

Groen EJ, Charlton R, Barresi R et al (2007) Analysis of the UK diagnostic strategy for limb girdle muscular dystrophy 2A. Brain 130:3237–3249

4.

Guglieri M, Magri F, D'Angelo MG et al (2008) Clinical, molecular, and protein correlations in a large sample of genetically diagnosed Italian limb girdle muscular dystrophy patients. Hum Mutat 29:258–266

5.

Hagen M von der, Schallner J, Kaindl AM et al (2006) Facing the genetic heterogeneity in neuromuscular disorders: linkage analysis as an economic diagnostic approach towards the molecular diagnosis. Neuromuscul Disord 16:4–13

6.

Klinge L, Dean AF, Kress W et al (2008) Late onset in dysferlinopathy widens the clinical spectrum. Neuromuscul Disord 18:288–290

7.

Klinge L, Dekomien G, Aboumousa A et al (2008) Sarcoglycanopathies: can muscle immunoanalysis predict the genotype? Neuromuscul Disord 18:934–941

8.

Nguyen K, Bassez G, Krahn M et al (2007) Phenotypic study in 40 patients with dysferlin gene mutations: high frequency of atypical phenotypes. Arch Neurol 64:1176–1182

9.

Norwood F, de Visser M, Eymard B et al (2007) EFNS guideline on diagnosis and management of limb girdle muscular dystrophies. Eur J Neurol 14:1305–1312

10.

Seror P, Krahn M, Laforet P et al (2008) Complete fatty degeneration of lumbar erector spinae muscles caused by a primary dysferlinopathy. Muscle Nerve 37:410–414

11.

Sveen ML, Schwartz M, Vissing J (2006) High prevalence and phenotype-genotype correlations of limb girdle muscular dystrophy type 2I in Denmark. Ann Neurol 59:808–815

12.

Van der Kooi AJ, Frankhuizen WS, Barth PG et al (2007) Limb-girdle muscular dystrophy in the Netherlands: gene defect identified in half the families. Neurology 68:2125–2128

13.

Walton JN, Nattrass FJ (1954) On the classification, natural history and treatment of the myopathies. Brain 77:169–231
Interessenkonflikt
Der korrespondierende Autor gibt an, dass kein Interessenkonflikt besteht.
About this article
Cite this article
Ferbert, A., Kress, W. Klinik und Genetik der Gliedergürteldystrophien. medgen 21, 332–336 (2009). https://doi.org/10.1007/s11825-009-0171-x
Schlüsselwörter
Gliedergürteldystrophie

Muskeldystrophie

Calpainopathie

Dysferlinopathie

Sarkoglykanopathie
Keywords
Limb girdle muscular dystrophy

Muscular dystrophy

Calpainopathy

Dysferlinopathy

Sarcoglycanopathy