Zusammenfassung
Die geistige Behinderung bei syndromalen Krankheitsbildern kann sehr verschieden stark ausgeprägt sein. Auch können Betroffene mit dem gleichen Syndrom einen unterschiedlichen Schweregrad der geistigen Behinderung aufweisen. Die Diagnosestellung stellt eine große Herausforderung für den klinischen Genetiker dar, insbesondere wegen der unterschiedlichen phänotypischen Ausprägung. Neben einer exakten Erhebung der Familienanamnese und der körperlichen Befunde ist die Beachtung von Leitsymptomen wie Adipositas, Makrosomie, Mikrozephalie, prä- oder postnatalem Kleinwuchs oder spezifischer Fehlbildungsmuster hilfreich bei der klinischen Diagnostik. Die modernen zytogenetischen und molekularzytogenetischen Diagnostiken wie CGH-Array (CGH: "comparative genomic hybridization") tragen dazu bei, eine ätiologische Klärung herbeizuführen und Krankheitsentitäten zu definieren.
Abstract
Mental retardation of varying degree is a major component of genetic syndromes. Affected individuals with the same disorder may show different degrees of mental retardation. Making a diagnosis is a great challenge for clinical geneticists, especially because of the wide clinical variability. Besides carefully evaluating the family history and conducting a clinical examination, consideration of guiding clinical signs – including obesity, macrosomy, microcephaly, prenatal or/and postnatal growth restriction, and multiple congenital anomalies – is very helpful in establishing the correct clinical diagnosis. Modern cytogenetic and molecular cytogenetic techniques help clarify the etiology and define new disease nosologies.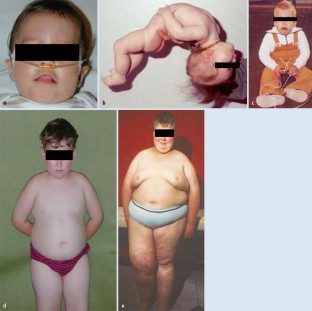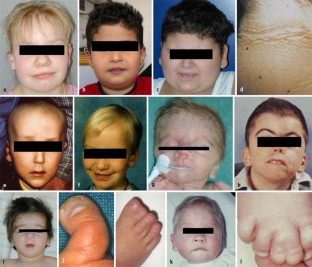 Literatur
1.

Allanson JE, Hennekam RCM, Ireland M (1997) De Lange syndrome: subjective and objective comparison of the classical and mild phenotypes J Med Genet 34:645–650

2.

Alström CH, Hallgren B, Nilsson LB et al (1959) Retinal degeneration combined with obesity, diabetes mellitus and neurogenous deafness: a specific syndrome (not hitherto described) distinct from the Laurence-Moon-Bardet-Biedl syndrome: a clinical, endocrinological and genetic examination based on a large pedigree. Acta Psychiatr Neurol Scand Suppl 129:1–35

3.

Behmel A, Plöchl E, Rosenkranz W (1984) A new X-linked dysplasia gigantism syndrome: identical with the Simpson dysplasia syndrome. Hum Genet 67(4):409–413

4.

Buiting K, Kanber D, Martin-Subero JL et al (2008) Clinical features of maternal uniparental disomy 14 in patients with an epimutation and a deletion of the imprinted DLK/GTL2 gene cluster. Hum Mutat 21:1141–1146

5.

Cassidy SB, Driscoll DJ (2009) Prader-Willi syndrome. Eur J Hum Genet 17:3–13

6.

Chandler KE, Kidd A, Al-Gazali LI et al (2003) Diagnostic criteria, clinical characteristics and natural history of Cohen syndrome. J Med Genet 40:233–241

7.

Clayton-Smith J, Kerr B, Brunner H, Tranebjaerg L et al (1997) Macrocephaly with cutis marmorata, haemangioma and syndactyly – a distinctive overgrowth syndrome. Clin Dysmorphol 6(4):291–302

8.

Cohen MM Jr, Hall BD, Smith DW et al (1973) A new syndrome with hypotonia, obesity, mental deficiency, and facial, oral, ocular, and limb anomalies. J Pediatr 83(2):280–284

9.

De Lange C (1933) Sur un type nouveau de dégénération (typus amstelodamensis). Arch Med Enf 36:713–719

10.

Golabi M, Ito M, Hall BD (1984) A new X-linked multiple congenital anomalies/mental retardation syndrome. Am J Med Genet 17(1):367–374

11.

Hennekam RCM (2006) Rubinstein-Taybi syndrome. Eur J Hum 14:981–985

12.

Lapunzina P, Gairi A, Delicado A et al (2004) Macrocephaly-cutis marmorata report of six new patients and a review. Am J Med Genet 130A:45–51

13.

Marshall JD, Beck S, Maffei P, Naggert JK (2007) Alstrom syndrome. Eur J Hum Genet 15:1193–1202

14.

Mitter D, Buiting J, von Eggeling F et al (2006) Is there a higher incidence of maternal uniparental disomy 14 [upd)14mat]? Detection of 10 new patients by methylation-specific PCR. Am J Med Genet 140A:2039–2049

15.

Moore CA, Toriello HV, Abuelo DN et al (1997) Macrocephaly-cutis marmorata telangiectatica congenita: a distinct disorder with developmental delay and connective tissue abnormalities. Am J Med Genet 70(1):67–73

16.

Porter FD (2008) Smith-Lemli-Opitz syndrome: pathogenesis, diagnosis and management. Eur J Hum Genet 16:535–541

17.

Prader A, Labhart A, Willi H (1956) Ein Syndrom von Adipositas, Kleinwuchs, Kryptorchismus und Oligophrenie nach Myotonicartigem Zustand in Neugeborenenalter. Schweiz Med Wochenschr 86:1260–1261

18.

Rubinstein JH, Taybi H (1963) Broad thumbs and toes and facial abnormalities. A possible mental retardation syndrome. Am J Dis Child 105:588–608

19.

Simpson JL, Landey S, New M, German J (1975) A previously unrecognized X-linked s yndrome of dysmorphia. Birth Defects Orig Artic Ser 11(2):18–24

20.

Smith DW, Lemli L, Opitz JM (1964) A newly recognized syndrome of multiple congenital anomalies. J Pediatr 64:210–217

21.

Sotos JF, Dodge PR, Muirhead D et al (1964) Cerebral gigantism in childhood. A syndrome of excessively rapid growth and acromegalic features and a nonprogressive neurologic disorder. N Engl J Med 271:109–116

22.

Tatton-Brown K, Rahman N (2007) Sotos syndrome. Eur J Hum Genet 15:264–271

23.

Temple IK, Cockwell A, Hassold T et al (1991) Maternal uniparental disomy for chromosome 14. J Med Genet 28:511–514

24.

Weaver DD, Graham CB, Thomas IT, Smith DW (1974) A new overgrowth syndrome with accelerated skeletal maturation, unusual facies, and camptodactyly. J Pediatr 84(4):547–552
Interessenkonflikt
Der korrespondierende Autor gibt an, dass kein Interessenkonflikt besteht.
About this article
Cite this article
Gillessen-Kaesbach, G. Syndromale Formen geistiger Behinderung. medgen 21, 209–216 (2009). https://doi.org/10.1007/s11825-009-0164-9
Schlüsselwörter
Syndrome mit geistiger Behinderung

CGH-Array

Leitsymptom Adipositas

Leitsymptom Makrozephalie und Makrosomie

Leitsymptom Mikrozephalie und multiple Fehlbildungen
Keywords
Syndromes with mental retardation

CGH array

Guiding sign obesity

Guiding sign macrocephaly and macrosomy

Guiding sign microcephaly with multiple congenital anomalies