Zusammenfassung
Die Ursachenabklärung der mentalen Retardierung, die mit einer Prävalenz von 2–3% in der Bevölkerung vorliegt, ist eine häufige Fragestellung in der klinisch-genetischen Sprechstunde. Ausgehend vom Leitsymptom Mikrozephalie, die ebenfalls mit einer Prävalenz von 2–3% angegeben wird, soll anhand der zugrunde liegenden Erbgänge ein Überblick über verschiedene Krankheitsbilder mit Mikrozephalie und Entwicklungsverzögerung/mentaler Retardierung gegeben werden. Die Winter-Baraitser-Dysmorphology-Database führt in der aktuellen Version 558 Krankheitsbilder mit diesen beiden klinischen Zeichen auf. Dies macht deutlich, dass die nachfolgende Übersicht nur einen Ausschnitt dieses umfassenden Gebiets der klinischen Genetik/Dysmorphologie wiedergeben kann.
Abstract
Clarification of the cause of mental retardation, which has a prevalence of 2–3%, is a common reason for genetic consultation. On the basis of the cardinal sign of microcephaly, which also has a prevalence of 2–3%, an overview on different conditions with developmental delay/mental retardation is given according to the mode of inheritance. The current version of the Winter–Baraitser Dysmorphology Database lists 558 conditions with the combination of microcephaly and developmental delay/mental retardation. This makes clear that the following overview gives only a limited look at the comprehensive field of clinical genetics/dysmorphology.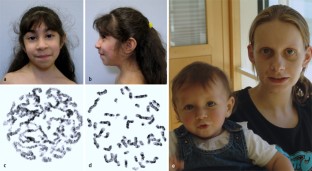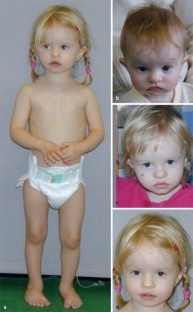 Literatur
1.

Abuelo D (2007) Microcephaly syndromes. Semin Pediatr Neurol 14:118–127

2.

Davidsson J, Collin A, Björkhelm G, Soller M (2008) Array based characterization of a terminal deletion involving chromosome subband 15q26.3: an emerging syndrome associated with growth retardation, cardiac defects and developmental delay. BMC Med Genet 14(9):2

3.

Jaillard S, Dubourg C, Gérard-Blanluet M et al (2008) 2q23.1 microdeletion identified by array-CGH: an emerging phenotype with Angelman-like features? J Med Genet Sep 23. [Epub ahead of print]

4.

LMD (2008) London Medical Databases, Version 1.0.13. London Medical Databases Ltd, London

5.

Nellhaus ■■■■■■

6.

Trimborn M, Richter R, Sternberg N et al (2005) The first missense alteration in the MCPH1 gene causes autosomal recessive microcephaly with an extremely mild cellular and clinical phenotype. Hum Mutat 26:496–502

7.

Voigt M, Fusch C, Olbertz D et al (2006) Analyse des Neugeborenenkollektivs der Bundesrepublik Deutschland. Geburtshilfe Frauenheilkd 66:956–970

8.

Woods CG, Bond J, Enard W (2005) Autosomal recessive primary microcephaly (MCPH): a review of clinical, molecular and evolutionary findings. Am J Hum Genet 76:717–728

9.

Zhang X, Snijders A, Segraves R et al (2005) High-resolution mapping of genotype-phenotype relationships in cri du chat syndrome using array comparative genomic hybridization. Am J Hum Genet 76:312–326
Danksagung
Ich bedanke mich bei A. Küchler und B. Horsthemke für das Korrekturlesen des Manuskripts.
Interessenkonflikt
Der korrespondierende Autor gibt an, dass kein Interessenkonflikt besteht.
About this article
Cite this article
Wieczorek, D. Mikrozephaliesyndrome und geistige Behinderung. medgen 21, 224–230 (2009). https://doi.org/10.1007/s11825-009-0158-7
Schlüsselwörter
Mikrozephalie

Entwicklungsverzögerung

Mentale Retardierung

Mikrozephaliesyndrome

Genetik
Keywords
Microcephaly

Developmental delay

Mental retardation

Microcephaly syndromes

Genetics