Zusammenfassung
Fragiles-X Syndrom, eine X-chromosomal vererbte neuronale Entwicklungsstörung, betrifft Knaben und Mädchen. Phänotypisch charakteristisch sind intellektuelle Defizite, somatische Merkmale und Verhaltensauffälligkeiten. Pathophysiologisch liegt der Verlust des Proteins FMRP ("fragile X mental retardation protein") zugrunde, in dessen Folge es zum Untergang von Synapsen mit metabotropen Glutamatrezeptoren kommt. Das Gen FMR1 ("fragile X mental retardation 1") enthält in der 5'-nichttranslatierten Genregion eine CGG-Wiederholungssequenz (CGG-Repeat). Bei fast allen Patienten mit Fragilem-X Syndrom liegt ein vollmutiertes, meist inaktives FMR1 mit >200 CGG-Repeats vor. Vollmutationen entstehen bei der Oogonienvermehrung im fetalen Ovar von Trägerinnen eines mitotisch instabilen Prämutationsallels (59–200 Repeats). Die Prämutation führt nicht zu Symptomen des Fragilen-X Syndroms, ist aber ein Risikofaktor für vorzeitige Ovarialinsuffienz und/oder fragiles X-assoziiertes Tremor/Ataxie Syndrom. Die Diagnostik beider Syndrome erfordert eine genetische Untersuchung zur Bestimmung der FMR1-CGG-Repeats. Die vorgeburtliche Diagnostik kann von allen Frauen mit prä- oder vollmutiertem Gen beansprucht werden.
Abstract
Fragile X syndrome is an X-linked neurodevelopmental disorder affecting both males and females. Phenotypical characteristics include intellectual deficits, somatic symptoms and behavioural abnormalities caused by loss of the FMRP protein, which leads to destruction of synapses with metabotropic glutamate receptors. The FMR1 gene harbours a CGG repeat in the 5'-untranslated region. The vast majority of fragile-X syndrome patients have a largely expanded CGG repeat (220 or more triplets, designated "full mutation") and an inactive gene. Full mutation alleles originate upon proliferation of oogonia in the fetal ovary of females who carry a mitotically unstable premutation (59–200 repeats). Premutation carriers have no symptoms of fragile X syndrome; they may, however, experience premature ovarian insufficiency and/or fragile X-associated tremor/ataxia syndrome. The diagnosis of both syndromes requires genetic testing to measure the number of CGG repeats. Prenatal diagnostics of fragile X syndrome is offered to females carrying a pre- or full mutation.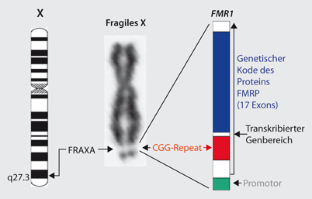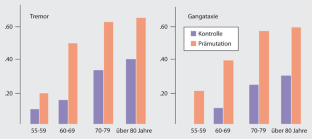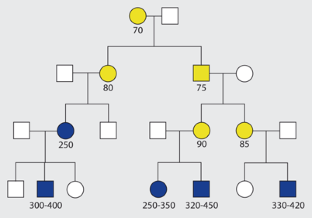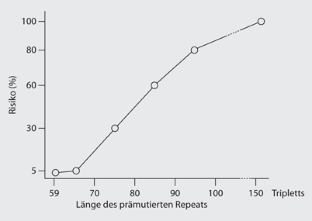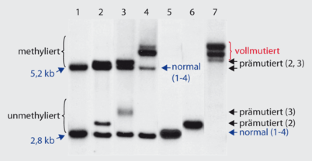 Literatur
1.

Bear MF, Huber KM, Warren ST (2004) The mgluR theory of fragile X mental retardation. Trends Neurosci 27:370–377

2.

Berufsverband Deutscher Humangenetiker e.V. (2007) Leitlinien zur molekulargenetischen Labordiagnostik. Med Genet 19:460–462

3.

Dölen G, Osterweil E, Rao BS et al (2007) Correction of fragile X syndrome in mice. Neuron 56:955–962

4.

Galvez R, Greenough WT (2005) Sequence of abnormal dendritic spine development in primary somatosensory cortex of a mouse model of the fragile X mental retardation syndrome. Am J Med Genet 135A:155–160

5.

Greco CM, Berman RF, Martin RM et al (2006) Neuropathology of fragile X-associated tremor/ataxia syndrome (FXTAS). Brain 129:243–255

6.

Hagerman R (1998) Clinical and diagnostic aspects of fragile X syndrome. In: Wells RD, Warren ST (eds) Genetic instabilities and hereditary neurological diseases. Academic Press, San Diego, pp 14–25

7.

Hunter J, Allen E, Abramowitz A et al (2007) Investigation of neurobehavior phenotypes among male and female FMR1 premutation allele carriers. Poster. International Workshop on the fragile-X and on X-linked mental retardation (XLMR13). Venezia Lido, Italy, 3–6 October

8.

Jaquemont S, Hagerman RJ, Leehey M et al (2003) Fragile X premutation tremor/ataxia syndrome: molecular, clinical and neuroimaging correlates. Am J Hum Genet 72:869–878

9.

Lubs H (1969) A marker X chromosome. Am J Hum Genet 21:231–244

10.

Nolin S, Brown WT, Glicksman A et al (2003) Expansion of the fragile X CGG repeat in females with premutation or intermediate alleles. Am J Hum Genet 72:454–464

11.

Oberlé I, Rousseau F, Heitz D et al (1991) Instability of a 550 bp DNA segment and abnormal methylation in fragile X syndrome. Science 252:1097–1102

12.

Sarimski K (1996) Verhaltensmerkmale von Jungen mit fragilem(X)-Syndrom. Hautnah Padiatr 1:48–59

13.

Schweizerische Gesellschaft für Medizinische Genetik (2007) Informationsblatt. Swiss Society of Medical Genetics, Basel, www.sgmg.ch

14.

Steinbach P, Wöhrle D, Gläser D et al (1998) Systems for the study of triplet repeat instability: cultured mammalian cells. In: Wells RD, Warren ST (eds) Genetic instabilities and hereditary neurological diseases. Academic Press, San Diego, pp 509–528

15.

Sutherland GR (1977) Fragile sites on human chromosomes: demonstration of their dependence on the type of tissue culture medium. Science 197:256–266

16.

Verkerk AJ, Pieretti M (1991) Identification of a gene (FMR-1) containing a CGG repeat coincident with a breakpoint cluster region exhibiting length variation in fragile X syndrome. Cell 65:905–914

17.

Welt CK (2008) Primary ovarian insuffciency: a more accurate term for premature ovarian failure. Clin Endocrinol 68:499–509

18.

Wissenschaftlicher Beirat der Bundesärztekammer (2003) Richtlinien zur prädiktiven genetischen Diagnostik. Med Genet Ärztebl 100:A1297–A1305

19.

Wöhrle D, Schwemmle S, Steinbach P (1996) DNA methylation and triplet repeat instability. Am J Med Genet 64:1–8

20.

Wöhrle D, Salat U, Hameister H et al (2001) Demethylation, reactivation and destabilization of human fragile X full mutation alleles in mouse embryocarcinoma (EC) cells. Am J Hum Genet 69:504–515

21.

Zerres K, Grimm T, Rudnik-Schöneborn S (2007) Humangenetische Beratung. Med Genet 2:255–262

22.

Zühlke C (2007) Häufige Erkrankungen mit Repeatexpansion. Med Genet 4:441–450
Interessenkonflikt
Der korrespondierende Autor gibt an, dass kein Interessenkonflikt besteht.
About this article
Cite this article
Steinbach, P. Fragiles-X Syndrom. medgen 21, 251–261 (2009). https://doi.org/10.1007/s11825-009-0156-9
Schlüsselwörter
Fragiles X

FMR1

Metabotroper Glutamatrezeptor

Ovarialinsuffienz

Tremor/Ataxie Syndrom
Keywords
Fragile X

FMR1

Metabotropic glutamate receptors

Ovarian insufficiency

Tremor/ataxia syndrome