Zusammenfassung
Das erste regionale Projekt für eine externe Qualitätssicherung (EQA) in der klinischen Zytogenetik entstand in Deutschland im Jahr 1989. 1993 erfolgte eine überregionale Ausweitung des Programms. Gegenwärtig nehmen 92 Laboratorien aus Deutschland, 11 aus der Schweiz und 5 aus Österreich an den Ringversuchen zur Qualitätssicherung teil. Basierend auf dem Quality Assessment Scheme der Association of Clinical Cytogeneticists (1988) aus Großbritannien wurden in der ersten Periode der Ringversuche die Qualität der Chromosomenpräparation und die Schnelligkeit in der Routinediagnostik sowohl in der Prä- (nach Amniozentese) als auch in der Postnataldiagnostik (Lymphozyten) evaluiert. Als ein Ergebnis dieser kontinuierlichen EQA stieg die durchschnittliche Bandenauflösung von unter 400 bphs 1994 auf ungefähr 450 bphs in der pränatalen Zytogenetik und von ungefähr 400 bphs auf über 500 bphs in der postnatalen Diagnostik. 1999 wurde das EQA-Verfahren durch Ringversuche zur Diagnostik, Interpretation und Dokumentation von Strukturaberrationen ausgeweitet (RV-"Strukturanalyse"). Eine numerische Bewertung für die Erkennung, die Interpretation sowie die Befundmitteilung von zugesandten Karyotypen, für die aktuelle Fälle aus teilnehmenden Laboratorien genutzt wurden, erlaubt den Teilnehmern eine Abschätzung ihrer Fähigkeit, bei vorgegebener Präparatequalität strukturelle Aberrationen, häufige Fehler bei der Karyotypisierung und Fehler bei der Dokumentation der Karyotypformel entsprechend der ISCN-Nomenklatur zu erkennen. Die kontinuierliche Teilnahme an Ringversuchen zur EQA in der Zytogenetik, an der sich die Mitglieder der teilnehmenden Laboratorien aktiv beteiligen können, führt zu einer Anhebung der Qualität in der Chromosomenpräparation sowie gleichzeitig einer Verbesserung in der Diagnostik durch Vermeidung typischer häufiger Fehler in der Karyotypisierung und fehlerhafter Benutzung der ISCN-Nomenklatur.
Abstract
The first regional project for external quality assessment (EQA) in clinical cytogenetics in Germany began in 1989. In 1993, an international EQA program was initiated; 92 laboratories in Germany, 11 laboratories in Switzerland, and five laboratories in Austria are currently participating in the project. Based on the quality assessment scheme of the Association of Clinical Cytogeneticists (United Kingdom), in the first phase the quality of chromosome preparation and the speed of routine prenatal and postnatal diagnostic services were evaluated. As a result of continuous external quality assessment, the mean banding level rose from <400 bphs in 1994 to approximately 450 bphs in prenatal tests and from about 400 to >500 bphs in postnatal tests. In 1999 the assessment scheme was extended to evaluate diagnostic abilities and the interpretation and reporting of structural aberrations. Numeric estimates were also used for the recognition, interpretation, and reporting of structural aberrations of submitted karyotypes. Because actual cases from participating laboratories were used, the provided karyotypes enabled the participants to recognize their performance with respect to identification of structural aberrations, detection of frequent karyotyping errors, and karyotype description conforming to ISCN nomenclature. The data suggest that continuous external quality assessment results in improved quality of chromosome preparations and helps avoid common errors in karyotyping and karyotype description according to ISCN.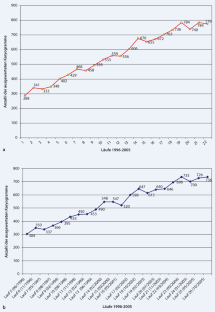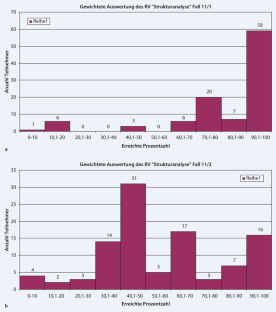 Literatur
1.

American College of Medical Genetics Laboratory Practice Committee (1993) Standards and guidelines. Clinical Genetics Laboratories, American College of Medical Genetics, Bethesda

2.

Association of Clinical Cytogeneticists UK NEQUAS (1994) Guidelines for clinical cytogenetics. Royal Institute of Public Health and Hygiene, London

3.

Berufsverband Medizinische Genetik (1990) Richtlinien zur Durchführung zytogenetischer Diagnostik. Med Genet 2/4:6

4.

E.C.A (2006) E.C.A. Cytogenetics Guidelines and Quality Assurance. Permanent Working Group for Cytogenetics and Society. E.C.A. Cytogenet Assoc Newsletter 17: 15–32

5.

EUCHROMIC Quality Assessment Group (1997) Quality guidelines and standards for genetic laboratories/clinics in prenatal diagnosis on fetal samples obtained by invasive procedure. Eur J Hum Genet 5: 342–350

6.

Held KR, Eiben B, Miny P (2000) The long-term effect of external quality assessment on performance in service cytogenetics. Cytogenet Cell Genet 91: 124–127

7.

Hsu LYF, Kaffe S, Jenkins EC et al. (1992) Proposed guidelines for diagnosis of chromosome mosaicism in amniocytes based on data derived from chromosome mosaicism and pseudomosaicism studies. Prenat Diagn 12: 555–573

8.

ILAC (2000) ILAC G13:2000 Guidelines for the requirements for the competence of providers of proficiency testing schemes. ILAG, Silverwater

9.

Knutsen T, Bixenman HA, Lawce H et al. (1990) Chromosome analysis guidelines: preliminary report. Cytogenet Cell Genet 44: 1–4

10.

NN (1988) United Kingdom External Quality Assessment Scheme. Slide assessment scoring guide. ACC Clin Zytogenet Bull 2: 35–26
Interessenkonflikt
Der korrespondierende Autor gibt an, dass kein Interessenkonflikt besteht.
About this article
Cite this article
Held, K., Brandt, S. & Eiben, B. 20 Jahre externe Qualitätssicherung in der Zytogenetik. medgen 20, 353–360 (2008). https://doi.org/10.1007/s11825-008-0134-7
Schlüsselwörter
Externe Qualitätssicherung

Klinische Zytogenetik

Chromosomenpräparation

Schnelligkeit

Strukturaberrationsanalyse
Keywords
External quality assessment

Clinical cytogenetics

Chromosome preparation

Speed

Identification of structural aberrations