Zusammenfassung
Die molekulare Zytogenetik ist ein wesentliches Instrument der Diagnostik und Forschung an menschlichen Chromosomen. Die Fluoreszenz-in-situ-Hybridisierung (FISH) ist hierbei die maßgebliche Technik. Seit Mitte der 1990er Jahre wurde eine Vielzahl verschiedener Vielfarben-FISH-Sondensets für unterschiedliche Fragestellungen etabliert und verfügbar gemacht. Im vorliegenden Beitrag wird diese Entwicklung aufgezeigt und dargestellt. Die der Vielfarben-FISH zugrunde liegenden Prinzipien, deren vielfältigen Spielarten und Anwendungen werden zusammengefasst. Schließlich wird eine Prognose bezüglich der Bedeutung der molekularen Zytogenetik im künftigen Zusammenspiel mit den Chiptechnologien getroffen.
Abstract
Molecular cytogenetics is a major instrument for diagnostics and research in human chromosomes. Fluorescence in situ hybridization (FISH) is the most significant technique applied. Since the mid 1990s a multitude of multicolor-FISH probe sets suitable for different investigations have been established and made available. The current article presents and describes these developments. The underlying principles of multicolor-FISH, its wide variety and its applications are summarized. Finally, a prognosis on the relevance of molecular cytogenetics in the future interplay with chip technologies is made.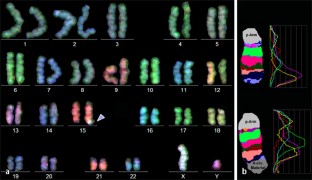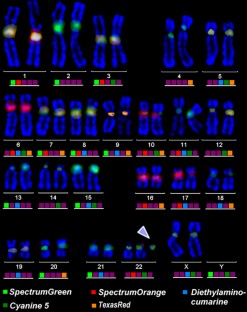 Literatur
1.

Bejjani BA, Theisen AP, Ballif BC et al. (2005) Array-based comparative genomic hybridization in clinical diagnosis. Expert Rev Mol Diagn ■: 421–429

2.

Hopman AH, Wiegant J, Raap AK et al. (1986) Bi-color detection of two target DNAs by non-radioactive in situ hybridization. Histochemistry 85: 1–4

3.

Kallioniemi A, Kallioniemi OP, Sudar D et al. (1992) Comparative genomic hybridization for molecular cytogenetic analysis of solid tumors. Science 258: 818–821

4.

Liehr T (2008) Multicolor FISH literature. Friedrich-Schiller-Universität Jena, http://www.med.uni-jena.de/fish/mFISH/mFISHlit.htm

5.

Liehr T (2008) Small supernumerary marker chromosome (sSMC). Friedrich-Schiller-Universität Jena, http://www.med.uni-jena.de/fish/sSMC/00START.htm

6.

Liehr T, Claussen U (2002) Multicolor-FISH approaches for the characterization of human chromosomes in clinical genetics and tumor cytogenetics. Curr Genomics 3: 213–235

7.

Liehr T, Claussen U (2002) Current developments in human molecular cytogenetic techniques. Curr Mol Med 2: 283–297

8.

Liehr T, Heller A, Starke H et al. (2002) Fluorescence in situ hybridization (FISH) banding methods – applications in research and diagnostic. Expert Rev Mol Diagn 2: 217–225

9.

Liehr T, Starke H, Weise A et al. (2004) Multicolor FISH probe sets and their applications. Histol Histopathol 19: 229–237

10.

Liehr TStarke H, A Heller et al. (2006) Multicolor fluorescence in situ hybridization (FISH) applied for FISH-banding. Cytogenet Genome Res 114: 240–244

11.

Pinkel D, Straume T, Gray JW (1986) Cytogenetic analysis using quantitative, high sensitivity, fluorescence hybridization. Proc Natl Acad Sci USA 83: 2934–2938

12.

Schröck E, Du Manoir S, Veldman T et al. (1996) Multicolor spectral karyotyping of human chromosomes. Science 273: 494–497

13.

Speicher MR, Gwyn Ballard S, Ward DC (1996) Karyotyping human chromosomes by combinatorial multi-fluor FISH. Nat Genet 12: 368–375

14.

Weise A, Gross M, Mrasek K et al. (2008) Parental-origin-determination fluorescence in situ hybridization distinguishes homologous human chromosomes on a single-cell level. Int J Mol Med 21: 189–200

15.

Yurov YB, Vorsanova SG, Iourov IY et al. (2007) Unexplained autism is frequently associated with low-level mosaic aneuploidy. J Med Genet 44: 521–525

16.

Zech L (1979) Chromosome banding methods.Acta Histochem Suppl 20: 121–125
Interessenkonflikt
Der korrespondierende Autor gibt an, dass kein Interessenkonflikt besteht.
Additional information
Widmung
Diese Arbeit ist Herrn Professor Dr. med. Uwe Claussen gewidmet.
Insbesondere durch seine jahrelange Unterstützung wurden die dieser Publikation zugrunde liegenden Arbeiten ermöglicht.
Die aus der eigenen Gruppe referierten Arbeiten wurden u. a. durch die Dr. Robert Pfleger-Stiftung, die DFG (436 RUS 17/22/06 LI820/11-1, LI820/17-1) und die Wilhelm Sander-Stiftung (99.105.1-2) unterstützt.
About this article
Cite this article
Liehr, T. Vielfarben-Fluoreszenz-in-situ-Hybridisierung. medgen 20, 374–378 (2008). https://doi.org/10.1007/s11825-008-0133-8
Schlüsselwörter
Vielfarben-Fluoreszenz-in-situ-Hybridisierung

Chromosomen

Molekulare Zytogenetik

Einzelzellanalyse

Chiptechnologien
Keywords
Multicolor-fluorescence in situ hybridization

Chromosomes

Molecular cytogenetics

Single cell analysis

Chip technologies