Zusammenfassung
Die humangenetische Diagnostik umfasst eine Vielzahl von Verfahren, die sich aufgrund ihrer spezifischen Einsatzbedingungen und Anwendungsmöglichkeiten gegenseitig ergänzen. Mit der stetigen Entwicklung neuer Methoden ist es sinnvoll und notwendig, etablierte Techniken auf den Prüfstand zu stellen. Die Fluoreszenz-in-situ-Hybridisierung (FISH) ist eine Standardmethode in der genetischen Diagnostik und Forschung. Abhängig vom Design der Sonden ist es möglich, ganz individuell DNA-Abschnitte oder auch das gesamte Genom im Fluoreszenzmikroskop in Metaphasechromosomen, in Interphasezellkernen, in Gewebeschnitten oder in lebenden Zellen sichtbar zu machen. Besonders häufig wird die FISH-Technik in der humangenetischen Diagnostik für die Darstellung und Analyse von Mikrodeletionen, Translokationen, Inversionen und Insertionen, also von Strukturaberrationen der Chromosomen, sowie für die Charakterisierung von Markerchromosomen, zur Kartierung von Chromosomenbruchpunkten und zum Aneuploidiescreening im "pränatalen FISH-Schnelltest" eingesetzt. Die Stärke der Methode liegt dabei in der Untersuchung einzelner Zellen, sodass auch genetisch heterogene Zellpopulationen (Mosaike) im untersuchten Gewebe mit hoher Sicherheit festgestellt oder ausgeschlossen werden können. Außerdem ist es möglich, die morphologischen und immunologischen Eigenschaften der Zellen bei der Auswertung zu berücksichtigen, sodass genetische Veränderungen bestimmten Zellarten zugeordnet werden können.
Abstract
The field of genetic diagnostics incorporates a variety of methods that complement each other. Therefore, the development of new methods calls for a review of the advantages and limitations of established and new technologies. Fluorescence in situ hybridization (FISH) is routinely applied in genetics. Custom-designed and commercially available probes allow for nearly unlimited and targeted visualization of genomic DNA using either metaphase spreads, interphase nuclei, tissue sections, or living cells. FISH applications are particularly important for the detection of structural rearrangements such as microdeletions, translocations, inversions, and insertions, as well as for identification of marker chromosomes, characterization of chromosome breakpoints, and prenatal aneuploidy testing. Furthermore, the analysis of genetic heterogeneity, including mosaicism, is accomplished by evaluating single cells. FISH may also be combined with fluorescent antibodies against cell surface markers and correlated to specific morphologic features of cells and tissues.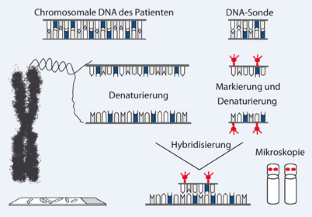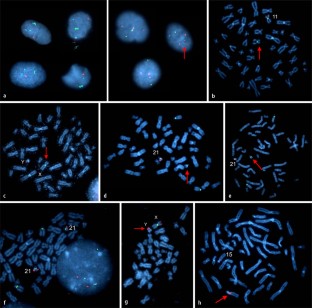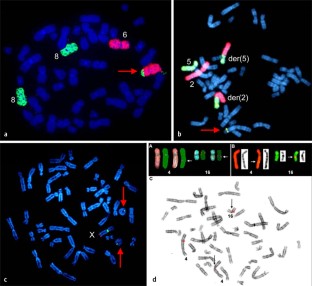 Literatur
1.

Giglio S, Broman KW, Matsumoto N et al. (2001) Olfactory receptor-gene clusters, genomic-inversion polymorphisms, and common chromosome rearrangements. Am J Hum Genet 68: 874–883

2.

Held KR, Brandt S, Eiben B (2008) 20 Jahre externe Qualitätssicherung in der Zytogenetik: Langzeitauswirkungen auf die Untersuchungsqualität der teilnehmenden Labors aus Deutschland, Österreich und der Schweiz. Med Genet 4

3.

Matthaei A, Werner W, Gerlach EM et al. (2005) Small reciprocal insertion detected by spectral karyotyping (SKY) and delimited by array-CGH analysis. Eur J Med Genet 48: 328–338

4.

Rauch A (2008) Array-CGH in der klinischen Diagnostik. Med Genet 4

5.

Shimokawa O, Kurosawa K, Ida T et al. (2004) Molecular characterization of inv dup del(8p): analysis of five cases. Am J Med Genet A 128: 133–137
Danksagung
Die hier dargestellten Analysen wurden im Rahmen der Diagnostik an unserem Institut durchgeführt. Für die Zusendung des Patientenmaterials möchten wir uns sehr herzlich bedanken bei Frau Dr. Dipl. Biol. B. Seipel, Bioscientia, Institut für Medizinische Diagnostik GmbH, Ingelheim; Frau Dr. med. S. Ebner, Gemeinschaftspraxis für Gynäkologie und Humangenetik, Regensburg; Frau Dr. med. S. Reif, Institut für Humangenetik und Medizinische Biologie, Martin-Luther-Universität Halle-Wittenberg; Frau OÄ Dr. med. G. Kamin, Klinik für Frauenheilkunde und Geburtshilfe, Universitätsklinikum Dresden; Frau Dr. med. A. Pyper, Klinik und Poliklinik für Kinder- und Jugendmedizin, Universitätsklinikum Dresden; und den Mitarbeiter/-innen der Genetischen Ambulanz des Instituts für Klinische Genetik, Medizinische Fakultät Carl Gustav Carus, Dresden.
About this article
Cite this article
Schröck, E., Frensel, A., Gerlach, E. et al. Fluoreszenz-in-situ-Hybridisierung in der humangenetischen Diagnostik. medgen 20, 361–366 (2008). https://doi.org/10.1007/s11825-008-0130-y
Schlüsselwörter
Fluoreszenz-in-situ-Hybridisierung

FISH

Genetische Diagnostik

Chromosomenaberrationen

Molekulare Zytogenetik
Keywords
Fluorescence in situ hybridization

FISH

Genetic diagnostics

Chromosomal aberrations

Molecular cytogenetics