Zusammenfassung
Pränatale Diagnostik kann heute mit unterschiedlichen Methoden, nichtinvasiv und invasiv, erfolgen. Gute humangenetische Grundkenntnisse sind erforderlich, um die Rat suchende Schwangere mit ihrem Partner umfassend zu informieren, damit von diesen auf der Grundlage des "informed consent" alle notwendigen Entscheidungen getroffen werden können.
Abstract
Prenatal diagnosis now can be offered with different methods – noninvasive and invasive. Excellent knowledge of human genetics is needed to provide the pregnant woman and her partner with adequate information so that decisions can be made based on informed consent.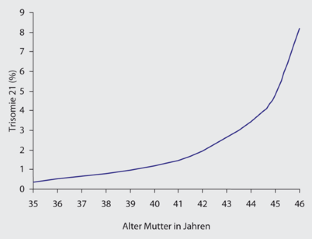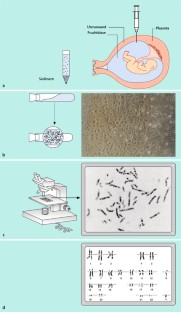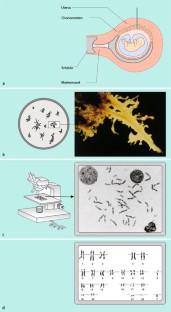 Literatur
1.

Brun JL, Gangbo F, Wen ZQ et al. (2004) Prenatal diagnosis and management of sex chromosome aneuploidy: a report on 98 cases. Prenat Diagn 24: 213–218

2.

El-Toukhy T, Khalaf Y, Braude P (2006) IVF results: optimize not maximize. Am J Obstet Gynecol 194: 322–331

3.

Ferguson-Smith MA, Yates JR (1984) Maternal age specific rates for chromosome aberrations and factors influencing them: report on a collaborative European study on 52965 amniocenteses. Prenat Diagn 4: 5–44

4.

Shaffer LG, Bui TH (2007) Molecular cytogenetic and rapid aneuploidy detection methods in prenatal diagnosis. Am J Med Genet 145C: 87–98

5.

Slater HR, Bruno DL, Ren H et al. (2003) Rapid, high-throughput prenatal detection of aneuploidy using a novel quantitative method (MLPA). J Med Genet 40: 907-912

6.

Spencer K, Souter V, Tul N et al. (1999) A screening program for trisomy 21 at 10–14 weeks using fetal nuchal translucency, maternal serum free beta-human chorionic gonadotropin and pregnancy-associated plasma protein-A. Ultrasound Obstet Gynecol 13: 231–377

7.

Steele MW, Breg WR Jr (1966) Chromosome analysis of human amniotic-fluid cells. Lancet 1: 383–385

8.

Stengel-Rudkowski S, Stene J, Gallano P (1988) Risk estimates in balanced parental reciprocal translocations. Analysis of 1120 pedigrees. Monographie des Annales de Génétique, Paris

9.

Wald NJ, Watt HC, Hackshaw AK (1999) Integrated screening for Down's syndrome on the basis of tests performed during the first and second trimesters. N Engl J Med 341: 461–467

10.

Murken J (2006) Pränatale Diagnostik. In: Murken J, Grimm T, Holinski-Feder E (Hrsg) Taschenlehrbuch Humangenetik. Thieme, Stuttgart
Interessenkonflikt
Der korrespondierende Autor gibt an, dass kein Interessenkonflikt besteht.
About this article
Cite this article
Aichinger, E., Zerres, K. & Grimm, T. Grundlagen der pränatalen Diagnostik. medgen 20, 315–325 (2008). https://doi.org/10.1007/s11825-008-0125-8
Schlüsselwörter
Pränataldiagnostik

Präimplantationsdiagnostik

Polkörperdiagnostik

Chorionzottenbiopsie

Amniozentese

Ersttrimester-Screening
Keywords
Prenatal diagnosis

Preimplantation genetic diagnosis

Polar body analysis

Chorionic villus sampling

Amniocentesis

First-trimester screening