Zusammenfassung
Der populationsgenetische Aspekt der Nutzung mitochondrialer DNA in der Forensik und medizinischen Genetik bezieht sich implizit auf die gesamte Datengrundlage und die mtDNA-Phylogenie, von der in Hinblick auf die zu untersuchenden Fragestellungen gezielt Teile ausgesondert werden. Wir heben besonders jene Aspekte hervor, die in der Vergangenheit bei vielen Untersuchungen nicht adäquat berücksichtigt wurden.
Abstract
The population genetics aspect of using mitochondrial DNA (mtDNA) in forensic and medical genetics implicitly concerns the entire database and mtDNA phylogeny, from which parts are targeted according to the questions to be dealt with. We emphasize those aspects that were not adequately considered in many previous studies.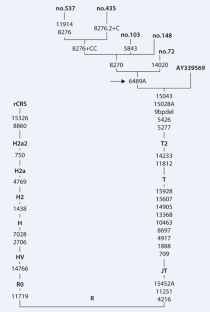 Literatur
1.

Bandelt H-J, Parson W (2004) Fehlerquellen mitochondrialer DNS-Datensätze und Evaluation der mtDNS-Datenbank D-Loop-BASE. Rechtsmedizin 14: 251–257

2.

Bandelt H-J, Dür A (2007) Translating DNA data tables into quasi-median networks for parsimony analysis and error detection. Mol Phylogen Evol 42: 256–271

3.

Bandelt H-J, Parson W (2008) Consistent treatment of length variants in the human mtDNA control region: a reappraisal. Int J Legal Med 122: 11–21

4.

Bandelt H-J, Macaulay V, Richards M (eds) (2006) Human mitochondrial DNA and the evolution of Homo sapiens. Springer, Berlin Heidelberg New York

5.

Bandelt H-J, Salas A, Bravi CM (2006) What is a "novel" mtDNA mutation – and does "novelty" really matter? J Hum Genet 51: 1073–1082

6.

Bandelt H-J, Yao Y-G, Salas A et al. (2007) High penetrance of sequencing errors and interpretative shortcomings in mtDNA sequence analysis of LHON patients. Biochem Biophys Res Commun 352: 283–291

7.

Bandelt H-J, Salas A, Taylor RW, Yao Y-G (2008) The exaggerated status of "novel" and "pathogenic" mtDNA sequence variants due to inadequate database searches. Hum Mutat in press

8.

Brandstätter A, Klein R, Dür A et al. (2006) Application of a quasi-median network analysis for the visualization of character conflicts to a population sample of mitochondrial DNA control region sequences from southern Germany (Ulm). Int J Legal Med 120: 310–314

9.

Brandstätter A, Niederstätter H, Pavlic M et al. (2007) Generating population data for the EMPOP database – an overview of the mtDNA sequencing and data evaluation processes considering 273 Austrian control region sequences as example. Forensic Sci Int 166: 164–175

10.

Chinnery PF (2006) Mitochondrial disorders overview. http://www.ncbi.nlm.nih.gov/books/bv.fcgi?rid=gene.chapter.mt-overview

11.

Choi B-O, JH Hwang, J Kim et al. (2008) A MELAS syndrome family harboring two mutations in mitochondrial genome. Exp Mol Med 40: 354–360

12.

Eichmann C, Parson W (2008) "Mitominis": multiplex PCR analysis of reduced size amplicons for compound sequence analysis of the entire mtDNA control region in highly degraded samples. Int J Legal Med, Mar 28. [Epub ahead of print], doi: 10.1007/s00414-008-0227-5

13.

Herrnstadt C, Elson JL, Fahy E et al. (2002) Reduced-median-network analysis of complete mitochondrial DNA coding-region sequences for the major African, Asian, and European haplogroups. Am J Hum Genet 70: 1152–1171, 71: 448–449

14.

Hudson G, Carelli V, Spruijt L et al. (2007) Clinical expression of Leber hereditary optic neuropathy is affected by the mitochondrial DNA-haplogroup background. Am J Hum Genet 81: 228–233

15.

Hudson G, Chinnery PF (2006) Mitochondrial DNA polymerase-γ and human disease. Hum Mol Genet 15: R244–R252

16.

Kattmann U (1999) Warum und mit welcher Wirkung klassifizieren Wissenschaftler Menschen? In: Kaupen-Haas H, Saller C (Hrsg) Wissenschaftlicher Rassismus: Analysen einer Kontinuität in den Human- und Naturwissenschaften. Campus, Frankfurt New York, S 65–83

17.

McFarland R, Elson JL, Taylor RW et al. (2004) Assigning pathogenicity to mitochondrial tRNA mutations: when "definitely maybe" is not good enough. Trends Genet 20: 591–596

18.

Parson W, Brandstätter A, Niederstätter H et al. (2007) Unravelling the mystery of Nanga Parbat. Int J Legal Med 121: 309–310

19.

Parson W, Dür A (2007) EMPOP – a forensic mtDNA database. Forensic Sci Int Genet 1: 88–92

20.

Salas A, Bandelt H-J, Macaulay V et al. (2006) Phylogeographic investigations: the role of trees in forensic genetics. Forensic Sci Int 168: 1–13

21.

Salas A, Carracedo Á, Macaulay V et al. (2005) A practical guide to mitochondrial DNA error prevention in clinical, forensic, and population genetics. Biochem Biophys Res Commun 335: 891–899

22.

Salas A, Yao Y-G, Macaulay V et al. (2005) A critical reassessment of the role of mitochondria in tumorigenesis. PLoS Med 2: 296

23.

Turchi C, Buscemi L, Previderè C et al. (2008) Italian mitochondrial DNA database: results of a collaborative exercise and proficiency testing. Int J Legal Med 122: 199–204

24.

Varlamov DA, Kudin AP, Vielhaber S et al. (2002) Metablic consequences of a novel missense mutation of the mtDNA CO I gene. Hum Mol Genet 11: 1797–1805

25.

Yao Y-G, Salas A, Bravi CM et al. (2006) A reappraisal of complete mtDNA variation in East Asian families with hearing impairment. Hum Genet 119: 505–515
Danksagung
Wir danken Claudio Bravi für den Hinweis auf die Arbeit von Choi et al. [11].
Interessenkonflikt
Der korrespondierende Autor gibt an, dass kein Interessenkonflikt besteht.
About this article
Cite this article
Bandelt, HJ., Parson, W. Populationsgenetische mitochondriale DNA-Daten. medgen 20, 302 (2008). https://doi.org/10.1007/s11825-008-0118-7
Schlüsselwörter
Mitochondrien

Mitochondriale DNA (mtDNA)

mtDNA-Phylogenie

Haplogruppe

Pathogene Mutation
Keywords
Mitochondria

Mitochondrial DNA (mtDNA)

mtDNA phylogeny

Haplogroup

Pathogenic Mutation