Zusammenfassung
Die Polymorphismen der thrombozytären Glykoproteine Ia-IIa (GP Ia C807T) und HPA-1a/1b (GP IIIa T1565C), des Fibrinolyseinhibitors PAI-1 675 4G/5G sowie der Methylentetrahydrofolatreduktase MTHFR C677T werden immer wieder als Risikofaktoren für arterielle und venöse Thrombembolien diskutiert. Ihr prädiktiver Wert für das Auftreten von thrombembolischen Ereignissen ist jedoch aufgrund einer widersprüchlichen Datenlage unklar. Nach derzeitigem Kenntnisstand gehen die genannten Polymorphismen nicht gesichert mit einem erhöhten Thrombembolierisiko einher. Daher ist ihre Untersuchung zurzeit weder in der arteriellen noch in der venösen Thrombophiliediagnostik indiziert. Aufgrund der hohen Prävalenzen dieser genetischen Merkmale bedarf es weiterer Untersuchungen, um die Grenzen zwischen Confoundereffekt und Risikofaktor zu definieren.
Abstract
The polymorphisms of the platelet glycoprotein Ia-IIa (GP Ia C807T) and HPA-1a/1b (GP IIIa T1565C), the fibrinolysis inhibitor PAI-1 -675 4G/5G, and methylenetetrahydrofolate reductase MTHFR C677T are frequently discussed as genetic parameters for evaluating arterial or venous thromboembolic risk. However, due to currently inconsistent data, the predictive values of these polymorphisms are controversial. There is no clear evidence that the presence of one of these polymorphisms is associated with an increased risk for arterial or venous thromboembolism, which strongly argues against testing. Furthermore, the polymorphisms alone do not justify any treatment decisions for primary or secondary thromboprophylaxis. Because of the high prevalence of these polymorphisms, further, larger trials are required to differentiate between confounding effects and risk factors.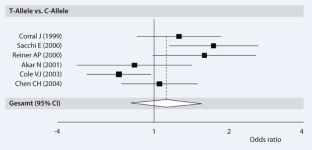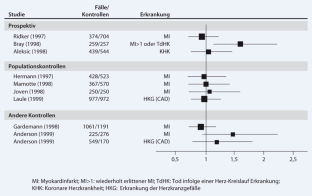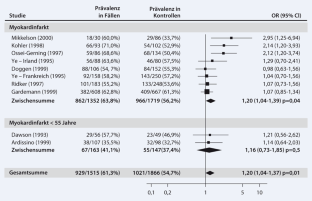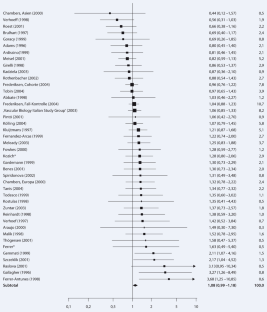 Literatur
1.

Boekholdt SM, Bijsterveld NR, Moons AH et al. (2001) Genetic variation in coagulation and fibrinolytic proteins and their relation with acute myocardial infarction: a systematic review. Circulation 104: 3063–3068

2.

Bønaa KH, Njølstad I, Ueland PM et al. (2006) NORVIT Trial Investigators. Homocysteine lowering and cardiovascular events after acute myocardial infarction. N Engl J Med 354: 1578–1588

3.

Cortese C, Motti C (2001) MTHFR gene polymorphism, homocysteine and cardiovascular disease. Public Health Nutr 4: 493–497

4.

Dawson S, Wiman B, Hamsten A et al. (1993) The two allele sequences of a common polymorphism in the promoter of the plasminogen activator inhibitor-1 (PAI-1) gene respond differently to interleukin-1 in HepG2 cells. J Biol Chem 268: 10.739–10.745

5.

Den Heijer M, Lewington S, Clarke R (2005) Homocysteine, MTHFR and risk of venous thrombosis: a meta-analysis of published epidemiological studies. J Throm Hemost 3: 292–299

6.

Di Castelnuovo A, De Gaetano G, Donati MB et al. (2001) Platelet glycoprotein receptor IIIa polymorphism PLA1/PLA2 and coronary risk: a meta-analysis. Thromb Haemost 85: 626–633

7.

Elices MJ, Hemmler ME (1989) The human integrin VLA-2 is a collagen receptor on some cells and a collagen/laminin receptor on others. Proc Natl Acad Sci USA 86: 9906–9010

8.

Eriksson P, Kallin B, Van't Hooft FM et al. (1995) Allele-specific increase in basal transcription of the plasminogen activator inhibitor 1 gene is associated with myocardial infarction. Proc Natl Acad Sci USA 92: 1851–1855

9.

Jood K, Ladenvall P, Tjärnlund-Wolf A et al. (2005) Fibrinolytic gene polymorphism and ischemic stroke. Stroke 36: 2077–2081

10.

Kluijtsmans LA, Den Heijer M, Reitsma PH et al. (1998) Thermolabile methylenetetrahydrofolate reductase and factor V Leiden in the risk of deep-vein thrombosis. Thromb Haemost 79: 254–258

11.

Lewis SJ, Ebrahim S, Davey Smith G (2005) Meta-analysis of MTHFR 677C→T polymorphism and coronary heart disease: does totality of evidence support causal role for homocysteine and preventive potential of folate? BMJ 331: 1053

12.

Muetze S, Eggermann T, Leeners B et al. (2007) The 4G/5G polymorphism in the plasminogen activator inhibitor-1 gene is not associated with HELLP syndrome. J Thromb Thrombolysis Dec 6 [Epub ahead of print]

13.

Nakai K, Itoh C, Nakai K et al. (2001) Correlation between C677T MTHFR gene polymorphism, plasma homocysteine levels and the incidence of CAD. Am J Cardiovasc Drugs 1: 353–361

14.

Nikolopoulos GK, Tsantes AE, Bagos PG et al. (2007) Integrin, alpha 2 gene C807T polymorphism and risk of ischemic stroke: a meta-analysis. Thromb Res 119: 501–510

15.

Okumus G, Kiyan E, Arseven O et al. (2007) Platelet glycoprotein Ia 807 C/T and 873G/A polymorphisms in patients with venous thromboembolism. Clin Appl Thromb Hemost 13: 101–103

16.

Propping P (2004) Genetische Diagnostik vor dem Hintergrund von Millionen Polymorphismen. Dtsch Arztebl 101: A3100–A3101

17.

Ray JG, Kearon C, Yi Q et al. (2007) Heart Outcomes Prevention Evaluation 2 (HOPE-2) Investigators. Homocysteine-lowering therapy and risk for venous thromboembolism: a randomized trial. Ann Intern Med 146: 761–767

18.

Ridker PM, Hennekens CH, Schmitz C et al. (1997) PIA1/A2 polymorphism of platelet glycoprotein IIIa and risks of myocardial infarction, stroke, and venous thrombosis. Lancet 349: 385–388

19.

Toole JF, Mailnow MR, Chambless LE et al. (2004) Lowering homocysteine in patients with ischemic stroke to prevent recurrent stroke, myocardial infarction, and death: the Vitamin Intervention for Stroke Prevention (VISP) randomised controlled trial. JAMA 291: 565–575

20.

Tsantes A, Nikolopoulos GK, Bagos PG et al. (2007) Association between the plasminogen activator inhibitor-I 4G/5G polymorphism and venous thrombosis. Thromb Haemost 97: 907–913

21.

Vascular Biology Italian Study Group (2003) No evidence of association between prothrombotic gene polymorphisms and the development of acute myocardial infarction at a young age. Circulation 107: 1117–1122

22.

Weiss EJ, Bray PF, Tayback M et al. (1996) A polymorphism of a platelet glycoprotein receptor as an inherited risk factor for coronary thrombosis. N Engl J Med 334: 1090–1094

23.

Wu AH, Tsongalis GJ (2001) Correlation of polymorphisms to coagulation and biochemical risk factors for cardiovascular diseases. Am J Cardiol 87: 1361–1366

24.

Zotz RB, Winkelmann BR, Müller C et al. (2005) Association of polymorphisms of platelet membrane integrins alpha IIb(beta)3 (HPA-1b/P1) and alpha2(beta)1 (alpha807TT) with premature myocardial infarction. J Thromb Haemost 3: 1522–1529
Interessenkonflikt
Der korrespondierende Autor gibt an, dass kein Interessenkonflikt besteht.
About this article
Cite this article
Seidel, H. Bedeutung von Polymorphismen für venöse und arterielle Thrombosen. medgen 20, 223–229 (2008). https://doi.org/10.1007/s11825-008-0109-8
Schlüsselwörter
Venöse Thrombose

Myokardinfarkt

Plättchenrezeptorpolymorphismen

PAI-1 4G/5G-Polymorphismus

MTHFR C677T-Polymorphismus
Keywords
Venous thromboembolism

Myocardial infarction

Platelet receptor polymorphisms

PAI-1 4G/5G genetic polymorphism

MTHFR C677T polymorphisms