Zusammenfassung
Die Faktor-V-Leiden-Mutation und die Prothrombin-G20210A-Mutation sind mit einer Inzidenz von 2–4% und etwa 1% die häufigsten genetisch determinierten thrombophilen Risikofaktoren. Während der thrombophile Mechanismus der FV-Leiden-Mutation auf einer Hemmung der antikoagulatorischen Aktivität von aktiviertem Protein C (APC) beruht, ist der molekulare Mechanismus der Prothrombin-G20210A-Mutation nicht eindeutig geklärt. Das Vorliegen beider Mutationen erhöht das Risiko für eine venöse Thrombose, hat aber keinen wesentlichen Einfluss auf das Rezidivrisiko nach einer spontanen venösen Thrombose. Deswegen kann der Mutationsnachweis die klinische Diagnose einer Thrombophilie zwar bestätigen, beeinflusst aber – bis auf homozygote und compound-heterozygote Mutationsträger – das therapeutische Vorgehen nicht.
Abstract
Factor V Leiden mutation and the prothrombin G20210A variant are the most common thrombophilic risk factors identified so far, with incidences of 2–4% and 1%, respectively. While the former is associated with the APC resistence phenotype, the prothrombotic phenotype of the prothrombin G20210A variant remains unclear. The presence of each of the mutations increases the risk of venous thromboembolism. However, the risk of recurrent venous thromboembolism is not significantly enhanced. Testing for both prothrombotic mutations can confirm the clinical diagnosis of thrombophilia but has no effect on the anticoagulant management of these patients.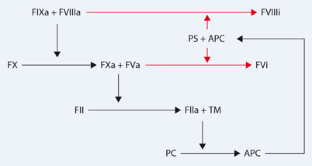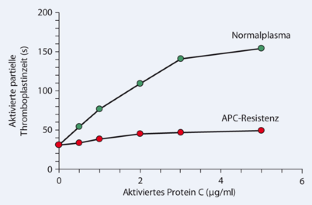 Literatur
1.

Bertina RM, Koeleman BP, Koster T et al. (1994) Mutation in blood coagulation factor V associated with resistance to activated protein C. Nature 369: 64–67

2.

Brenner B, Aharon A (2007) Thrombophilia and adverse pregnancy outcome. Clin Perinatol 34: 527–541

3.

Chan WP, Lee CK, Kwong YL et al. (1998) A novel mutation of Arg306 of factor V gene in Hong Kong Chinese. Blood 91: 1140–1144

4.

Cohn DM, Roshani S, Middeldorp S (2007) Thrombophilia and venous thromboembolism: implications for testing. Semin Thromb Hemost 33: 573–581

5.

Christiansen SC, Cannegieter SC, Koster T et al. (2005) Thrombophilia, clinical factors, and recurrent venous thrombotic events. JAMA 293: 2352–2361

6.

Cleuren ACA, Vlijmen BJM van, Reitsma PH (2007) Transgenic mouse models of venous thrombosis: fulfilling the expectations? Semin Thromb Hemost 33: 610–616

7.

Dahlbäck B, Carlsson M, Svensson PJ (1993) Familial thrombophilia due to a previously unregnized mechanism characterized by poor anticoagulant response to activated protein C: prediction of a cofactor to activated protein C. Proc Natl Acad Sci U S A 90: 1004–1008

8.

Egeberg O (1965) Inherited antithrombin III deficiency causing thrombophilia. Thromb Diath Haemorrh 13: 516–530

9.

Gehring NH, Frede U, Neu-Yilik G et al. (2001) Increased efficiency of mRNA 3' end formation: a new genetic mechanism contributing to hereditary thrombophilia. Nat Genet 28: 389–392

10.

Ho WK, Hankey GJ, Quinlan DJ et al. (2006) Risk of recurrent venous thromboembolism in patients with common thrombophilia. Arch Intern Med 166: 729–736

11.

Lissalde-Lavigne G, Fabbro-Perray P, Cochery-Nouvellon E et al. (2005) Factor V Leiden and prothrombin G20210A polymorphisms as risk factors for miscarriage during a first intended pregnancy: the matched case-control 'NOHA first' study. J Thromb Haemost 3: 2178–2184

12.

Marchiori A, Mosena L, Prins MH, Prandoni P (2007) The risk of recurrent venous thromboembolism among heterozygous carriers of factor V Leiden or prothrombin G20210A mutation. A systematic review of prospective studies. Haematologica 92: 1107–1114

13.

Poort SR, Rosendaal FR, Reitsma PH et al. (1996) A common genetic variation in the 3'-untranslated region of the prothrombin gene is associated with elevated plasma prothrombin levels and an increase in venous thrombosis. Blood 88: 3698–3703

14.

Rees DC, Cox M, Clegg JB (1995) World distribution of factor V Leiden. Lancet 346: 106–112

15.

Reitsma PH, Rosendaal FR (2007) Past and future of genetic research in thrombosis. J Thromb Haemost (Suppl 1) 5: 264–269

16.

Rosendaal FR, Doggen CJ, Zivelin A et al (1998) Geographic distribution of the 20210 G to A prothrombin variant. Thromb Haemost 79: 706–708

17.

Meer FJ van der, Koster T, Vandenbroucke JP et al. (1997) The Leiden Thrombophilia Study (LETS). Thromb Haemost 78: 631–635

18.

Dongen CJ, von Vink R, Hutten BA et al. (2003) The incidence of recurrent venous thromboembolism after treatment with vitamin K antagonists in relation to time since first event: a meta-analysis. Arch Intern Med 163: 1285–1293

19.

Williamson D, Brown K, Luddington R et al. (1998) Factor V Cambridge: a new mutation (Arg306rightarrowThr) associated with resistance to activated protein C. Blood 91: 1135–1139

20.

Wu O, Robertson L, Twaddle S et al. (2006) Screening for thrombophilia in high-risk situations: systematic review and cost-effectiveness analysis. The Thrombosis: risk and economic assessment of thrombophilia screening (TREATS) study. Health Technol Assess 10: 1–110
Interessenkonflikt
Der korrespondierende Autor gibt an, dass kein Interessenkonflikt besteht.
About this article
Cite this article
Pötzsch, B. FV-Leiden- und Prothrombin-G20210A-Mutation. medgen 20, 218–222 (2008). https://doi.org/10.1007/s11825-008-0105-z
Schlüsselwörter
Venöse Thrombose

Thrombophilie

Faktor-V-Leiden

Prothrombin G20210A

Thrombophiliediagnostik
Keywords
Venous thrombosis

Thrombophilia

Factor V Leiden

Prothrombin G20210A

Thrombophilia testing