Zusammenfassung
Die Hämophilie A und B werden durch unterschiedliche Mutationen im Faktor VIII (FVIII)- bzw. Faktor IX (FIX)-Gen verursacht. Entsprechend der Schwere des molekularen Defekts gibt es klinisch unterschiedlich schwere Verlaufsformen der Erkrankung. Hämophiliepatienten können heutzutage ausgezeichnet mit aus Plasma oder rekombinant hergestellten Gerinnungspräparaten behandelt werden. Hierdurch können Blutungen und deren Folgen weitgehend verhindert werden, mit einer inzwischen fast normalisierten Lebensqualität und Lebenserwartung. Eine schwere Komplikation ist die Antikörper (Hemmkörper)-Bildung gegen den zugeführten Gerinnungsfaktor. Das Risiko einer solchen Hemmkörperbildung ist bei Vorliegen von Mutationen ohne endogene Faktor-VIII-Protein-Bildung besonders hoch und liegt bei 25–50%. Die Information über den zu erwartenden klinischen Verlauf ist heute die wichtigste Indikation für die FVIII-/FIX-Genanalyse und wird regelhaft bei den schwer betroffenen Hämophiliepatienten durchgeführt. Die Kenntnis des FVIII-/FIX-Gendefekts ermöglicht des Weiteren eine sichere und schnelle Überträgerinnendiagnose bei weiblichen Familienangehörigen von Hämophilen.
Abstract
Haemophilia A and B are caused by various mutations in the factor VIII (FVIII) and factor IX (FIX) genes, respectively. The clinical course of the disease is variable, dependent on the severity of the molecular defect. Nowadays, haemophilia patients can excellently be treated by plasma-derived or recombinant clotting factor concentrates. Thus, bleeding and its consequences can be almost completely prevented with nearly normal quality of life and life expectancy. The most severe complication of this treatment is the formation of antibodies (inhibitors) against the substituted clotting factor. The risk of inhibitor formation correlates significantly with specific mutation types that preclude endogenous factor VIII/IX protein synthesis and can be as high as 20–50%. The information on the expected clinical course is at present the most important indication for FVIII/IX gene analysis. Knowledge of the underlying FVIII/IX gene mutation further allows a reliable and fast carrier diagnosis in female relatives of patients with haemophilia.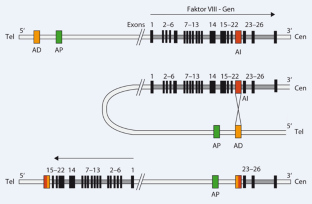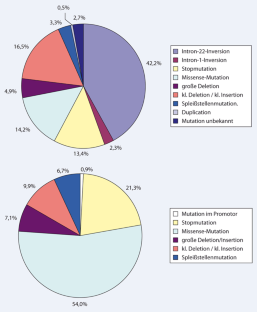 Literatur
1.

Astermark J, Wang X, Oldenburg J et al. MIBS Study Group (2007) Polymorphisms in the CTLA-4 gene and inhibitor development in patients with severe hemophilia A. J Thromb Haemost 5: 263–265

2.

Bolton-Maggs PH, Pasi KJ (2003) Haemophilias A and B. Lancet 361: 1801–1809

3.

Brackmann HH, Gormsen J (1977) Massive factor VIII infusion in hemophilic patients with factor VIII inhibitor. Lancet 2: 933

4.

Chuah MK, Collen D, Vandendriessche T (2004) Preclinical and clinical gene therapy for haemophilia. Haemophilia (Suppl 4) 10: 119–125

5.

Gaucher C, Mercier B, Jorieux S et al. (1991) Identification of two point mutations in the von Willebrand factor gene of three families with the 'Normandy' variant of von Willebrand disease. Br J Haematol 78: 506–514

6.

Gouw SC, Bom JG van der, Berg HM van den (2007) Treatment-related risk factors of inhibitor development in previously untreated patients with hemophilia A: the CANAL cohort study. Blood 109: 4648–4654; Epub 2007 Feb 8

7.

Gitschier J, Wood WI, Goralka TM et al. (1984) Characterization of the human factor VIII gene. Nature 312: 326–330

8.

Graw J, Brackmann HH, Oldenburg J et al. (2005) Haemophilia A: from mutation analysis to new therapies. Nat Rev Genet 6: 488–501

9.

Kurachi K, Davie EW (1982) Isolation and characterization of a cDNA coding for human factor IX. Proc Natl Acad Sci U S A 79: 6461–6464

10.

Bundesärztekammer (Arbeitsgemeinschaft der deutschen Ärztekammern), Vorstand und Wissenschaftlicher Beirat der Bundesärztekammer (Hrsg) (2003) Leitlinien zur Therapie mit Blutkomponenten und Plasmaderivaten der Bundesärztekammer 2003. Deutscher Ärzte-Verlag, Köln

11.

Leuer M, Oldenburg L, Lavergne JM et al. (2000) Somatic mosaicism in hemophilia A: a fairly common event. Am J Hum Genet 69: 75–87; Epub 2001 Jun 14

12.

Morgan GE, Rowley G, Green PM et al. (1997) Further evidence for the importance of an androgen response element in the factor IX promoter. Br J Haematol 98: 79–85

13.

Oldenburg J, Schroeder J, Brackmann HH et al. (2004) Environmental and genetic factors influencing inhibitor development. Semin Hematol (Suppl 1) 41: 82–88

14.

Pavlova A, Förster T, Delev D et al. (2008) Heterozygous large deletions of Factor 8 gene in females identified by multiplex PCR-LC. Haemophilia 14: 599–606; Epub 2008

15.

Schwaab R, Brackmann HH, Meyer C et al. (1995) Haemophilia A: mutation type determines risk of inhibitor formation. Thromb Haemost 74: 1402–1406

16.

Sellner LN, Taylor GR (2004) MLPA and MAPH: new techniques for detection of gene deletions. Hum Mutation 23: 413–419
Interessenkonflikt
Der korrespondierende Autor gibt an, dass kein Interessenkonflikt besteht.
About this article
Cite this article
Schwaab, R., Rost, S., Schröder, J. et al. Genetik und Klinik der Hämophilie A und B. medgen 20, 190–196 (2008). https://doi.org/10.1007/s11825-008-0104-0
Schlüsselwörter
Hämophilie A

Hämophilie B

Klinische und molekulargenetische Diagnostik

Antikörperbildung

Überträgerdiagnostik
Keywords
Haemophilia A

Haemophilia B

Clinical and molecular genetic diagnostics

Inhibitor formation

Carrier diagnosis