Zusammenfassung
Die hereditären Thrombophilien gehören zu den angeborenen Prädispositionen, die thrombotische Ereignisse begünstigen. Die wichtigsten monogenetischen Ursachen für einen venös-thromboembolischen (VTE) Phänotyp stellen Mutationen innerhalb der Gene für die Inhibitoren Antithrombin (AT), Protein C (PC) und Protein S (PS) dar. Die Mutationsprofile in diesen Genen sind sehr unterschiedlich. Die Frequenz von AT-, PC- und PS-Mängeln wird bei VTE-Patienten jeweils mit 1,9%, 2,3% und 3,7% angegeben. Die VTE-Rezidivrate liegt in dieser Gruppe bei etwa 48%. Sie ist für AT-, PC- und PS-Mängel zusammengefasst 1,5-fach, für den AT-Mangel isoliert betrachtet 1,9-fach höher als bei VTE-Patienten ohne einen dieser Mängel. Die Detektionsrate bei einem Inhibitormangel und VTE-Ereignis liegt bei etwa 70% für AT, bei 60% für PC und bei 30% für PS. Dies unterstreicht das Problem der unterschiedlichen Sicherheit der Diagnose der Phänotypen und der damit zusammenhängenden differentialdiagnostischen Abgrenzung zwischen erworbenem und angeborenem Inhibitormangel.
Abstract
Inherited thrombophilias are a group of hereditary conditions that predispose to thrombotic events. The most important monogenetic causes of the venous thromboembolic (VTE) phenotype are mutations in the genes for the coagulation inhibitors antithrombin (AT), protein C (PC), and protein S (PS). Their mutation profiles show high heterogeneity in loss-of-function defects. The frequencies of AT, PC, and PS deficiencies in VTE patients are estimated at 1.9%, 2.3%, 3.7%, respectively. The rate of recurrence in that group is 48.4%. The composite risk of recurrence for VTE patients with AT, PC or PS deficiency is estimated at 1.5 times that for VTE patients without inhibitor deficiency, for those with AT deficiency alone up to 1.9 times. The detection rates for inhibitor deficiency and symptomatic VTE are about 70% for AT, 60% for PC, and 30% for PS. These results demonstrate the problems with the varying accuracy of phenotype diagnostics and differential diagnosis of inherited and intrinsic inhibitor deficiencies.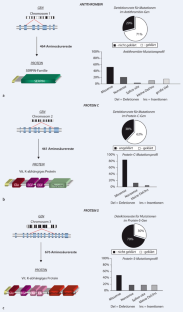 Abbreviations
APC:

aktiviertes Protein C

Ala:

Alanin

Arg:

Arginin

AT:

Antithrombin

CpG:

Cytosin-phosphatidyl-Guanosin

C4b-BP:

C4b-bindendes Protein

DNA:

Desoxyribonukleinsäure (-acid)

ELISA:

"enyme-linked immuno sorbent assay"

FVa:

Gerinnungsfaktor Va

FVIIIa:

Gerinnungsfaktor VIIIa

FXa:

Gerinnungsfaktor Xa

Gln:

Glutamin

Gly:

Glycin

HBS:

Heparinbindungsstelle

HWZ:

Halbwertszeit

Leu:

Leukin

MW:

Molekulargewicht

PC:

Protein C

Pro:

Prolin

PROS1:

Protein-S-Gen 1

PROS2:

Protein-S-Gen 2 (Pseudogen)

PS:

Protein S

RS:

reaktive Seite

Ser:

Serin

TM:

Thrombomodulin

VTE:

venöse Thromboembolie
Literatur
1.

Allaart CF, Briët E (1994) Familial venous thrombophilia. In: Bloom AL, Forbes CD, Thomas DP, Tuddenham EGD (eds) Haemostasis and thrombosis. Churchill Livingstone, London UK, pp 1349–1360

2.

Borgel D, Duchemin J, Alhenc-Gelas M et al. (1996) Molecular basis for protein S hereditary deficiency: genetic defects observed in 118 patients with type I and type IIa deficiencies. The French Network on Molecular Abnormalities Responsible for Protein C and Protein S Deficiencies. J Lab Clin Med 128: 218–227

3.

Dahlbäck B (1991) Protein S and C4b-binding protein: components involved in the regulation of the protein C anticoagulant system. Thromb Haemost 66: 49–61

4.

Dahlbäck B (1995) The protein C anticoagulant system: inherited defects as basis for venous thrombosis. Thromb Res 77: 1–43

5.

De Stefano V, Leone G, Mastrangelo S et al. (1994) Clinical manifestations and management of inherited thrombophilia: retrospective analysis and follow-up after diagnosis of 238 patients with congenital deficiency of antithrombin III, protein C, protein S. Thromb Haemost 72: 352–358

6.

De Stefano V, Finazzi G, Mannucci PM (1996) Inherited thrombophilia: pathogenesis, clinical syndromes, and management. Blood 87: 3531–3544

7.

De Stefano V, Simioni P, Rossi E et al. (2006) The risk of recurrent venous thromboembolism in patients with inherited deficiency of natural anticoagulants antithrombin, protein C and protein S. Haematologica 91: 695–698

8.

Egeberg O (1965) Inherited antithrombin III deficiency causing thrombophilia. Thromb Diath Haemorrh 13: 516–530

9.

Gandrille S, Borgel D, Sala N et al. Plasma Coagulation Inhibitors Subcommittee of the Scientific and Standardization Committee of the International Society on Thrombosis and Haemostasis (2000) Protein S deficiency: a database of mutations – summary of the first update. Thromb Haemost 84: 918

10.

Lane DA, Mannucci PM, Bauer KA et al. (1996) Inherited thrombophilia: part 1. Thromb Haemost 76: 651–662

11.

Lane DA, Bayston T, Olds RJ et al. (1997) Antithrombin mutation database: 2nd update. For the Plasma Coagulation Inhibitors Subcommittee of the Scientific and Standardization Committee of the International Society on Thrombosis and Haemostasis. Thromb Haemost 77: 197–211

12.

Martinelli I, Mannucci PM, De Stefano V et al. (1998) Different risks of thrombosis in four coagulation defects associated with inherited thrombophilia: a study of 150 families. Blood 92: 2353–2358

13.

Olson ST, Bjork I (1992) Role of protein conformational changes, surface approximation and protein cofactors in heparin-accelerated antithrombin-proteinase reactions. Adv Exp Med Biol 313: 155–165

14.

Pabinger I, Schneider B for the GTH Group on Natural Inhibitors (1996) Thrombotic risk in hereditary antithrombin III, protein C or protein S deficiency. Arterioscler Thromb Vasc Biol. 16: 742–748

15.

Reitsma PH, Bernardi F, Doig RG et al. (1995) Protein C deficiency: a database of mutations, update. On behalf of the Subcommittee on Plasma Coagulation Inhibitors of the Scientific and Standardization Committee of the ISTH. Thromb Haemost 73: 876–889

16.

Rosendaal FR (1997) Thrombosis in the young: epidemiology and risk factors, a focus on venous thrombosis. Thromb Haemost 78: 1–6

17.

Seligsohn U, Lubetsky A (2001) Genetic susceptibility to venous thrombosis. N Engl J Med 344: 1222–1231

18.

Simioni P, Sanson BJ, Prandoni P et al. (1999) Incidence of venous thromboembolism in families with inherited thrombophilia. Thromb Haemost 81: 198–202

19.

Vossen CY, Walker ID, Svensson P et al. (2005) Recurrence rate after a first venous thrombosis in patients with familial thrombophilia. Arterioscler Thromb Vasc Biol 25: 1992–1997

20.

White RH (2003) The epidemiology of venous thromboembolism. Circulation 107 (23 Suppl 1): I4–8
Interessenkonflikt
Der korrespondierende Autor gibt an, dass kein Interessenkonflikt besteht.
About this article
Cite this article
Pavlova, A., Hertfelder, HJ. Monogenetische Risikofaktoren einer Thrombophilie. medgen 20, 211–217 (2008). https://doi.org/10.1007/s11825-008-0097-8
Schlüsselwörter
Venöse Thrombose

Thromboembolie

Antithrombin

Protein C

Protein S
Keywords
Venous thrombosis

Thromboembolism

Antithrombin

Protein C

Protein S