Zusammenfassung
Hereditäre Erkrankungen des Bindegewebes bilden eine heterogene Gruppe von Krankheiten, die auf einer gestörten extrazellulären Matrix beruhen. Ein ausgeprägtes kardiovaskuläres Risiko begleitet viele dieser Krankheiten und führt zu erhöhter Morbidität und Mortalität im Kindes- und im Erwachsenenalter. Marfan-Syndrom und verwandte Erkrankungen gehören zu den wichtigsten Beispielen von Bindegewebskrankheiten mit kardiovaskulären Manifestationen. Insbesondere die fortschreitende Dilatation der Aortenwurzel resultiert in Aortenaneurysma und -dissektion, die oft einen vorzeitigen Tod zur Folge haben. Fortschritte in der klinischen molekularen Forschung während der letzten 10 Jahre haben das vorherrschende Konzept dieser Syndrome als Strukturdefekte des Bindegewebes in Krankheiten mit gestörten Zytokinsignalwegen mit einem breiten Spektrum von Entwicklungsanomalien erweitert. Neue Einsichten haben neue unerwartete Ziele für Ansätze von kausalen Therapien aller Aneurysmasyndrome geschaffen, auch für die häufigen, nicht syndromalen Aneurysmaformen.
Abstract
Heritable connective tissue disorders comprise a heterogeneous group of disorders that result from genetic defects affecting normal extracellular matrix assembly. Many of these diseases are associated with a significant cardiovascular risk leading to morbidity and mortality in childhood or young adulthood. Prime examples that represent important genetic models for cardiovascular pathology are the Marfan syndrome and related disorders. In these conditions, progressive dilatation of the aortic root leads to aortic dissection, often associated with precocious death. Over the last decade tremendous progress in clinical and molecular research has changed the prevailing concept of these syndromes as structural disorders of the connective tissue into diseases manifesting perturbed cytokine signaling with widespread developmental abnormalities. These insights opened new and unexpected targets for causally directed drug treatments for these aneurysm syndromes, and by extent, also for the more common non-syndromic forms of aneurysm formation, a major cause of morbidity and mortality in the Western world.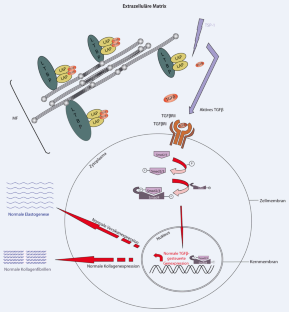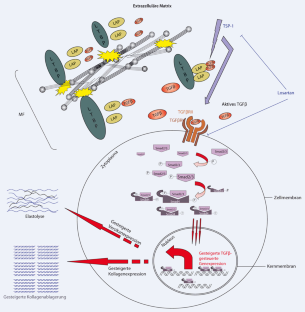 Literatur
1.

Ades L (2007) Guidelines for the diagnosis and management of Marfan syndrome. Heart Lung Circulation 16: 28–30

2.

Andelfinger G, Tapper AR, Welch RC, Vanoye CG et al. (2002) KCNJ2 mutation results in Andersen syndrome with sex-specific cardiac and skeletal muscle phenotypes. Am J Hum Genet 71: 663–668

3.

Beighton P, de Paepe A, Danks D, Finidori G et al. (1988) International Nosology of Heritable Disorders of Connective Tissue, Berlin, 1986. Am J Med Genet 29: 581–594

4.

Callewaert BL, Willaert A, Kerstjens-Frederikse WS, De Backer J et al. (2008) Arterial tortuosity syndrome: clinical and molecular findings in 12 newly identified families. Hum Mutat 29: 150–158

5.

Coady MA, Davies RR, Roberts M, Goldstein LJ et al. (1999) Familial patterns of thoracic aortic aneurysms. Arch Surg 134: 361–367

6.

Cohn RD, van Erp C, Habashi JP, Soleimani AA et al. (2007) Angiotensin II type 1 receptor blockade attenuates TGF-beta-induced failure of muscle regeneration in multiple myopathic states. Nat Med 13: 204–210

7.

Coucke PJ, Willaert A, Wessels MW, Callewaert B et al. (2006) Mutations in the facilitative glucose transporter GLUT10 alter angiogenesis and cause arterial tortuosity syndrome. Nat Genet 38: 452–457

8.

Dagoneau N, Benoist-Lasselin C, Huber C, Faivre L et al. (2004) ADAMTS10 mutations in autosomal recessive Weill-Marchesani syndrome. Am J Hum Genet 75: 801–806

9.

De Backer J, Loeys B, Devos D, Dietz H et al. (2006) A critical analysis of minor cardiovascular criteria in the diagnostic evaluation of patients with Marfan syndrome. Genet Med 8: 401–408

10.

De Paepe A, Devereux RB, Dietz HC, Hennekam RC, Pyeritz RE (1996) Revised diagnostic criteria for the Marfan syndrome. Am J Med Genet 62: 417–426

11.

Dietz HC, Cutting GR, Pyeritz RE, Maslen CL et al. (1991) Marfan syndrome caused by a recurrent de novo missense mutation in the fibrillin gene. Nature 352: 337–339

12.

Faivre L, Gorlin RJ, Wirtz MK, Godfrey M et al. (2003) In frame fibrillin-1 gene deletion in autosomal dominant Weill-Marchesani syndrome. J Med Genet 40: 34–36

13.

Fattori R, Nienaber CA, Descovich B, Ambrosetto P et al. (1999) Importance of dural ectasia in phenotypic assessment of Marfan's syndrome. Lancet 354: 910–913

14.

Garg V, Muth AN, Ransom JF, Schluterman MK et al. (2005) Mutations in NOTCH1 cause aortic valve disease. Nature 437: 270–274

15.

Grahame R, Pyeritz RE (1995) The Marfan syndrome: joint and skin manifestations are prevalent and correlated. Br J Rheumatol 34: 126–131

16.

Guo DC, Pannu H, Tran-Fadulu V, Papke CL et al. (2007) Mutations in smooth muscle alpha-actin (ACTA2) lead to thoracic aortic aneurysms and dissections. Nat Genet 39: 1488–93

17.

Habashi JP, Judge DP, Holm TM, Cohn RD et al. (2006) Losartan, an AT1 antagonist, prevents aortic aneurysm in a mouse model of Marfan syndrome. Science 312: 117–121

18.

Hucthagowder V, Sausgruber N, Kim KH, Angle B et al. (2006) Fibulin-4: a novel gene for an autosomal recessive cutis laxa syndrome. Am J Hum Genet 78: 1075–1080

19.

Kallenbach K, Baraki H, Khaladj N, Kamiya H et al. (2007) Aortic valve-sparing operation in Marfan syndrome: what do we know after a decade? Ann Thorac Surg 83: S764–768; discussion S785–790

20.

Loeys B, De Backer J, Van Acker P, Wettinck K et al. (2004) Comprehensive molecular screening of the FBN1 gene favors locus homogeneity of classical Marfan syndrome. Hum Mutat 24: 140–146

21.

Loeys B, Nuytinck L, Delvaux I, De Bie S, De Paepe A (2001) Genotype and phenotype analysis of 171 patients referred for molecular study of the fibrillin-1 gene FBN1 because of suspected Marfan syndrome. Arch Intern Med 161: 2447–2454

22.

Loeys B, Van Maldergem L, Mortier G, Coucke P et al. (2002) Homozygosity for a missense mutation in fibulin-5 (FBLN5) results in a severe form of cutis laxa. Hum Mol Genet 11: 2113–2118

23.

Loeys BL, Chen J, Neptune ER, Judge DP et al. (2005) A syndrome of altered cardiovascular, craniofacial, neurocognitive and skeletal development caused by mutations in TGFBR1 or TGFBR2. Nat Genet 37: 275–281

24.

Loeys BL, Schwarze U, Holm T, Callewaert BL et al. (2006) Aneurysm syndromes caused by mutations in the TGF-beta receptor. N Engl J Med 355: 788–798

25.

Malfait F, Symoens S, De Backer J, Hermanns-Le T et al. (2007) Three arginine to cysteine substitutions in the pro-alpha (I)-collagen chain cause Ehlers-Danlos syndrome with a propensity to arterial rupture in early adulthood. Hum Mutat 28: 387–395

26.

Markova D, Zou Y, Ringpfeil F, Sasaki T et al. (2003) Genetic heterogeneity of cutis laxa: a heterozygous tandem duplication within the fibulin-5 (FBLN5) gene. Am J Hum Genet 72: 998–1004

27.

Martin LJ, Ramachandran V, Cripe LH, Hinton RB et al. (2007) Evidence in favor of linkage to human chromosomal regions 18q, 5q and 13q for bicuspid aortic valve and associated cardiovascular malformations. Hum Genet 121: 275–84

28.

Matyas G, Giunta C, Steinmann B, Hossle JP, Hellwig R (2002) Quantification of single nucleotide polymorphisms: a novel method that combines primer extension assay and capillary electrophoresis. Hum Mutat 19: 58–68

29.

Maumenee IH (1981) The eye in the Marfan syndrome. Trans Am Ophthalmol Soc 79: 684–733

30.

Milewicz DM, Dietz HC, Miller DC (2005) Treatment of aortic disease in patients with Marfan syndrome. Circulation 111: e150–157

31.

Milewicz DM, Michael K, Fisher N, Coselli JS et al. (1996) Fibrillin-1 (FBN1) mutations in patients with thoracic aortic aneurysms. Circulation 94: 2708–2711

32.

Mizuguchi T, Collod-Beroud G, Akiyama T, Abifadel M et al. (2004) Heterozygous TGFBR2 mutations in Marfan syndrome. Nat Genet 36: 855–860

33.

Montgomery RA, Geraghty MT, Bull E, Gelb BD et al. (1998) Multiple molecular mechanisms underlying subdiagnostic variants of Marfan syndrome. Am J Hum Genet 63: 1703–1711

34.

Neptune ER, Frischmeyer PA, Arking DE, Myers L et al. (2003) Dysregulation of TGF-beta activation contributes to pathogenesis in Marfan syndrome. Nat Genet 33: 407–411

35.

Nkomo VT, Enriquez-Sarano M, Ammash NM, Melton LJ, 3rd et al. (2003) Bicuspid aortic valve associated with aortic dilatation: a community-based study. Arterioscler Thromb Vasc Biol 23: 351–356

36.

Pannu H, Fadulu VT, Chang J, Lafont A et al. (2005) Mutations in transforming growth factor-beta receptor type II cause familial thoracic aortic aneurysms and dissections. Circulation 112: 513–520

37.

Pannu H, Tran-Fadulu V, Papke CL, Scherer S et al. (2007) MYH11 mutations result in a distinct vascular pathology driven by insulin-like growth factor 1 and angiotensin II. Hum Mol Genet 16: 3453–3462

38.

Pepin M, Schwarze U, Superti-Furga A, Byers PH (2000) Clinical and genetic features of Ehlers-Danlos syndrome type IV, the vascular type. N Engl J Med 342: 673–680

39.

Putnam EA, Zhang H, Ramirez F, Milewicz DM (1995) Fibrillin-2 (FBN2) mutations result in the Marfan-like disorder, congenital contractural arachnodactyly. Nat Genet 11: 456–458

40.

Pyeritz R (1997) Marfan syndrome and other disorders of fibrillin. In: Rimoin JC, Pyeritz RE (eds) Principles and practice of medical genetics, 3rd edn. Churchill Livingstone, New York, p 1027–1066

41.

Robinson PN, Arteaga-Solis E, Baldock C, Collod-Beroud G et al. (2006) The molecular genetics of Marfan syndrome and related disorders. J Med Genet 43: 769–787

42.

Roman MJ, Devereux RB, Kramer-Fox R, O'Loughlin J (1989) Two-dimensional echocardiographic aortic root dimensions in normal children and adults. Am J Cardiol 64: 507–512

43.

Shores J, Berger KR, Murphy EA, Pyeritz RE (1994) Progression of aortic dilatation and the benefit of long-term beta-adrenergic blockade in Marfan's syndrome. N Engl J Med 330: 1335–1341

44.

Silverman DI, Burton KJ, Gray J, Bosner MS et al. (1995) Life expectancy in the Marfan syndrome. Am J Cardiol 75: 157–160

45.

Sisk HE, Zahka KG, Pyeritz RE (1983) The Marfan syndrome in early childhood: analysis of 15 patients diagnosed at less than 4 years of age. Am J Cardiol 52: 353–358

46.

Tassabehji M, Metcalfe K, Hurst J, Ashcroft GS et al. (1998) An elastin gene mutation producing abnormal tropoelastin and abnormal elastic fibres in a patient with autosomal dominant cutis laxa. Hum Mol Genet 7: 1021–1028

47.

Vaughan CJ, Casey M, He J, Veugelers M et al. (2001) Identification of a chromosome 11q23.2–q24 locus for familial aortic aneurysm disease, a genetically heterogeneous disorder. Circulation 103: 2469–2475

48.

Wenstrup RJ, Murad S, Pinnell SR (1989) Ehlers-Danlos syndrome type VI: clinical manifestations of collagen lysyl hydroxylase deficiency. J Pediatr 115: 405–409

49.

Zhu L, Vranckx R, Khau Van Kien P, Lalande A et al. (2006) Mutations in myosin heavy chain 11 cause a syndrome associating thoracic aortic aneurysm/aortic dissection and patent ductus arteriosus. Nat Genet 38: 343–349
Interessenkonflikt
Keine Angaben
Additional information
B.C. ist ein Research Fellow der Fund for Scientific Research Belgium, unterstützt durch Projekt 3G009406 der FWO Flandern an A. de Paepe und durch GOA Projekt G12051203 der Universität Ghent.
About this article
Cite this article
Callewaert, B., De Paepe, A. Fortschritt in der Pathogenese des Marfan-Syndroms und verwandter Krankheiten. medgen 20, 6–17 (2008). https://doi.org/10.1007/s11825-008-0090-2
Schlüsselwörter
Marfan-Syndrom

Kardiovaskuläre Risiken

TGFβ-Signalwege

MFS-gebundene Krankheiten

Aortenaneurysma
Keywords
Marfan syndrome

Cardiovascular risks

TGFβ signalling

MFS related disorders

Aortic dissection