Zusammenfassung
Dank der begeisterten Hilfe Tausender europäischer Humangenetiker, die sich direkt und indirekt an der Umsetzung der Ziele des Exzellenznetzwerks (NoE) EuroGentest beteiligt haben und mit der Unterstützung der European Society of Human Genetics (ESHG) hat EuroGentest in den ersten drei Jahren eine Reihe von Produkten geliefert, die der "Genetics Community" helfen können, ihre Dienstleistungen zu verbessern und zu harmonisieren. EuroGentest wurde dadurch zu einem Markenzeichen für die Qualität europäischer Genetikeinrichtungen und hat eine in Europa beispiellose Bewegung zur Verbesserung der Qualität der Einrichtungen und zur Harmonisierung der entsprechenden Dienstleistungen angestoßen. Viele der hier genannten Aktivitäten und Ergebnisse tragen dazu bei, dass Forschungsergebnisse rasch in die Diagnostik übernommen werden können und schaffen die Voraussetzung dafür, dass dies auch in Zukunft gewährleistet ist, so daß die Bürger schnell und effizient von den täglichen Fortschritten in der genetischer Forschung profitieren können.
Abstract
During its first three years, the NoE, with the enthusiastic help of the thousands of geneticists in the EU who contributed directly or indirectly to the aims of the Network as well as with the support of the European Society of Human Genetics, has delivered a series of products which are the instruments needed by the genetics community to improve and harmonize their services. The NoE has become a Trade mark for quality European genetic services and has created an unprecedented movement in Europe towards improved quality of the services and harmonization of the service provision. Many of the activities and achievements listed here contribute to the transfer of research results into diagnostics and create the conditions to make sure this can continue in the future so that citizens would benefit rapidly and efficiently from the daily advances in genetic research.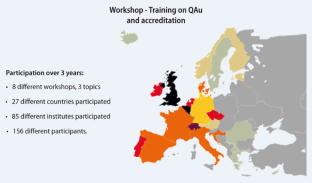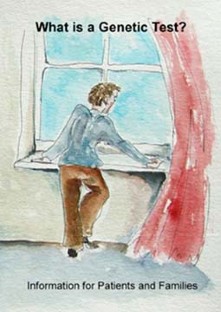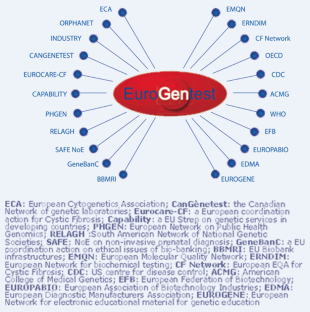 Literatur
1.

Borry P, Fryns JP, Schotsmans P, Dierickx K (2005) Attitudes towards carrier testing in minors: a Systematic Review. Genet Counsel 16: 341–352

2.

Borry P, Fryns JP, Schotsmans P, Dierickx K (2006) Carrier testing in minors: a systematic review of guidelines and position papers. Eur J Hum Genet 14:133–138

3.

Borry P, Stultiens L, Nys H, Cassiman J- J, Dierickx K (2006) Presymptomatic and predictive genetic testing in minors: a systematic review of guidelines and position papers. Clin Genet 70: 374–81

4.

Cassiman J-J (2005) EuroGentest, a European Network of excellence aimed at harmonizing genetic testing services. Eur J Hum Genet 13: 1103–1105

5.

Coviello D, Skirton H, Wis N, Kent A (2007) Genetic testing and counselling in Europe: health professionals current educational provision, needs assessment and potential strategies for the future. Eur J Hum Genet 15: 1203–1204

6.

Hastings RJ, Cavani S, Dagna Bricarelli F, Patsalis PC, Kristoffersson U and ECA PWG Coordinators (2007) Cytogenetic guidelines and quality assurance: a common European framework for quality assessment for constitutional and acquired cytogenetic investigations. Eur J Hum Genet 15: 525–527

7.

Ibarreta D, Elles R, Cassiman J- J, Rodriguez-Cerezo E, Dequeker E (2004) Towards quality assurance and harmonization of genetic testing services in the European Union. Nat Biotechnol 22: 1230–1235

8.

Lewis C, Mehta P, Kent A, Skirton H, Coviello D (2007) An assessment of written patient information provided at the genetic clinic and relating to genetic testing in seven European countries. Eur J Hum Genet 15: 1012–1022

9.

Van Overwalle G, Van Zimmeren E, Verbeure B, Matthijs G (2005) Models for facilitating access to patents on genetic inventions. Nat Rev Genet 7:143–148

10.

Verbeure B, Matthijs G, Van Overwalle G (2006) Analyzing DNA patents in relation with diagnostic genetic testing. Eur J Hum Genet 14: 26–33

11.

Vermeesch JR, Fiegler H, de Leeuw N, Szuhai K, Schoumans J, Ciccone R, Speleman F, Rauch A, Clayton-Smith J, Van Ravenswaaij C, Salanville D, Patsalis PC, Firth F, Devriendt K, Zuffardi O (2007) Guidelines for molecular karyotyping in constitutional genetic diagnosis. Eur J Hum Genet 15: 1105–1114

12.

Javaher P, Kääriäninen H, Kristoffersson U, Nippert I, Sequeiros J, Zimmen R, Schmidtke J (2008) EuroGentest: DNA-based testing for heritable disorders in Europe. Community Genet 11: 75–120
Danksagung
EuroGentest wird im Rahmen des 6. EU-Rahmenprogramms als Network of Excellence gefördert durch DG Research: FP6–512148, 2005–2009. Der aktuelle Bericht gründet auf den Arbeitsberichten der verschiedenen Projekteinheiten und ihrer Leiter ebenso wie auf den Beiträgen aller Teilnehmer und Experten, die im NoE aktiv sind. Richard Hayhurst, Hayhurst Media – UK, wird besonders gedankt für die Mitwirkung bei der Abfassung dieses Berichts.
About this article
Cite this article
Cassiman, JJ. EuroGentest. medgen 20, 18–23 (2008). https://doi.org/10.1007/s11825-008-0084-0
Schlüsselwörter
Gentest

Qualitätsmanagement

Genetikeinrichtungen

EuroGentest

Qualitätssicherung
Keywords
Genetic testing

Quality management

Genetic services

EuroGentest

Quality assurance