Zusammenfassung
Die Zahnentwicklung verläuft in Stadien: Bereits ab der 6. Embryonalwoche bildet sich die Zahnleiste, frühzeitig werden Zahnzahl und Zahnform determiniert. Danach werden – ebenfalls in Stadien – die Zahnhartsubstanzen gebildet. Genetisch bedingte Zahnveränderungen sind nicht selten. Die Zahnzahl kann verändert sein (meist eine verringerte Zahnzahl), was oft auch gemeinsam mit einer Zahnformanomalie (Zapfenzähne, verkleinerte Zähne) auftritt. Hypodontie kommt isoliert (Prävalenz zwischen 1% und 5%) oder im Rahmen von genetisch bedingten Syndromen vor, etwa bei einer Reihe von ektodermalen Dysplasien, bei Rieger-Syndrom, Witkop-Syndrom usw. Zugrunde liegen können Mutationen von Transkriptionsfaktoren. Genetisch bedingte Veränderungen der Struktur von Zahnhartsubstanzen sind seltener (Prävalenz <0,1%). So gibt es verschiedenartige Formen der Amelogenesis imperfecta, verursacht durch Mutationen der spezifischen Zahnschmelzproteine. Die Dentinogenesis imperfecta kann dagegen sowohl für die isolierte genetisch bedingte Dentinveränderung stehen (Mutation des DSPP-Gens) als auch für die Zahnbeteiligung im Rahmen der Osteogenesis imperfecta.
Abstract
Dental development takes place in stages over a long period of time. From the 6ths embryonal week, when the dental lamina develops, tooth number and shape are formed, followed by the production of dental hard tissues. Genetic dental developmental defects are not rare. Mostly these defects affect the tooth number, predominantly resulting in a decrease tooth number (hypodontia) which can occur isolated or as a finding in genetic syndromes such as Rieger syndrome, Witkop syndrome or several ectodermal dysplasias. Genetic defects of dental hard tissues are less frequent, different types of isolated enamel defects (amelogenesis imperfecta) are known. Dentinogenesis imperfecta or other dentinal defects are either caused by different mutations of the DSPP gene or a part of osteogenesis imperfecta.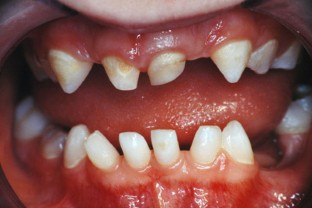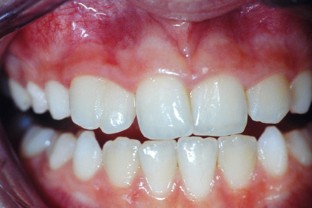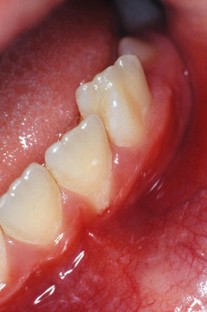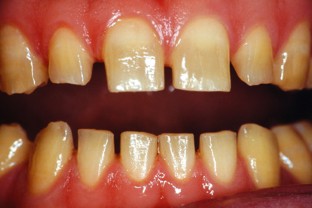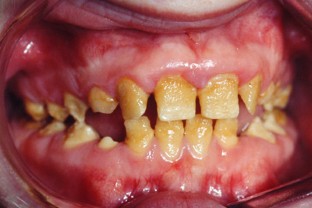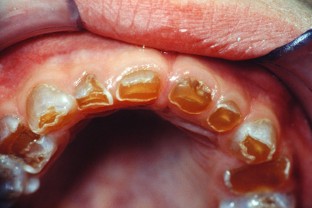 Literatur
1.

Aldred MJ, Crawford PJ (1997) Molecular biology of hereditary enamel defects. Ciba Found Symp 205: 200–205

2.

Crawford PJ, Aldred M, Bloch-Zupan A (2007) Amelogenesis imperfecta. Orphanet J Rare Dis 2: 17

3.

Deutsch D, Leiser Y, Shay B et al. (2002) The human tuftelin gene and the expression of tuftelin in mineralizing and nonmineralizing tissues. Connect Tissue Res 43: 425–434

4.

Fincham AG, Leung W, Tan J, Moradian-Oldak J (1998) Does amelogenin nanosphere assembly proceed through intermediary-sized structures? Connect Tissue Res 38:237–240

5.

Hellwig E, Lennon AM (2004) Systemic versus topical fluoride. Caries Res 38: 258–262

6.

Hu JC, Simmer JP (2007) Developmental biology and genetics of dental malformations. Orthod Craniofac Res 10: 45–52

7.

Lench NJ, Brook AH (1997) DNA diagnosis of X-linked amelogenesis imperfecta (AIH1). J Oral Pathol Med 26: 135–137

8.

MacDougall M, DuPont BR, Simmons D et al. (1997) Ameloblastin gene (AMBN) maps within the critical region for autosomal dominant amelogenesis imperfecta at chromosome 4q21. Genomics 41: 115–118

9.

Nakatomi M, Morita I, Eto K, Ota MS (2006) Sonic hedgehog signaling is important in tooth root development. J Dent Res 85: 427–431

10.

Rajpar MH, Harley K, Laing C et al. (2001) Mutation of the gene encoding the enamel-specific protein, enamelin, causes autosomal-dominant amelogenesis imperfecta. Hum Mol Genet 10: 1673–1677

11.

Rajpar MH, Koch MJ, Davies RM et al. (2002) Mutation of the signal peptide region of the bicistronic gene DSPP affects translocation to the endoplasmic reticulum and results in defective dentine biomineralization. Hum Mol Genet 11: 2259–2265

12.

Smith CE, Nanci A (1995) Overview of morphological changes in enamel organ cells associated with major events in amelogenesis. Int J Dev Biol 39:153–161

13.

Thesleff I, Keranen S, Jernvall J (2001) Enamel knots as signaling centers linking tooth morphogenesis and odontoblast differentiation. Adv Dent Res 15: 14–18

14.

Witkop CR (1988) Amelogenesis imperfecta, dentinogenesis imperfecta and dentin dysplasia revisited: problems in classification. J Oral Pathol 17: 547–553
Interessenkonflikt
Der korrespondierende Autor gibt an, dass kein Interessenkonflikt besteht.
About this article
Cite this article
Koch, M. Entwicklung der Zähne. medgen 19, 392–398 (2007). https://doi.org/10.1007/s11825-007-0052-0
Schlüsselwörter
Hypodontie

Ektodermale Dysplasien

Rieger-Syndrom

Witkop-Syndrom

Dentinogenesis imperfecta
Keywords
Hypodontia

Ectodermal dysplasias

Rieger syndrome

Witkop syndrome

Dentinogenesis imperfecta