Zusammenfassung
Zahnanomalien in der Neuropädatrie sind einfach zu diagnostizieren und helfen bei der Diagnose verschiedener Erkrankungen. Sie finden sich bei gut bekannten Krankheitsbildern wie der Incontinentia pigmenti, aber auch bei seltenen wie dem Kohlschütter-Tönz-Syndrom oder dem kürzlich beschriebenen Krankheitsbild der Ataxie, verzögerten Dentition und Hypomyelinisierung. Anomalien von Zahnform, Zahnschmelz und damit Zahnfarbe, Zahnanzahl und Eruption sind möglich. Die Kenntnis dieser Auffälligkeiten ist wichtig für den Genetiker und den Kinderneurologen.
Abstract
Dental anomalies in children with neuropediatric disorders are easy to diagnose and can be essential in the diagnosis of different entities. They are present in well-known disorders as Incontinentia pigmenti, but also in rare diseases as in Kohlschütter-Tönz syndrome or the recently described ataxia, delayed dentition and hypomyelination. Anomalies of dental shape, enamel and in this case also teeth color, dental number and eruption are all encountered. Knowledge of these abnormalities is important for both clinical geneticist and child neurologist.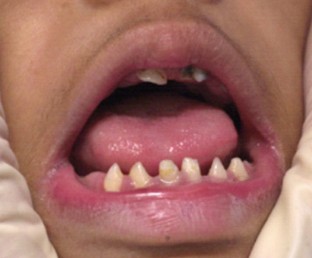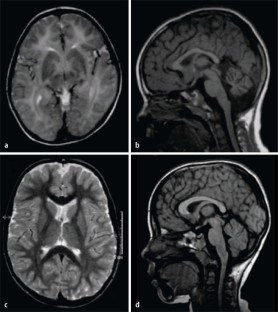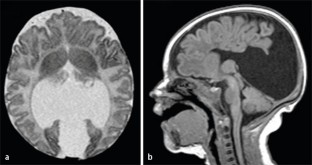 Literatur
1.

Bodenhoff J, Gorlin RJ (1963) Natal and neonatal teeth: Folklore and fact. Pediatrics 32: 1087–1093

2.

Cunha RF, Boer FA, Torriani DD, Frossard WT (2001) Natal and neonatal teeth: review of the literature. Pediatr Dent 23: 158–162

3.

Hadj-Rabia S, Froidevaux D, Bodak N et al. (2003) Clinical study of 40 cases of incontinentia pigmenti. Arch Dermatol 139: 1163–1170

4.

Kohlschutter A, Chappuis D, Meier C et al. (1974) Familial epilepsy and yellow teeth–a disease of the CNS associated with enamel hypoplasia. Helv Paediatr Acta 29: 283–294

5.

Ku CL, Dupuis-Girod S, Dittrich AM et al. (2005) NEMO mutations in 2 unrelated boys with severe infections and conical teeth. Pediatrics 115: e615–e619

6.

Leung AK, Robson WL (2006) Natal teeth: a review. J Natl Med Assoc 98: 226–228

7.

Loddenkemper T, Grote K, Evers S et al. (2002) Neurological manifestations of the oculodentodigital dysplasia syndrome. J Neurol 249: 584–595

8.

Nanni L, Ming JE, Bocian M et al. (1999) The mutational spectrum of the sonic hedgehog gene in holoprosencephaly: SHH mutations cause a significant proportion of autosomal dominant holoprosencephaly. Hum Mol Genet 8: 2479–2488

9.

Paznekas WA, Boyadjiev SA, Shapiro RE et al. (2003) Connexin 43 (GJA1) mutations cause the pleiotropic phenotype of oculodentodigital dysplasia. Am J Hum Genet 72: 408–418

10.

Richardson RJ, Joss S, Tomkin S et al. (2006) A nonsense mutation in the first transmembrane domain of connexin 43 underlies autosomal recessive oculodentodigital syndrome. J Med Genet 43: e37

11.

Roessler E, Belloni E, Gaudenz K et al. (1996) Mutations in the human Sonic Hedgehog gene cause holoprosencephaly. Nat Genet 14: 357–360

12.

Theis M, Sohl G, Eiberger J, Willecke K (2005) Emerging complexities in identity and function of glial connexins. Trends Neurosci 28: 188–195

13.

Timmons M, Tsokos M, Asab MA et al. (2006) Peripheral and central hypomyelination with hypogonadotropic hypogonadism and hypodontia. Neurology 67: 2066–2069

14.

Uhlenberg B, Schuelke M, Ruschendorf F et al. (2004) Mutations in the gene encoding gap junction protein alpha 12 (connexin 46.6) cause Pelizaeus-Merzbacher-like disease. Am J Hum Genet 75: 251–260

15.

Wolf NI, Harting I, Boltshauser E et al. (2005) Leukoencephalopathy with ataxia, hypodontia, and hypomyelination. Neurology 64: 1461–1464

16.

Wolf NI, Harting I, Innes AM et al. (2007) Ataxia, delayed dentition and hypomyelination: a novel leukoencephalopathy. Neuropediatrics 38: 64–70
Danksagung
Bei Frau Dr. Inga Harting und Frau Dr. Angelika Seitz möchte ich mich für die Überlassung der MR-Bilder bedanken.
Interessenkonflikt
Die korrespondierende Autorin gibt an, dass kein Interessenkonflikt besteht.
About this article
Cite this article
Wolf, N. Zahnanomalien in der Neuropädiatrie. medgen 19, 414–417 (2007). https://doi.org/10.1007/s11825-007-0051-1
Schlüsselwörter
Zahnanomalie

Hypodontie

Neuropädiatrie

Ataxie

Epilepsie
Keywords
Dental anomalies

Hypodontia

Neuropediatrics

Ataxia

Epilepsy