Zusammenfassung
Expansionen instabiler repetitiver DNA-Sequenzen können Ursache degenerativer Erkrankungen des Menschen sein. Die repetitiven Elemente variieren in der Kopienzahl sowohl bei gesunden als auch bei betroffenen Personen und führen zur Erkrankung, sobald eine genspezifische Schwelle überschritten wird. Dabei besteht eine Korrelation zwischen Repeatlänge einerseits und Schwere der Symptomatik bzw. Erkrankungsbeginn andererseits. In aufeinander folgenden Generationen werden häufig ein früherer Beginn sowie ein schwererer Verlauf beobachtet. Diese sog. (klinische) Antizipation beruht auf stetiger Expansion pathologischer Allele, die bei Zellteilungen (DNA-Replikation) instabil sind und relativ selten Kontraktionen erfahren. Die parentale Herkunft des mutierten Allels beeinflusst bei der Mehrzahl der Erkrankungen das Ausmaß der Repeatexpansion bei den Nachkommen. Die repetitiven Sequenzen liegen in kodierenden oder nicht-kodierenden Genabschnitten. Abhängig von Lokalisation und Erbgang werden als pathogenetische Mechanismen ein Funktionsverlust ("loss of function") auf Proteinebene oder eine Funktionsveränderung ("gain of function") auf RNA- oder Proteinebene postuliert.
Abstract
Expansions of unstable DNA repeats are causes of a growing number of human developmental and degenerative disorders. The repetitive sequences vary in copy number even in normal individuals. In affected individuals the repeat is expanded beyond a disease-specific threshold. There is some relationship between the copy number of the repeat and the severity and/or age at onset of symptoms. An earlier age of onset and a more severe clinical phenotype in subsequent generations (anticipation) is usually correlated with larger repeat size. Expanded alleles show both somatic and germ-line instability and, usually, expand rather than contract upon transmission from parent to offspring. In doing so, the sex of the transmitting parent can influence the size of the disease allele in the affected child. The unstable repeat may be located in non-coding regions or within the open reading frame of the disease gene. Depending on the intragenic location and the mode of inheritance the pathogenetic mechanisms involve loss of protein function as well as gain of function at protein or RNA level.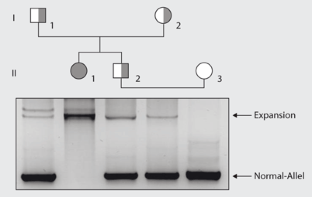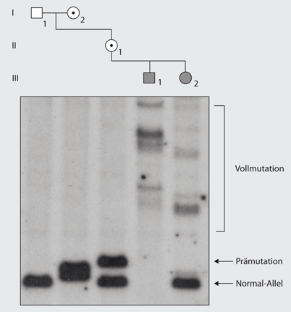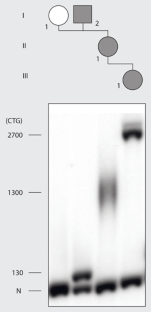 Literatur
1.

Berufsverband Deutscher Humangenetiker e.V. (1996) Leitlinien zur molekulargenetischen Labordiagnostik. Med Genet 8: Bl 4

2.

Day JW, Ranum LP (2005) Genetics and molecular pathogenesis of the myotonic dystrophies. Curr Neurol Neurosci Rep 5: 55–59

3.

Delatycki MB, Williamson R, Forrest SM (2000) Friedreich ataxia: an overview. J Med Genet 37: 1–8

4.

Garber K, Smith KT, Reines D, Warren ST (2006) Transcription, translation and fragile X syndrome. Curr Opin Genet Dev 16: 270–275

5.

Gatchel JR, Zoghbi HY (2005) Diseases of unstable repeat expansion: Mechanisms and common principles. Nat Rev Genet 6: 743–755

6.

IHA and WFN Research Group on Huntington's Chorea (1994) Guidelines for the molecular genetics predictive test in Huntington's disease. J Med Genet 31: 555–559

7.

Manto MU (2005) The wide spectrum of spinocerebellar ataxias (SCAs). Cerebellum 4: 2–6

8.

Walker FO (2007) Huntington's disease. Lancet 369: 218–228
Interessenkonflikt
Die korrespondierende Autorin gibt an, dass kein Interessenkonflikt besteht.
About this article
Cite this article
Zühlke, C. Häufige Erkrankungen mit Repeatexpansionen. medgen 19, 441–451 (2007). https://doi.org/10.1007/s11825-007-0049-8
Schlüsselwörter
Repeatexpansion

Genetische Instabilität

Prämutation

Antizipation

Prädiktive Diagnostik
Keywords
Repeat expansion

Genetic instability

Premutation

Anticipation

Predictive testing