Zusammenfassung
Unter Dentinogenesis imperfecta versteht man eine kongenitale Dysplasie des Dentins, die isoliert oder im Zusammenhang mit einer hereditären Allgemeinerkrankung wie der Osteogenesis imperfecta auftreten kann. Sie wird meist autosomal dominant vererbt und manifestiert sich klinisch in einer opaleszierenden Goldbraun- oder Graublauverfärbung der Zähne beider Dentitionen in variabler Ausprägung. Die verschiedenen Varianten der Dentinogenesis imperfecta werden nach Shields et al. (1973) in 3 Gruppen eingeteilt: Typ I, assoziiert mit Osteogenesis imperfecta; Typ II, hereditär opaleszierendes Dentin; Typ III, Brandywine-Typ. Die Phänotypen der Dentinogenesis imperfecta werden in dem vorliegenden Beitrag hinsichtlich Gendefekt, klinischer Symptomatik, Radiologie und Histopathologie beschrieben, die zahnärztliche Behandlungsstrategie wird dargestellt.
Abstract
Dentinogenesis imperfecta is a congenital dentin dysplasia that occurs either isolated or associated with a genetic disorder known as osteogenesis imperfecta. Dentinogenesis imperfecta is inherited in an autosomal dominant pattern. Clinically the teeth color of both dentitions varies from brown to a translucent gray with an opalescent sheen. Shields et al. (1973) proposed a classification of Dentinogenesis imperfecta into three types: type I, associated with osteogenesis imperfecta; type II, hereditary opalescent dentin; type III Brandywine-type. The phenotypes of Dentinogenesis imperfecta are described in regard to their genetic defects, pathology, radiology and histopathology as well as their dental treatment.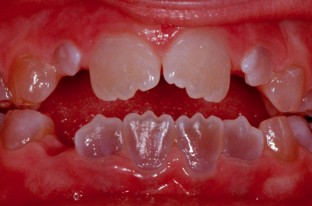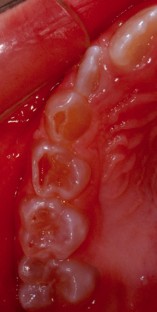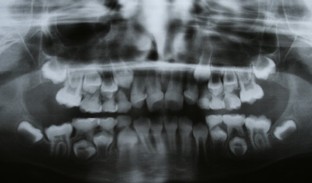 Literatur
1.

Beattie ML, Kim JW, Gong SG et al. (2006) Phenotypic variation in dentinogenesis imperfecta/dentin dysplasie linked to 4q21. J Dent Res 85: 329–333

2.

Butler WT (1998) Dentin matrix proteins. Eur J Oral Sci (Suppl 1) 106: 204–210

3.

Dong J, Gu TT, Jeffords L, MacDougall M (2005) Dentin phosphoprotein compound mutation in dentin sialophosphoprotein causes dentinogenesis imperfecta typ III. Am J Med Genet 132A: 305–309

4.

Huber MA (2007) Osteogenesis imperfecta. Oral Surg Oral Med Oral Pathol Oral Radiol Endod 103: 314–320

5.

MacDougall M, Simmons D, Luan X et al. (1997) Dentin phosphoprotein and dentin sialoprotein are cleavage products expressed from a single transcript coded by a gene on human chromosome 4. Dentin phosphoprotein DNA sequence determination. J Biol Chem 272: 835–842

6.

MacDougall M, Dong J, Acevedo AC (2006) Molecular basis of human dentin diseases. Am J Med Genet 140A: 2536–2546

7.

Mao JR, Bristow J (2001) The Ehlers-Danlos syndrome: on beyond collagens. J Clin Invest 107: 1063–1069

8.

Rauch F, Glorieux FH (2004) Osteogenesis imperfecta. Lancet 363: 1377–1385

9.

Shields ED, Bixler D, el-Kafrawy AM (1973) A proposed classification for heritable human dentine defects with a description of a new entity. Arch Oral Biol 18: 543–553

10.

Sillence DO, Senn A, Danks DM (1979) Genetic heterogeneity in osteogenesis imperfecta. J Med Genet 16: 101–116
Danksagung
Die Autoren danken Herrn Prof. Dr. H.-U. Luder, Leiter der Abteilung für Orale Strukturbiologie der Universität Zürich, und Herrn Prof. Dr. T. Peltomäki, Leiter der Klinik für Kieferorthopädie und Kinderzahnmedizin der Universität Zürich, für die Durchsicht des Manuskripts.
Interessenkonflikt
Der korrespondierende Autor gibt an, dass kein Interessenkonflikt besteht.
About this article
Cite this article
Schulte, J., van Waes, H. Dentinogenesis imperfecta. medgen 19, 418–421 (2007). https://doi.org/10.1007/s11825-007-0048-9
Schlüsselwörter
Dentin

Dentinogenesis imperfecta

Osteogenesis imperfecta

Dentin-Sialophosphoprotein

Kollagen Typ I
Keywords
Dentin

Dentinogenesis imperfecta

Osteogenesis imperfecta

Dentin sialophosphoprotein

Typ I collagen