Zusammenfassung
Manifestation und Verlauf der multifaktoriell bedingten Erkrankung multiple Sklerose (MS) als häufigster neuroinflammatorischer/-degenerativer Erkrankung des Nervensystems unterliegen mannigfaltigen genetischen und Umwelteinflüssen. Differenzialdiagnostik und (symptomorientierte) Therapie bedürfen neben modernen technischen Hilfsmitteln des erfahrenen Neurologen, um andere chronische entzündlich-degenerative Prozesse auszuschließen bzw. die Behandlung optimal anzupassen. Bemühungen, den komplexen genetischen MS-Beitrag aufzuklären, zeigen Teilerfolge in vertiefter Kooperation zwischen Klinik und Grundlagenforschung.
Abstract
The manifestation and disease progress of multiple sclerosis (MS), the most common multifactorial neuroinflammatory and degenerative disease, is based on manifold genetic and environmental influences. Diagnostics and symptom-oriented therapies necessitate experienced neurologists and modern technological measures in order to exclude other chronic inflammatory degenerative processes and to optimize treatment. Through devoted cooperation of clinical and basic research, efforts to elucidate the complex genetic components of MS have begun to show some success.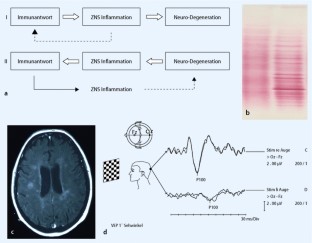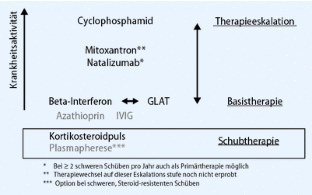 Literatur
1.

Barcellos LF, Sawcer S, Ramsay PP et al. (2006) Heterogeneity at the HLA-DRB1 locus and risk for multiple sclerosis. Hum Mol Genet 15: 2813–2824

2.

Gibson G (2003) Population genomics: finding the variants of mass disruption. Curr Biol 13: R901–R903

3.

Gold R, Rieckmann P (2004) Pathogenese und Therapie der Multiplen Sklerose. Unimed, Bremen

4.

Hauser SL, Oksenberg JR (2006) The neurobiology of multiple sclerosis: genes, inflammation, and neurodegeneration. Neuron 52: 61–76

5.

Multiple Sklerose Therapie Konsensus Gruppe (MSTKG), Rieckmann P (2006) Escalating immunomodulatory therapy of multiple sclerosis: Update (September 2006). Nervenarzt 77: 1506–1518

6.

Oksenberg JR, Barcellos LF (2005) Multiple sclerosis genetics: leaving no stone unturned. Genes Immun 6: 375–387

7.

Polman CH, Reingold SC, Edan G et al. (2005) Diagnostic criteria for multiple sclerosis: 2005 Revisions to the "McDonald Criteria". Ann Neurol 58: 840–846

8.

Reich D, Patterson N, De Jager PL et al. (2005) A whole-genome admixture scan finds a candidate locus for multiple sclerosis susceptibility. Nat Genet 37: 1113–1118

9.

Sawcer S (2006) A new era in the genetic analysis of multiple sclerosis. Curr Opin Neurol 19: 237–241

10.

Spielman RS, Bastone LA, Burdick JT et al. (2007) Common genetic variants account for differences in gene expression among ethnic groups. Nat Genet 39: 226–231

11.

Weinshenker BG, Bass B, Rice GPA et al. (1989) The natural history of multiple sclerosis: a geographically based study. 2. Predictive value of the early clinical course. Brain 112: 1419–1428
Interessenkonflikt
Der korrespondierende Autor gibt an, dass kein Interessenkonflikt besteht.
About this article
Cite this article
Akkad, D., Epplen, J. & Gold, R. "Syndrom" multiple Sklerose. medgen 19, 342–345 (2007). https://doi.org/10.1007/s11825-007-0031-5
Schlüsselwörter
Multiple Sklerose

Multifaktoriell

Komplexe Klinik

Komplexe Genetik

Grundlagenforschung
Keywords
Multiple sclerosis

Multifactorial

Complex clinics

Complex genetics

Basic research