Zusammenfassung
Die Migräne ist eine periodische neurovaskuläre Erkrankung mit einer Lebenszeitprävalenz von >15%. Obwohl bereits lange bekannt ist, dass sie familiär gehäuft auftritt, sind die genetischen Suszeptibilitätsfaktoren der häufigen Migräneformen bis jetzt nicht bekannt. Demgegenüber sind bereits 3 Gene identifiziert worden, die die familiäre hemiplegische Migräne – eine seltene monogene Subform – verursachen können. Bei allen 3 Genprodukten handelt es sich um Ionentransportproteine, sodass auch die Migräne wenigstens z. T. zu den so genannten "channelopathies" zu zählen ist, die auf einer neuronalen Übererregbarkeit beruhen. Systematische und genomweite Screeningverfahren in großen Patienten- und Familienkollektiven werden in naher Zukunft zeigen, inwiefern auch die komplex vererbten Migräneformen zu dieser Gruppe von Erkrankungen gehören oder ob diese häufigen und individuell oft schwer belastenden Störungen eine distinkte molekulare Pathogenese aufweisen.
Abstract
Migraine is a periodic neurovascular disease with a lifetime prevalence exceeding 15%. Although familial clustering of migraine is well known, the susceptibility genes underlying the common forms of migraine are still elusive. On the contrary, three genes have already been identified as the molecular cause of familial hemiplegic migraine, a rare monogenic subform. All three genes encode for ion transport proteins, so migraine does, at least in part, also belong to the group of "channelopathies" that are characterized by a neuronal hyperexcitability. Systematic and genome-wide screening approaches in large patient and family samples will show whether also the complex inherited forms of migraine belong to this class of diseases or whether these common and often severely disabling disturbances have a distinct molecular pathogenesis.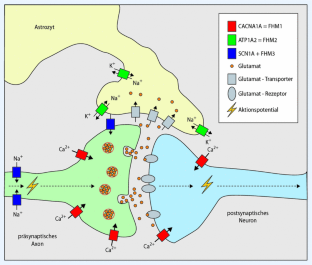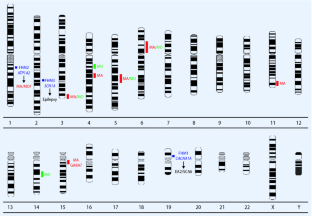 Literatur
1.

De Fusco M, Marconi R, Silvestri L et al. (2003) Haploinsufficiency of ATP1A2 encoding the Na+/K+ pump alpha2 subunit associated with familial hemiplegic migraine type 2. Nat Genet 33: 192–196

2.

Dichgans M, Freilinger T, Eckstein G et al. (2005) Mutation in the neuronal voltage-gated sodium channel SCN1A in familial hemiplegic migraine. Lancet 366: 371–377

3.

Goadsby PJ, Lipton RB, Ferrari MD (2002) Migraine – current understanding and treatment. N Engl J Med 346: 257–270

4.

Headache Classification Subcommittee of the International Headache Society (2004) The International classification of headache disorders, 2nd edn. Cephalalgia [Suppl 1] 24: 9–160

5.

Ophoff RA, Terwindt GM, Vergouwe MN et al. (1996) Familial hemiplegic migraine and episodic ataxia type-2 are caused by mutations in the Ca2+ channel gene CACNL1A4. Cell 87: 543–552

6.

Palotie A, Baloh R, Wessman M (2002) Migraine. In: King RA, Rotter JI, Motulsky AG (eds) The genetic basis of common diseases. Oxford University Press, Oxford, pp 935–947

7.

Pietrobon D, Striessnig J (2003) Neurobiology of migraine. Nat Rev Neurosci 4: 386–398

8.

Russell MB, Olesen J (1995) Increased familial risk and evidence of genetic factor in migraine. BMJ 311: 541–544

9.

Scher AI, Bigal ME, Lipton RB (2005) Comorbidity of migraine. Curr Opin Neurol 18: 305–310

10.

Wessman M, Terwindt GM, Kaunisto MA et al. (2007) Migraine: a complex genetic disorder. Lancet Neurol 6: 521–532
Interessenkonflikt
Der korrespondierende Autor gibt an, dass kein Interessenkonflikt besteht.
About this article
Cite this article
Kubisch , C. Genetische Grundlagen der Migräne. medgen 19, 330–334 (2007). https://doi.org/10.1007/s11825-007-0026-2
Schlüsselwörter
Migräne

Familiäre hemiplegische Migräne

Aura

Exzitabilität

Ionenkanäle
Keywords
Migraine

Familial hemiplegic migraine

Aura

Excitability

Ion channels