Zusammenfassung
Erbliche Faktoren spielen eine wesentliche Rolle bei der Entstehung des Brustkrebses. Etwa die Hälfte der erblich bedingten Erkrankungen wird auf Veränderungen in den 1994 bzw. 1995 identifizierten Genen BRCA1 und BRCA2 zurückgeführt. BRCA1 und BRCA2 spielen eine wesentliche Rolle in der zellulären Antwort auf DNA-Schäden und sind über die zahlreiche Interaktionspartner an mehreren Signalwegen beteiligt, die u. a. die Zellzykluskontrolle, das "Chromatin-Remodeling" und den Proteinabbau über die Ubiquitinierung steuern. Der Nachweis einer BRCA1/2-Mutation hat erhebliche Implikationen für das Risiko, (erneut) an Brust- und Eierstockkrebs zu erkranken. Die Entwicklung zielgerichteter Therapieoptionen wird es in Zukunft unentbehrlich machen, bereits zum Zeitpunkt der Diagnosestellung zu wissen oder so schnell wie möglich zu ermitteln, ob eine BRCA1/2-Mutation vorliegt, um wirkungsvolle operative oder therapeutische Maßnahmen zu ergreifen.
Abstract
Genetic factors play an important role in the development of breast cancer. About half of the genetically induced breast cancer cases relate to mutations in BRCA1 and BRCA2, which were identified in 1994 and 1995. Both BRCA1 and BRCA2 are involved in DNA double-strand repair and interact with many signal transduction molecules that are involved in the regulation of cell cycle control, chromatin remodeling, and degradation of proteins via ubiquitination. The detection of a BRCA1/2 mutation has severe implications for the risk of disease (again) from breast and ovarian cancer. The development of targeted therapies will make it necessary in the future to know at the time of diagnosis of breast cancer whether the patient is a BRCA1/2 mutation carrier in order to provide the most efficient treatment.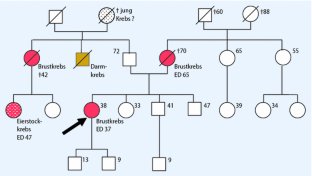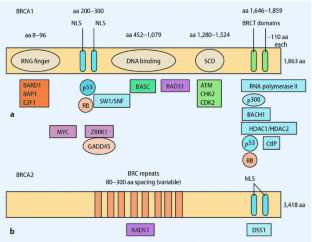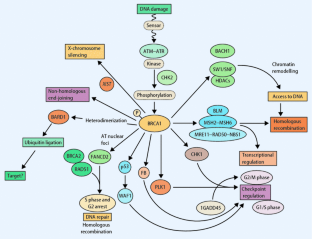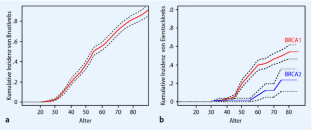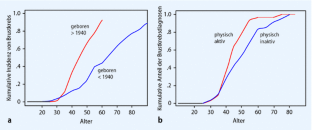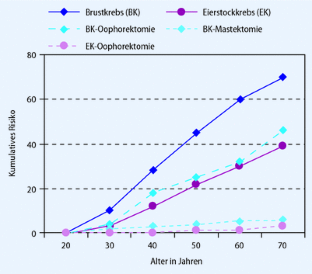 Literatur
1.

Narod SA, Foulkes WD (2004) BRCA1 and BRCA2: 1994 and beyond. Nature Rev Cancer 4: 665–676

2.

Walsh T, King M-C (2007) Ten genes for inherited breast cancer. Cancer Cell 11: 103–105

3.

German Consortium for Hereditary Breast and Ovarian Cancer (2002) Comprehensive analysis of 989 patients with breast or ovarian cancer provides BRCA1 and BRCA2 mutation profiles and frequencies for the German population. Int J Cancer 97: 472–480

4.

Gerhardus A, Schleberger H, Schlegelberger B, Schwartz FW (2005) BRCA – Erblicher Brust- und Eierstockkrebs. Beratung. Testverfahren. Kosten. Springer, Berlin Heidelberg New York Tokyo

5.

King M-C, Marks J, Mandell J for The New York Breast Cancer Study Group (2003) Breast and ovarian cancer risks due to inherited mutations in BRCA1 and BRCA2. Science 302: 643–646

6.

Schmutzler R, Schlegelberger B, Meindl A et al. (2003) Beratung, Genetische Testung und Prävention von Frauen mit einer familiären Belastung für das Mamma- und Ovarialkarzinom. Medgen 15: 385–395

7.

Haffty BG, Harrold E, Khan AJ et al. (2002) Outcome of conservatively managed early-onset breast cancer by BRCA1/2 status. Lancet 359: 1471–1477

8.

Domchek SM, Weber BL (2006) Clinical management of BRCA1 and BRCA2 mutation carriers. Oncogene 25: 5825–5831

9.

Poole AJ, Ying L, Kim Y et al. (2006) Prevention of BRCA1-mediated mammary tumorigenesis in mice by a progesterone antagonist. Science 314: 1467–1470

10.

Farmer H, McCabe N, Lord C et al. (2005) Targeting the DNA repair defect in BRCA mutant cells as a therapeutic strategy. Nature 434: 917–921
Danksagung
Unterstützt durch die Deutsche Krebshilfe.
Interessenkonflikt
Es besteht kein Interessenkonflikt. Der korrespondierende Autor versichert, dass keine Verbindungen mit einer Firma, deren Produkt in dem Artikel genannt ist, oder einer Firma, die ein Konkurrenzprodukt vertreibt, bestehen. Die Präsentation des Themas ist unabhängig und die Darstellung der Inhalte produktneutral.
About this article
Cite this article
Gadzicki, D., Meindl, A. & Schlegelberger, B. Erblicher Brust- und Eierstockkrebs. medgen 19, 202–209 (2007). https://doi.org/10.1007/s11825-007-0019-1
Schlüsselwörter
Erblicher Brustkrebs

Erblicher Eierstockkrebs

BRCA1
BRCA2

Zielgerichtete Therapieoptionen
Keywords
Hereditary breast cancer

Hereditary ovarian cancer

BRCA1
BRCA2

Targeted therapy options