Zusammenfassung
Etwa 1–4% aller Nierentumoren sind mit spezifischen Keimbahndefekten assoziiert. Nierentumoren sind sehr heterogen. Eine neue histogenetische Klassifikation beruht auf pathomorphologischen wie auch auf genetischen Kriterien. Für jede der 4 häufigsten Tumortypen besteht ein Bezug zu einer hereditären Form bzw. den jeweils betroffenen Genen. Bis heute sind mindestens 10 hereditäre Konditionen bekannt, bei denen Nierentumoren auftreten. Dieser Review stellt die heute zur Verfügung stehenden Möglichkeiten einer individuellen Betreuung von Patienten mit diesen seltenen syndromalen und nichtsyndromalen hereditären Formen dar.
Abstract
About 1–4% of all kidney tumors are assigned to specific germ-line alterations. Kidney tumors are very heterozygous. A new classification system has been established based on pathomorphological and genetic criteria. Each of the four most common tumor types is related to a hereditary form with some specific genes being involved. Today, at least ten different hereditary conditions are known to be associated with kidney tumors. This review focuses on currently available measures for the individual management of these rare syndromic and nonsyndromic hereditary conditions.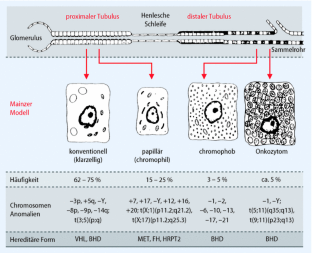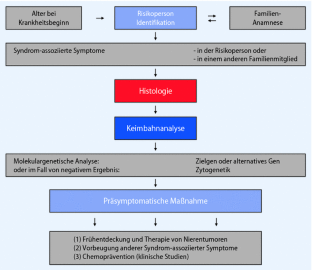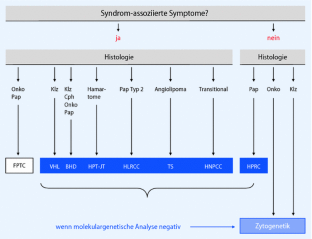 Literatur
1.

Brauch H, Weirich G, Brieger J et al. (2000) VHL Alterations in human clear cell renal cell carcinoma: Association with advanced tumor stage and a novel hot spot mutation. Cancer Res 60: 1942–1948

2.

Brugarolas J (2007) Renal-cell carcinoma–molecular pathways and therapies. N Engl J Med 356: 185–187

3.

Decker HJH, Brauch H (2002) Nierenzellkarzinome (Kapitel 9), in Molekulare Medizin Band 10, Spezielle Tumorerkrankungen (Teil II) Molekulare Grundlagen organspezifischer Tumoren. Springer, Berlin Heidelberg New York Tokyo, S 267–278

4.

Decker HJH (2006) Von Hippel-Lindau-Syndrom. Med Genet 18: 7–13

5.

Li FP, Decker HJH, Zbar B et al. (1993) Clinical and genetic studies of renal cell carcinomas in a family with a constitutional chromosome 3;8 translocation. Ann Int Med 118: 106–111

6.

Linehan WM, Pinto PA, Srinivasan R et al. (2007) Identification of the genes for kidney cancer: opportunity for disease-specific targeted therapeutics. Clin Cancer Res 13: 671s–679s

7.

Luan X, Shi G, Zohouri M et al. (1997) The FHIT gene is alternatively spliced in normal kidney and in renal cell carcinoma. Oncogene 15: 79–86

8.

Pavlovich CP, Schmidt LS (2004) Searching for the hereditary causes of renal-cell carcinoma. Nat Rev Cancer 4: 381–393

9.

Schmidt L, Duh FM, Chen F et al. (1997) Germline mutations in tyrosine domain of the MET proto-oncogene in papillary renal carcinoma. Nat Genet 16: 68–73

10.

Takahashi M, Kahnoski R, Gross D et al. (2002) Familial adult renal neoplasia. J Med Genet 39: 1–5
Danksagung
Der Autor dankt der DFG, dem NCI/EORTC, dem NMFZ, der Stiftung Rheinland-Pfalz für Innovation, der Sanderstiftung sowie dem Bioscientia Institut für medizinische Diagnostik für ihre Unterstützung seiner Forschungsarbeit über die letzten 20 Jahre.
Interessenkonflikt
Keine Angaben.
About this article
Cite this article
Decker, H. Hereditäre Nierentumoren. medgen 19, 239–244 (2007). https://doi.org/10.1007/s11825-007-0018-2
Schlüsselwörter
Erblicher Nierentumor

VHL

MET

Genetische Beratung

"Smart drugs"
Keywords
Hereditary renal tumor

VHL

MET

Genetic counseling

Smart drugs