Zusammenfassung
Bei verschiedenen Tumordispositionserkrankungen mit pleiotropem Manifestationsspektrum ist das Auge mit involviert. Unter den monogen erblichen Tumorerkrankungen ist aus klinischer Sicht das erbliche Retinoblastom am wichtigsten. Das zur Erklärung seiner Entstehung entwickelte 2-Schritt-Mutationsmodell war auch für die Aufklärung anderer dominanter Tumordispositionen wegweisend. Bei den meisten anderen erblichen Krebserkrankungen sind die Manifestationen im Bereich des Auges für den Krankheitsverlauf nicht relevant, können aber zur Diagnose führen. Dies gilt insbesondere für das retinale kapillare Hämangiom bei Patienten mit einer Von-Hippel-Lindau-Erkrankung. Für die Entstehung des Aderhautmelanoms, des häufigsten bösartigen Augentumors, gibt es keinen Hinweis auf eine monogene Disposition. Allerdings lassen epidemiologische Daten vermuten, dass für seine Entstehung genetische Faktoren eine Rolle spielen. Die Prognose bei diesem Tumor ist eng mit einem somatischen genetischen Marker, der Monosomie 3, verbunden.
Abstract
Ocular neoplasms are associated with several hereditary cancer predisposition syndromes. Of these, hereditary retinoblastoma is the most important. Historically, hereditary retinoblastoma has been the prototype dominant cancer predisposition, and Knudson's study of this tumour has resulted in the two-step mutation hypothesis, which has been seminal for developing a further understanding of hereditary cancers. Although ocular manifestations are of minor relevance for the prognosis in tumour syndromes other than retinoblastoma, they may be important for the recognition of the underlying cancer predisposition. There is no monogenic predisposition for the development of uveal melanoma, which is the most frequent malignant ocular neoplasm in humans. However, epidemiological data suggest that genetic factors may play a role. The study of somatic alterations in these tumours has shown that the loss of one chromosome 3 is closely associated with an adverse prognosis. Such a somatic genotype-phenotype association is highly exceptional among solid tumours.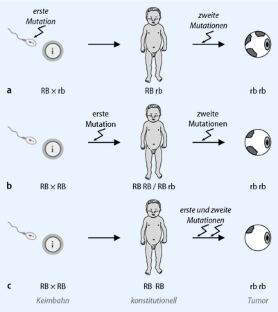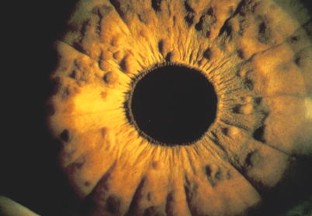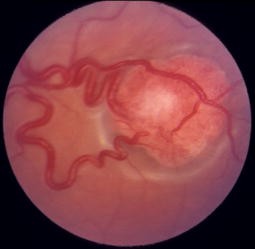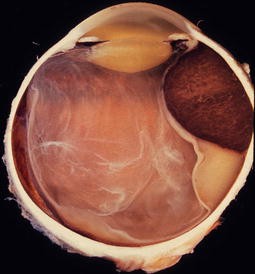 Literatur
1.

Goldstein AM, Chan M, Harland M et al. (2006) High-risk melanoma susceptibility genes and pancreatic cancer, neural system tumors, and uveal melanoma across GenoMEL. Cancer Res 66: 9818–9828

2.

Jonsson G, Bendahl PO, Sandberg T et al. (2005) Mapping of a novel ocular and cutaneous malignant melanoma susceptibility locus to chromosome 9q21.32. J Natl Cancer Inst 97: 1377–1382

3.

Lohmann DR, Gallie BL (2004) Retinoblastoma: revisiting the model prototype of inherited cancer. Am J Med Genet 129: 23–28

4.

Magee MA, Kroll AJ, Lou P et al. (2006) Retinal capillary hemangiomas and von Hippel-Lindau disease. Semin Ophthalmol 21: 143–150

5.

Northrup H, Au K-S (2005) Tuberous sclerosis complex. http://www.geneclinics.org

6.

Ong KR, Woodward ER, Killick P et al. (2007) Genotype-phenotype correlations in von Hippel-Lindau disease. Hum Mutat 28: 143–149

7.

Smith JH, Padnick-Silver L, Newlin A et al. (2007) Genetic study of familial uveal melanoma association of uveal and cutaneous melanoma with cutaneous and ocular nevi. Ophthalmology 114: 774–779
Interessenkonflikt
Es besteht kein Interessenkonflikt. Der korrespondierende Autor versichert, dass keine Verbindungen mit einer Firma, deren Produkt in dem Artikel genannt ist, oder einer Firma, die ein Konkurrenzprodukt vertreibt, bestehen. Die Präsentation des Themas ist unabhängig und die Darstellung der Inhalte produktneutral.
About this article
Cite this article
Lohmann, D. Erbliche Disposition zu Tumoren des Auges. medgen 19, 229–233 (2007). https://doi.org/10.1007/s11825-007-0016-4
Schlüsselwörter
Retinoblastom

Astrozytäres Harmartom der Retina

Optikusgliom

Retinales kapillares Hämangiom

Aderhautmelanom
Keywords
Retinoblastoma

Retinal astrocytic harmatoma

Optic nerve glioma

Retinal capillary hemangioma

Uveal melanoma