Zusammenfassung
Bis zu 5% der Fälle von erblichem Darmkrebs beruhen auf einer monogen erblichen Veranlagung. Hierzu gehören das erbliche kolorektale Karzinom ohne Polyposis (Lynch-Syndrom, HNPCC) mit 2–3% und die adenomatösen Polyposissyndrome (familiäre adenomatöse Polyposis, FAP- und MUTYH-assoziierte Polyposis, MAP) mit etwa 1% der Fälle. Hamartomatöse Polyposissyndrome (familiäre juvenile Polyposis, Peutz-Jeghers- und Cowden-Syndrom), die ebenfalls mit einem erhöhten Darmkrebsrisiko einhergehen, sind weitaus seltener. Für die genannten Tumorsyndrome ist die genetische Grundlage weitgehend bekannt. Die Identifizierung der ursächlichen Keimbahnmutation in den entsprechenden DNA-Reparatur-Genen (z. B. bei HNPCC und MAP) oder in Tumorsuppressorgenen (bei der FAP und den hamartomatösen Polyposissyndromen) ermöglicht die Sicherung der Diagnose bei den Erkrankten und die prädiktive Diagnostik bei deren gesunden Familienangehörigen. Im Hinblick auf eine gezielte und sinnvolle molekulargenetische Diagnostik sollte der einweisende Kliniker dem Untersucher eine möglichst detaillierte Beschreibung des Krankheitsbilds mitgeben. Die zusätzlich erhobene Familienanamnese kann weitere Hinweise auf den vorliegenden Gendefekt liefern. Da HNPCC klinisch im Einzelfall schwer von sporadischen Krebsfällen unterschieden werden kann, wird eine Untersuchung des Tumorgewebes auf Vorliegen eines DNA-Reparaturdefekts der Mutationsanalyse in einer Blutprobe vorgeschaltet. Bei den Polyposissyndromen erfolgt die Mutationsanalyse direkt in der Blutprobe, nach sorgfältiger klinischer Einordnung (insbesondere histologische Klassifizierung und Anzahl der Polypen).
Abstract
Up to 5% of colorectal cancer cases are caused by a monogenic inherited disposition. Among these, hereditary nonpolyposis colorectal cancer (Lynch syndrome, HNPCC) accounts for 2–3% and adenomatous polyposis syndromes (familial adenomatous polyposis, FAP and MUTYH-associated polyposis, MAP) for about 1% of cases. Hamartomatous polyposis syndromes (juvenile polyposis syndrome, Peutz-Jeghers syndrome and Cowden syndrome) are rare disorders that are also associated with an increased colorectal cancer risk. The genetic basis is largely known for the tumour syndromes mentioned above. The identification of the causative germline mutation in the respective DNA repair genes (e.g. in HNPCC and MAP) or tumour suppressor genes (FAP or hamartomatous polyposis syndromes) allows confirmation of the diagnosis in affected individuals and provides predictive diagnostics for their healthy relatives. To achieve a targeted and useful molecular diagnostics, it is important that the clinician provides a detailed characterisation of the clinical picture; moreover, family history may also give a hint of the underlying gene defect. The screening of tumour tissue for the presence of a mismatch repair defect should precede mutation analysis in suspected cases of HNPCC, as it is difficult to differentiate between this condition and sporadic colorectal cancer. In contrast, mutation analysis can be directly performed in polyposis syndromes provided the syndrome has been correctly classified by the histology of polyps.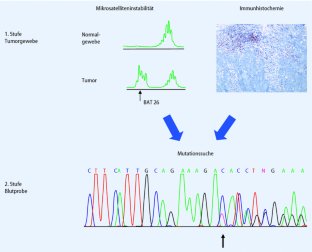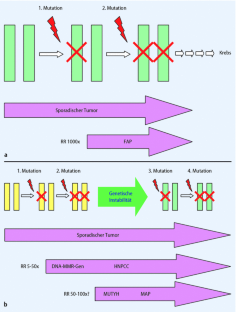 Literatur
1.

Aretz S, Stienen D, Uhlhaas S et al. (2005) High proportion of large genomic STK11 deletions in Peutz-Jeghers syndrome. Hum Mutat 26: 513–519

2.

Aretz S, Uhlhaas S, Goergens H et al. (2006) MUTYH-associated polyposis: 70 of 71 patients with biallelic mutations present with an attenuated or atypical phenotype. Int J Cancer 119: 807–814

3.

Eng C (2003) PTEN: one gene, many syndromes. Hum Mutat 22: 183–198

4.

Farrington SM, Tenesa A, Barnetson R et al. (2005) Germline susceptibility to colorectal cancer due to base-excision repair gene defects. Am J Hum Genet 77: 112–119

5.

Friedl W, Lamberti C (2001) Familiäre adenomatöse Polyposis. In: Ganten D, Ruckpaul K (Hrsg) Hereditäre Tumorerkrankungen. Springer, Berlin Heidelberg New York, S 305–329

6.

Holinski-Feder E, Grabowski M (2006) Erbliches nicht-polypöses kolorektales Karzinom – HNPCC. Daten des HNPCC-Konsortiums der Deutschen Krebshilfe. Med Genet 18: 246–253

7.

Mangold E, Pagenstecher C, Friedl W et al. (2005) Spectrum and frequencies of mutations in MSH2 and MLH1 identified in 1,721 German families suspected of hereditary nonpolyposis colorectal cancer. Int J Cancer 116: 692–702

8.

Schmiegel W, Pox C, Adler G et al. (2004) Leitlinienkonferenz "Kolorektales Karzinom" 2004. Z Gastroenterol 42: 1129–1177

9.

Tomlinson IPM, Houlston RS (1997) Peutz-Jeghers syndrome. J Med Genet 34: 1007–1011

10.

Vasen HF, Watson P, Mecklin JP et al. (1999) New clinical criteria for hereditary nonpolyposis colorectal cancer (HNPCC, Lynch syndrome) proposed by the International Collaborative group on HNPCC. Gastroenterology 116: 1453–1456
Interessenkonflikt
Es besteht kein Interessenkonflikt. Der korrespondierende Autor versichert, dass keine Verbindungen mit einer Firma, deren Produkt in dem Artikel genannt ist, oder einer Firma, die ein Konkurrenzprodukt vertreibt, bestehen. Die Präsentation des Themas ist unabhängig und die Darstellung der Inhalte produktneutral.
Additional information
Unterstützt von der Deutschen Krebshilfe.
About this article
Cite this article
Friedl , W., Propping, P. Familiärer Darmkrebs. medgen 19, 216–224 (2007). https://doi.org/10.1007/s11825-007-0015-5
Schlüsselwörter
Erbliches kolorektales Karzinom ohne Polyposis

Adenomatöses Polyposissyndrom

Hamartomatöses Polyposissyndrom

DNA-Mismatch-Reparatur

Mutationsanalyse
Keywords
Hereditary non-polyposis colorectal cancer

Adenomatous polyposis syndrome

Hamartomatous polyposis syndrome

DNA mismatch repair

Mutation analysis