Zusammenfassung
Die Zellen des lymphatischen Systems sind durch das hohe Ausmaß somatischer Rekombination und die damit verbundene Hypermutabilität gekennzeichnet. Dabei werden DNA-Doppelstrang-Brüche (DSB) induziert und "repariert", wobei die beteiligten Gene auch in die allgemeine Reparatur von DSB einbezogen sind. Keimbahnmutationen in diesen Genen gehen mit einem besonders hohen Risiko für Lymphome einher. Diese genetisch bedingten Krankheiten sowie die charakteristischen somatischen Mutationen in Lymphomen haben wesentlich zum Verständnis von DNA-Reparaturdefekten bei der Kanzerogenese beigetragen.
Abstract
A peculiarity of the lymphatic system is its high rate of somatic recombination with associated hypermutability. In this process, DNA double-strand breaks are generated and processed, whereby the genes responsible are often also involved in general double-strand break repair. Germline mutations in these genes are responsible for a particularly high risk for lymphoma. The study of such genetic disorders and the characteristic somatic mutations in lymphoma have led to major contributions to our understanding of DNA repair defects and carcinogenesis in general.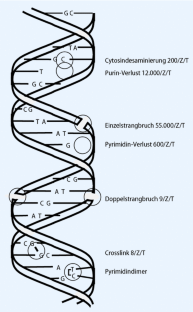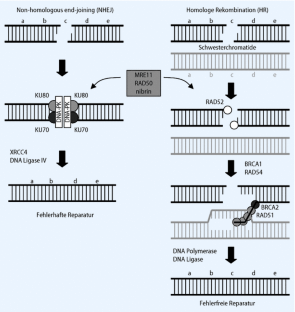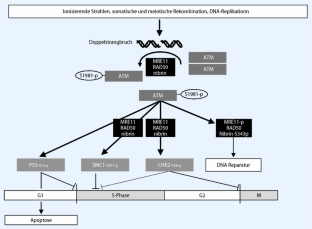 Literatur
1.

Andressoo JO, Hoeijmakers JH, Mitchell JR (2006) Nucleotide excision repair disorders and the balance between cancer and aging. Cell Cycle 5: 2886–2888

2.

Aplan PD (2006) Causes of oncogenic chromosomal translocation. Trends Genet 22: 46–55

3.

Boultwood J (2001) Ataxia telangiectasia gene mutations in leukaemia and lymphoma. J Clin Pathol 54: 512–516

4.

Digweed M, Sperling K (2003) Chromosomeninstabilitätssyndrome. In: Ganten D, Ruckpaul K (Hrsg) Molekularmedizinische Grundlagen von hämatologischen Neoplasien. Springer, Berlin Heidelberg New York, S 3–38

5.

Digweed M, Sperling K (2004) Nijmegen breakage syndrome: clinical manifestation of defective response to DNA double-strand breaks. DNA Repair 3: 1207–1217

6.

Fernandez V, Hartmann E, Ott G et al. (2005) Pathogenesis of mantle-cell lymphoma: all oncogenic roads lead to dysregulation of cell cycle and DNA damage response pathways. J Clin Oncol 23: 6364–6369

7.

Kennedy RD, D'Andrea AD (2006) DNA repair pathways in clinical practice: lessons from pediatric cancer susceptibility syndromes. J Clin Oncol 24: 3799–3808

8.

Loeb LA (1991) Mutator phenotype may be required for multistage carcinogenesis. Cancer Res 51: 3075–3079

9.

Marculescu R, Vanura K, Montpellier B et al. (2006) Recombinase, chromosomal translocations and lymphoid neoplasia: targeting mistakes and repair failures. DNA Repair 5: 1246–1258

10.

Matei IR, Guidos CJ, Danska JS (2006) ATM-dependent DNA damage surveillance in T-cell development and leukemogenesis: the DSB connection. Immunol Rev 209: 142–158

11.

Stilgenbauer S, Schaffner C, Litterst A et al. (1997) Biallelic mutations in the ATM gene in T-prolymphocytic leukaemia. Nat Med 3: 1155–1159

12.

Stumm M, Ruskowsky A von, Siebert R et al. (2001) No evidence for deletions of the NBS1 gene in lymphomas. Cancer Genet Cytogenet 126: 60–62

13.

Tomlinson I, Bodmer W (1999) Selection, the mutation rate and cancer: ensuring that the tail does not wag the dog. Nat Med 5: 11–12

14.

Vogelstein B, Kinzler KW (2004) Cancer genes and the pathways they control. Nat Med 10: 789–799
Interessenkonflikt
Es besteht kein Interessenkonflikt. Der korrespondierende Autor versichert, dass keine Verbindungen mit einer Firma, deren Produkt in dem Artikel genannt ist, oder einer Firma, die ein Konkurrenzprodukt vertreibt, bestehen. Die Präsentation des Themas ist unabhängig und die Darstellung der Inhalte produktneutral.
About this article
Cite this article
Digweed , M., Sperling, K. DNA-Reparaturdefekte und Krebs. medgen 19, 191–196 (2007). https://doi.org/10.1007/s11825-007-0013-7
Schlüsselwörter
Doppelstrangbrüche

Zellzyklus

Ataxia telangiectatica

Nijmegen-Breakage-Syndrom

Lymphatisches System
Keywords
Double-strand breaks

Cell cycle

Ataxia telangiectasia

Nijmegen breakage syndrome

Lymphatic system