Zusammenfassung
Wir konzentrieren uns auf Risikoberechnungen bei familiärem Brust- und Eierstockkrebs, da diese ein wichtiges Thema in der genetischen Beratung darstellen. Ratsuchende mit Mutationen in einem der beiden Gene BRCA1 oder BRCA2 haben eine sehr hohe Erkrankungswahrscheinlichkeit. Ist kein Test möglich oder dieser negativ, basiert die Entscheidung über eine intensivierte Vorsorge oder prophylaktische Maßnahmen auf Risikoberechnungen. Wir beschreiben einige der zugrunde liegenden Modelle sowie Untersuchungen zu deren vergleichender Validierung. Nur in einer prospektiven Studie wurden mehrere Modelle zur Berechnung der Brustkrebserkrankungswahrscheinlichkeit verglichen. Das einzige Modell in der Studie, das BRCA1/2, zusätzliche genetische Faktoren und einige weitere Risikofaktoren berücksichtigt (IBIS), zeigte die beste Vorhersagekraft. Es wurden nicht alle neueren Modelle berücksichtigt (kein BOADICEA) und keine neueren Risikofaktoren einbezogen.
Abstract
We concentrate on risk calculations for familiar breast and ovarian cancer since these are of increasing importance in genetic counseling. If a person has a mutation in one of the genes BRCA1 or BRCA2, her disease risk is very high. If molecular testing cannot be performed or if the test is negative, the decision on intensified screening or prophylactic surgery is based on risk estimates. We describe empirical models in which the family history is used in a surrogate form and genetic models which presume a genetic basis for the disease and use the family pattern explicitly. Few studies that evaluate models for breast cancer disease risk are available. One prospective study compares multiple models. The only one that integrates BRCA1/2, and an additional genetic component as well as some other risk factors (IBIS) provided the best fit. However, not all available models have been analyzed (no BOADICEA) nor have models with additional, newly discussed risk factors.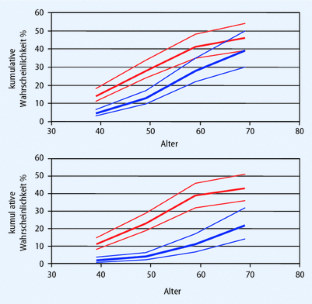 Literatur
1.

Amir E, Evans DG, Shenton A et al. (2003) Evaluation of breast cancer risk assessment packages in the family history evaluation and screening programme. J Med Genet 40: 807–814

2.

Antoniou AC, Easton DF (2006) Risk prediction models for familial breast cancer. Future Oncol 2: 257–274

3.

Antoniou AC, Pharoah PP, Smith P et al. (2004) The BOADICEA model of genetic susceptibility to breast and ovarian cancer. Br J Cancer 91: 1580–1590

4.

Barcenas CH, Hosain GM, Arun B et al. (2006) Assessing BRCA carrier probabilities in extended families. J Clin Oncol 24: 354–360

5.

Bickeböller H, Fischer C (2007) Einführung in die Genetische Epidemiologie. Springer, Berlin Heidelberg New York

6.

Chang-Claude J, Becher H, Hamann U et al. (1995) Risk assessment for familial occurrence of breast cancer. Zentralbl Gynakol 117: 423–434

7.

Chen S, Iversen ES, Friebel T et al. (2006) Characterization of BRCA1 and BRCA2 mutations in a large United States sample. J Clin Oncol 24: 863–871

8.

Fletcher RH, Fletcher SW, Wagner EH (1999) Klinische Epidemiologie: Grundlagen und Anwendung. Ullstein Medical, Wiesbaden

9.

Gadzicki D, Meindl A, Schlegelberger B (2007) Erblicher Brust- und Eierstockkrebs. Med Genet 2

10.

Marroni F, Aretini P, D'Andrea E et al. (2004) Evaluation of widely used models for predicting BRCA1 and BRCA2 mutations. J Med Genet 41: 278–285
Interessenkonflikt
Es besteht kein Interessenkonflikt. Der korrespondierende Autor versichert, dass keine Verbindungen mit einer Firma, deren Produkt in dem Artikel genannt ist, oder einer Firma, die ein Konkurrenzprodukt vertreibt, bestehen. Die Präsentation des Themas ist unabhängig und die Darstellung der Inhalte produktneutral.
About this article
Cite this article
Fischer, C., Bickeböller, H. Risikokalkulationen bei erblichen Krebserkrankungen. medgen 19, 245–249 (2007). https://doi.org/10.1007/s11825-007-0012-8
Schlüsselwörter
Risikoberechnungen

Brust- und Eierstockkrebs

Empirisches Modell

Genetisches Modell

Genetisch komplexe Krankheit
Keywords
Risk calculation

Breast and ovarian cancer

Empirical model

Genetic model

Genetically complex disease