Zusammenfassung
Das Prostatakarzinom ist der häufigste maligne Tumor des Mannes, und es weist ätiologisch den größten genetischen Einfluss auf. Dennoch konnten bislang keine Gene identifiziert werden, die einen größeren Teil familiärer Fälle erklären und entsprechende Diagnostik ermöglichen. Keimbahnmutationen in 3 aus Kopplungsanalysen hervorgegangenen Genen (ELAC2, RNASEL, MSR1) sind zu selten und in ihrer Penetranz fraglich. Assoziationen zu diversen Genen sind meist schwach und nur für BRCA2 bzw. familiären Brustkrebs klinisch von Bedeutung. Infolge der extremen Heterogenität muss sich die genetische Beratung auf Risikoschätzungen aus dem Stammbaum stützen, wobei bereits ein betroffener Verwandter 1. Grades zu einem relevanten Risiko führt.
Abstract
Prostate cancer is the most frequent malignancy in males and its etiology is strongly influenced by genetic factors. Nevertheless, no mutated genes which could be used for diagnosis have been identified in a major proportion of familial cases. Three genes with germline mutations have been identified after linkage analysis (ELAC2, RNASEL, MSR1), but these mutations are very rare and their penetrance is not well defined. The association of most genes with genetic variants is weak, and only BRCA2/familial breast cancer is of clinical relevance. As a consequence of the extreme genetic heterogeneity, diagnostic tools are not available and genetic counseling has to rely on risk estimates from pedigree data in which a single affected first degree relative indicates a relevant risk.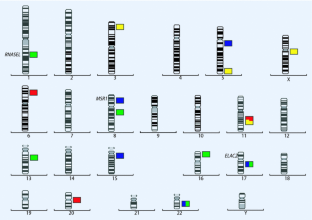 Literatur
1.

Carpten J, Nupponen N, Isaacs S et al. (2002) Germline mutations in the ribonuclease L gene in families showing linkage with HPC1. Nat Genet 30: 181–184

2.

Carter BS, Bova GS, Beaty TH et al. (1993) Hereditary prostate cancer: epidemiologic and clinical features. J Urol 150: 797–802

3.

Cui J, Staples MP, Hopper JL et al. (2001) Segregation analyses of 1,476 population-based Australian families affected by prostate cancer. Am J Hum Genet 68: 1207–1218

4.

Easton DF, Schaid DJ, Whittemore AS et al. (2003) Where are the prostate cancer genes?-A summary of eight genome wide searches. Prostate 57: 261–269

5.

Edwards SM, Kote-Jarai Z, et al. (2003) Two percent of men with early-onset prostate cancer harbor germline mutations in the BRCA2 gene. Am J Hum Genet 72: 1–12

6.

Gong G, Oakley-Girvan I, Wu AH et al. (2002) Segregation analysis of prostate cancer in 1,719 white, African-American and Asian-American families in the United States and Canada. Cancer Causes Control 13: 471–482

7.

Lichtenstein P, Holm NV, Verkasalo PK et al. (2000) Environmental and heritable factors in the causation of cancer – analyses of cohorts of twins from Sweden, Denmark, and Finland. N Engl J Med 343: 78–85

8.

Ostrander EA, Stanford JL (2000) Genetics of prostate cancer: too many loci, too few genes. Am J Hum Genet 67: 1367–1375

9.

Schaid DJ (2004) The complex genetic epidemiology of prostate cancer. Hum Mol Genet 13: R103–R121

10.

Schaid DJ (2006) Pooled genome linkage scan of aggressive prostate cancer: results from the International Consortium for Prostate Cancer Genetics. Hum Genet 120: 471–485

11.

Tavtigian SV, Simard J, Teng DH et al. (2001) A candidate prostate cancer susceptibility gene at chromosome 17p. Nat Genet 27: 172–180

12.

Xu J, Zheng SL, Komiya A et al. (2002) Germline mutations and sequence variants of the macrophage scavenger receptor 1 gene are associated with prostate cancer risk. Nat Genet 32: 321–325

13.

Xu J, Dimitrov L, Chang BL et al. (2005) A combined genomewide linkage scan of 1,233 families for prostate cancer-susceptibility genes conducted by the international consortium for prostate cancer genetics. Am J Hum Genet 77: 219–229
Interessenkonflikt
Es besteht kein Interessenkonflikt. Der korrespondierende Autor versichert, dass keine Verbindungen mit einer Firma, deren Produkt in dem Artikel genannt ist, oder einer Firma, die ein Konkurrenzprodukt vertreibt, bestehen. Die Präsentation des Themas ist unabhängig und die Darstellung der Inhalte produktneutral.
About this article
Cite this article
Maier, C., Vogel, W. Genetik des Prostatakarzinoms. medgen 19, 210–215 (2007). https://doi.org/10.1007/s11825-007-0010-x
Schlüsselwörter
Prostatakarzinom

Hereditäres Prostatakarzinom

ELAC2
RNASEL
MSR1
Keywords
Prostate cancer

Hereditary prostate cancer

ELAC2
RNASEL
MSR1