Zusammenfassung
Morbus Crohn und Colitis ulcerosa sind die wesentlichen Formen der chronisch entzündlichen Darmerkrankungen (CED). Die systematische Aufklärung von Suszeptibilitätsgenen für diese komplexen Krankheitsbilder hat das pathophysiologische Verständnis wesentlich verändert. Die Vervollständigung der genetischen Risikokarte wird zukünftig zu einer Neuausrichtung von Therapien führen.
Abstract
Crohn disease and ulcerative colitis are the two main forms of chronic inflammatory bowel disease (IBD). The systematic discovery of susceptibility genes for this complex disease has led to fundamental changes in our understanding of pathophysiological concepts. The construction of a genetic risk map will guide future therapeutic development.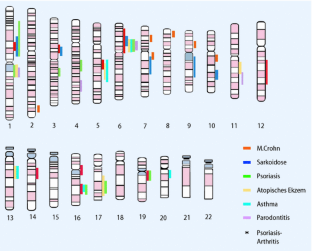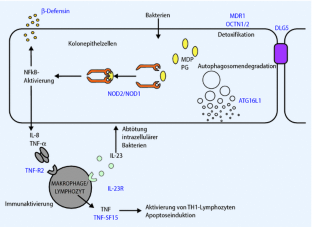 Literatur
1.

Brant SR, Shugart YY (2004) Inflammatory bowel disease gene hunting by linkage analysis: rationale, methodology, and present status of the field. Inflamm Bowel Dis 10: 300–311

2.

Colombel JF, Sandborn WJ, Rutgeerts P et al. (2007) Adalimumab is effective in maintenance of clinical response and remission in patients with active Crohn's disease: results of the CHARM trial. Gastroenterology in press

3.

Croucher PJP, Mascheretti S, Hampe J et al. (2003) Haplotype structure and association to Crohn's disease of CARD15 mutations in two ethnically divergent populations. Eur J Hum Genet 11: 6–16

4.

Duerr RH, Taylor KD, Brant SR et al. (2006) A genome-wide association study identifies IL23R as an inflammatory bowel disease gene. Science 314: 1461–1463

5.

Fellermann K, Stange DE, Schaeffeler E et al. (2006) A chromosome 8 gene-cluster polymorphism with low human beta-defensin 2 gene copy number predisposes to Crohn disease of the colon. Am J Hum Genet 79: 439–448

6.

Hampe J, Cuthbert A, Croucher PJP et al. (2001) An insertion mutation in the NOD2 gene predisposes to Crohn's disease in the German and British populations. Lancet 357: 1925–1928

7.

Hampe J, Grebe J, Nikolaus S et al. (2002) Association of NOD2 (CARD 15) genotype with clinical course of Crohn's disease: a cohort study. Lancet 359: 1661–1665

8.

Hampe J, Franke A, Rosenstiel P et al. (2007) A genome-wide association scan of non-synonymous SNPs identifies a susceptibility variant for Crohn disease in the autophagy-related 16-like (ATG16L1) gene. Nat Genet 39: 10.1038/ng1954

9.

Hanauer SB, Feagan BG, Lichtenstein GR et al. (2002) Maintenance infliximab for Crohn's disease: the ACCENT I randomized trial. Lancet 359: 1541–1549

10.

Ho GT, Soranzo N, Nimmo ER et al. (2006) ABCB1/MDR1 gene determines susceptibility and phenotype in ulcerative colitis: discrimination of critical variants using a gene-wide haplotype tagging approach. Hum Mol Genet 15: 797–805

11.

Hugot JP, Chamaillard M, Zouali H et al. (2001) Association of NOD2 leucine-rich repeat variants with susceptibility to Crohn's disease. Nature 411: 599–603

12.

McGovern DP, Hysi P, Ahmad T et al. (2005) Association between a complex insertion/deletion polymorphism in NOD1 (CARD4) and susceptibility to inflammatory bowel disease. Hum Mol Genet 14: 1245–125

13.

Ogura Y, Bonen DK, Inohara N et al. (2001) A frameshift mutation in NOD2 associated with susceptibility to Crohn's disease. Nature 411: 603–6

14.

Peltekova VD, Wintle RF, Rubin LA et al. (2004) Functional variants of OCTN cation transporter genes are associated with Crohn disease. Nat Genet 36: 471–475

15.

Rosenstiel P, Fantini M, Bräutigam K et al. (2003). TNF-α and IFN-γ regulate the expression of the NOD2 (CARD15) gene in human intestinal epithelial cells. Gastroenterology 124: 1001–1009

16.

Schreiber S, Rosenstiel J; Albrecht M et al. (2005). Genetics of Crohn disease, an archetypal inflammatory barrier disease. Nat Rev Genet 6: 376–88

17.

Schreiber S, Khaliq-Kareemi M, Lawrance IC et al. (2007) Certolizumab pegol maintenance therapy for Crohn's disease. N Engl J Med in revisions

18.

Schwab M, Schaeffeler E, Marx C et al. (2003) Association between the C3435T MDR1 gene polymorphism and susceptibility for ulcerative colitis. Gastroenterology 124: 26–33

19.

Stoll M, Corneliussen B, Costello CM et al. (2004) Genetic variation in DLG5 is associated with inflammatory bowel disease. Nat Genet 36: 476–480

20.

Till A, Rosenstiel P, Krippner-Heidenreich A et al. (2005) The Met-196-Arg variation of human tumor necrosis factor receptor 2 (TNFR2) affects TNF-a-induced apoptosis by impaired NF-kB signaling and target gene expression. J Biol Chem 280: 5994–6004

21.

Yamazaki K, McGovern D, Ragoussis J et al. (2005) Single nucleotide polymorphisms in TNFSF15 confer susceptibility to Crohn's disease. Hum Mol Genet 14: 3499–3506
Interessenkonflikt
Es besteht kein Interessenkonflikt. Der korrespondierende Autor versichert, dass keine Verbindungen mit einer Firma, deren Produkt in dem Artikel genannt ist, oder einer Firma, die ein Konkurrenzprodukt vertreibt, bestehen. Die Präsentation des Themas ist unabhängig und die Darstellung der Inhalte produktneutral.
Additional information
­
Die aus der eigenen Gruppe referierten Arbeiten wurden u. a. durch das 5. Rahmenprogramm der EU sowie die BMBF-Programme "Nationales Genomforschungsnetz" und "Kompetenznetz Chronisch entzündliche Darmerkrankungen" und die Deutsche Forschungsgemeinschaft (FOR423) unterstützt.
About this article
Cite this article
Schreiber, S. Chronisch-entzündliche Krankheiten. medgen 19, 5–9 (2007). https://doi.org/10.1007/s11825-007-0006-6
Schlüsselwörter
Morbus Crohn

Colitis ulcerosa

Chronisch entzündliche Darmerkrankung (CED)

Suszeptibilitätsgene

Genetische Risikokarte
Keywords
Crohn's disease

Ulcerative colitis

Chronic inflammatory bowel disease (IBD)

Susceptibility genes

Genetic risk map